Bullish signs emerge as A-share indexes advance
By SHI JING | China Daily | Updated: 2019-02-26 03:07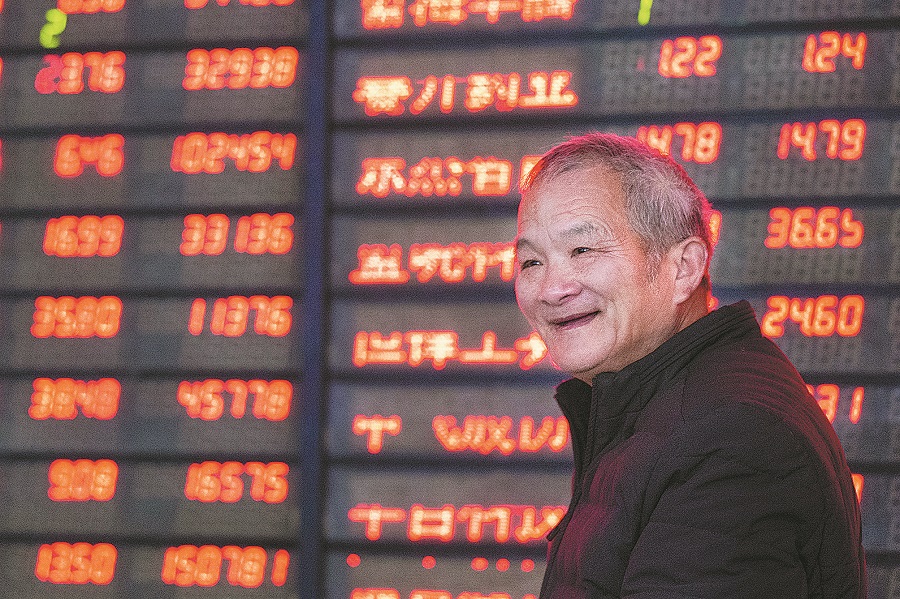 China's A-share market is showing more bullish signs as the benchmark indexes in Shanghai and Shenzhen surged over 5 percent on Monday and trading volume hit a 39-month high.
The Shanghai Composite Index gained 5.6 percent to close at 2,961.28 points on Monday, which is the highest level in eight months. The Shenzhen Component Index surged 5.59 percent to close at 9,134.58 points. China's Nasdaq-like ChiNext Index jumped 5.5 percent to close at 1,536.37 points, reaching a seven-month high.
The total trading volume in Shanghai and Shenzhen reached over 1.04 trillion yuan ($155.5 billion), which is the highest since the end of 2015, according to Shanghai-based market tracker Wind Info.
Yang Delong, chief economist at Shenzhen-based First Seafront Fund, said that with the seventh round of high-level bilateral trade talks between China and United States, there are signs that a framework agreement will be signed between the two countries in the near future. Given that trade friction exerted the most significant impact on the A-share market last year, such concerns are expected to be gradually removed this year, helping boost the market performance on Monday.
Meanwhile, the central government's latest adjustments to the financial market have helped to buoy sectors such as securities firms and banks, said Zhang Qiyao, an analyst at Guosheng Securities.
Xi Jinping, general secretary of the Communist Party of China Central Committee, underscored at a study session on Friday that China should deepen supply-side structural reform in the financial sector and strengthen the sector's ability to serve the real economy.
Analysts from Huatai Securities wrote in a note on Monday that financial supply-side reform will be a key theme for investors this year.
The increased weight of direct financing, such as through securities and propelled by capital market reform, is expected to be the major driving force of the A-share market in coming months, they said.
Gao Ting, head of China strategy at UBS Securities, said investors were overly pessimistic about the market at the end of last year, and the recent rebound is reasonable. Although there will still be some fluctuations in the short term, it is highly likely that the market will pick up this year.
Mao Sheng, chief analyst at Huaxi Securities, said the surge in trading volume reflects investors' firm confidence in the A-share market. As global liquidity eases and economic figures improve, investors' appetite for risk is expected to increase, encouraging the market to remain bullish this spring, Mao said.