Keeping gold rush in perspective
Share - WeChat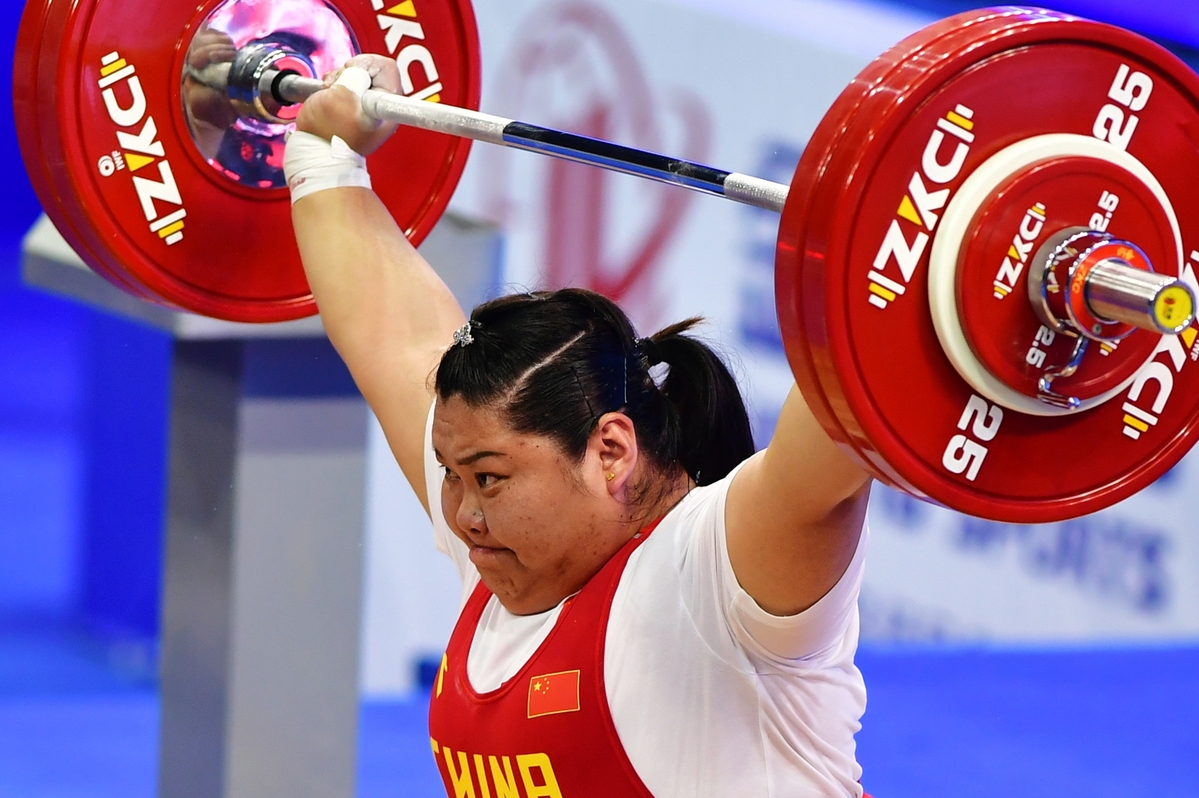 The boss of China's weightlifting governing body is playing down expectations for the 2020 Olympics in the wake of the nation's dominance at the IWF World Cup in Fuzhou, Fujian province.
Team China added eight more victories on the final day of the World Cup on Wednesday to finish the five-day event with 31 gold medals.
Chinese athletes also set eight world records at the competition.
However, Zhou Jinqiang, chairman of the Chinese Weightlifting Association, reckons those results need to be put in perspective.
"Although the team's confidence has been greatly boosted as we broke many records, I told the athletes to keep a cool head," said Zhou.
"There's still a year before the Tokyo Olympics. Based on our experience, there is still plenty of time for problems and challenges to emerge. We cannot predict the future based on previous records.
"The Olympics bring more pressure to athletes and coaches than other tournaments. We cannot be too optimistic. At each level, we have strong opponents from other countries.
"We have a clear mind that it's still a long and tough road ahead to the Olympics."
Despite Zhou's caution, Team China certainly gave the home crowd plenty to cheer about in Fuzhou.
Perhaps the most thrilling of Wednesday's wins was Olympic champion Meng Suping's victories over Tatiana Kashirina in the +87kg division.
The Russian had the upper hand over her Chinese rival at last year's world championships, setting world records in the snatch, clean and jerk and total. However, Meng was the dominant force this time, winning the clean and jerk with a lift of 185kg and claiming the total with 325kg.
Teammate Li Wenwen, a 19-year-old World Cup debutante, took silver in the snatch (142kg), clean and jerk (182kg) and total (324kg)
Kashirina's only gold was in the snatch (145kg) as she had to settle for silver in the other two categories.
"I think Kashirina did not give her best today," said Meng. "I won the gold medals I've dreamed of many times."
Zhang Guozheng, coach of the China's women's team, told Xinhua: "I saw Kashirina back in the training base. Perhaps she was not feeling well. I could see that. She is far stronger than what she looked.
"Our victory does not prove anything, but Li gave us a surprise. She's young and talented. It is her first time to compete on the world stage. I'm pretty sure she can get much better while preparing for Tokyo 2020."
In the women's 87kg division, world champion Ao Hui claimed snatch gold (115kg) ahead of Kim Un-ju of DPR Korea, who won the clean and jerk (154kg) and total (266kg).
"I should not have dropped the first snatch lift; obviously I'm not at my best," said Ao. "I caught a cold a few days ago, and my back does not feel good, so the training did not go well recently.
"I need to put on more weight for this new division of 87kg. Now I'm 85kg and it seems that I need to eat more."
In the men's 109kg and +109kg divisions, Chinese lifters swept all six golds.
Despite all the success, Zhou sees much room for improvement as the team steps up preparations for the 2020 Tokyo Olympics.
"The World Cup revealed many problems," said Zhou. "For example, Li Fabin from the men's side got injured on the first day. Is that a problem of training, personal adjustment or mentality?
"We still have time to learn from this experience. All the problems we've encountered can level up the standard of our training and preparation for the Olympics."