Guerdat takes reins for Brazil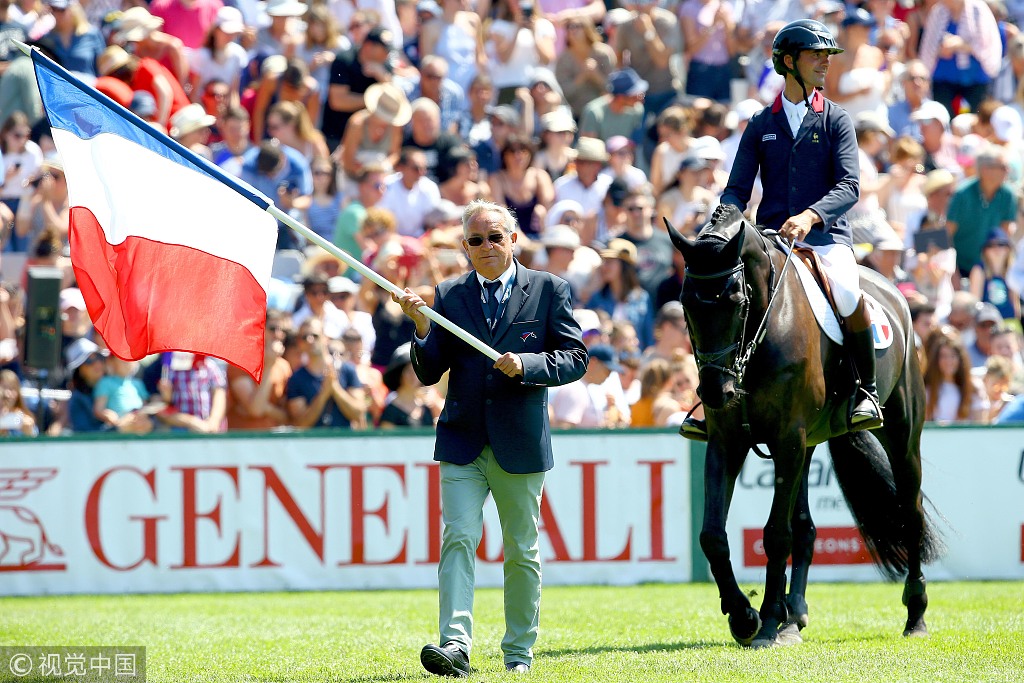 Legendary show jumping coach focused on winning gold in Tokyo
LONDON-At 68, Philippe Guerdat hasn't given up his dream of leading a team to ultimate glory on the international stage.
Guerdat, who guided the French show jumping team to Olympic gold at Rio de Janeiro in 2016, has been named head coach of the Brazilian team and has vowed to repeat the feat.
"I still have dreams," he told Xinhua in a telephone interview. "I chose this team (Brazil) because I still have dreams."
The Swiss became the chef d'equipe of the French national team in 2013, and after six years' service, both sides decided to go their separate ways last week following the Blue Coats' failure to qualify for the 2020 Tokyo Olympics.
"There were a lot of propositions after I left the French team," Guerdat said. "But I like to do a little bit less. I don't want to be in a show every week. This will be possible with the Brazilians."
Most of the Brazilian riders are living in Europe and Guerdat will not have to travel all the way to South America.
"This team has a lot of potential and can do well," he said.
Although the memory of the Olympic victory in 2016 is still fresh, Guerdat said his decision to manage Brazil has nothing to do with the Rio Olympics.
"There have been a lot of changes for the Brazilian team since Rio," he said. "They are very nice guys and we will try to be together. I don't think there will be problems with communication."
Guerdat, who competed as a rider at the 1984 and 1988 Olympic Games and has also worked as a coach for Spain, Ukraine and Belgium, said his efforts will not be overshadowed by the French team's recent disappointment.
Rather, he said he left the French team with his head held high.
"It was fantastic experience with the French team," he said. "Every young rider came to see me and say goodbye. I was very close to most of the riders. But once a decision has been made, you need to continue with your life."
After Rio, Guerdat wanted to be released from his contract, but the French Equestrian Federation wanted him to stay for another four years to help prepare for Tokyo. He hesitated for some time before finally deciding to stay.
"Four years is a long time," he said. "I had been a head coach for four years in a country that is not my own.
"I was trying. We had some new riders. We were very close to getting to Tokyo but we made a lot of mistakes and missed out on qualification."
Despite the failure, the French riders still wanted him to stay.
"It has nothing to do with the riders. The federation decided to make a change, so I can do nothing about this. The politicians always win in the end," Guerdat said.
His first big event with the Brazilian team will be the Jumping Nations Cup competition in La Baule, France in May. But he will also face a huge challenge in the Pan-American Games from July 26 to August 11, which serves as the qualifying event for the Tokyo Olympics.
"Our first goal is to qualify for the Tokyo Olympics. so we need to qualify at the Pan-American Games. We will try to be the best team there," he said.
"I am confident. That is the main goal of the season and we will sit down and decide what we are going to do."
Guerdat signed a two-year contract with Brazil and he hopes to see out the deal, although he is aware that results will decide everything in the end.
"Of course I want to go to the Olympic Games. If we cannot qualify, I don't deserve to stay for two years," he said.
The Swiss, who is the father of Steve Guerdat, who won the individual jumping gold medal at the 2012 London Olympic Games, has vowed to make every effort to help the Brazilians win, but at the same time he is also prepared for the worst.
"I am passionate about equestrian sports," he said. "But I am not passionate with titles. I like to win and I like to enjoy my passion. But I want to accept the results.
"Show jumping is not a sport like tennis or football, where you can stay at the top for a long time.
"In our sport, you have to change every day, you have to start again every day because you cannot win every week.
"Nobody can win every week. That has never happened."