Lost Chinese relics find their way back home
By ZHANG RUINAN | China Daily | Updated: 2019-03-08 07:38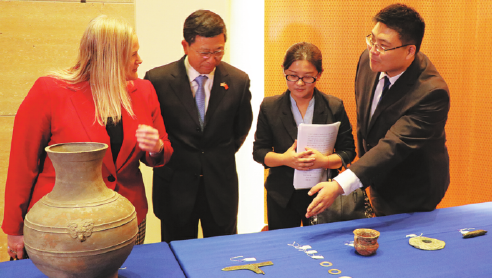 While there is a legal market in cultural property, and merely possessing a certain cultural item is not illegal in itself, Carpenter said his team had to investigate Miller's collection and determine which pieces were problematic.
"There were 42,000 pieces in the collection, but we had to look at it in terms of what was illegally or improperly obtained. We examined the evidence we collected and the statements that Don Miller gave to us. We sat down and talked to him about his collecting practices-where he got this piece, where he got that piece-and based on that information we were able to make decisions.
"Identifying these objects is not my area of expertise, but I tell folks that I'm an expert at finding experts," Carpenter said.
In 2014, he turned to Holly Cusack-McVeigh, a professor of anthropology and museum studies at Indiana University-Purdue University Indianapolis.
Cusack-McVeigh said, "When the case came to light, I got a phone call from the agent in charge of it, Carpenter, who immediately recognized that he was going to need to partner with academia and source communities in order to identify and move all of the objects safely.
"They (the FBI) were in need of assistance because of the sheer number of objects and the massive operation. You have to have people who know how to handle objects in order to care for them properly."
Cusack-McVeigh said that since 2014, dozens of students majoring in anthropology and museum studies, along with alumni from IUPUI, have helped identify, move and preserve the objects.
"That first year, in the spring of 2014, I had more than two dozen students assisting me, either recent graduates or current graduate students. Many of the objects we looked at we recognized as coming from China, but we were uncertain about where others came from," she said.
Cusack-McVeigh said she and her helpers worked with experts from China's National Cultural Heritage Administration.
She said they established a database and invited other countries and domestic communities with an interest in the subject "to join the database, look at what we have, and help us determine whether it belongs to them".
"We were also able to handle the objects properly, help store them for shipping, and over the course of caring for them, ensure that the humidity levels and temperature in the storage areas were right for the type of items involved," Cusack-McVeigh said.
Liz Ale, a graduate student at IUPUI who helped take care of a number of Chinese artifacts, said: "I helped with managing the items and preparing them for repatriation. We had to make sure everything was stable, in the right place and stored correctly.