Yayoi Kusama exhibition kicks off in China
By Zhang Kun | China Daily | Updated: 2019-03-08 08:07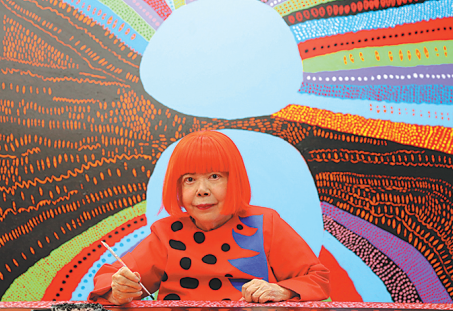 One of the most iconic contemporary artists in the world today, 90-year-old Yayoi Kusama from Japan is having a large-scale exhibition at the Fosun Foundation in Shanghai.
The new exhibition is "tailor-made" specifically for Fosun Foundation Shanghai, according to Duanmu Xiazi, artistic director of the institution. Although Kusama was not in Shanghai for the exhibition, staff from her studio had made repeated visits to Fosun to ensure the exhibits perfectly complement the architecture of the Fosun Foundation, which is located along the Bund.
More than 40 of the artist's works, all of which represent highlights of her illustrious 70-year career, are on show, including the famous installation Infinity Mirrored Rooms, a three-meter-tall outdoor pumpkin sculpture located in front of the museum, and a three-dimensional polka-dot installation that fills a 100-square-meter space.
On the third floor of the exhibition hall, visitors will find the series of Kusama's paintings titled My Eternal Soul. Included in this series are two new pieces that she created in 2018.
"In this exhibition, I will mainly be presenting my new works, as well as works that resonate with the architecture," Kusama says in a statement.
In response to the copycat exhibition of her works that toured multiple cities in China, including Shanghai and Changsha of Hunan province, Kusama says: "I'm disappointed to see the creations I have infused with my heart and soul being stolen and presented improperly. I want people to see real art - and this exhibition at Fosun Foundation is a great opportunity for that."
Born in 1929, Kusama has a history of mental illness which started when she was a child. She claimed before that she started hallucinating when she was 10 and among the visions she had flowers spoke to her. But instead of allowing it to debilitate her, Kusama turned the illness into a source of creative energy, drawing dense arrays of polka dots across large monochrome canvases. She gradually developed her own artistic style and applied them to a wide range of media, from paintings to installations, performance art and literature.
Her art has been affiliated with minimalism, pop culture and Zero movement. Today, she is one of the most celebrated artists frequently on exhibition all over the world.
Fosun Foundation chairwoman Wang Jinyuan says Kusama's iconic visual images such as the polka dots and mirrors are "simple and powerful - suitable for all ages".
"The root cause is fear, but what she expresses is great love," says Wang. "What people perceive in the art of Yayoi Kusama is the mystery of the vastness of the universe and the breadth of the human spirit."
Starting from Invisible Life, which is a path lined with convex mirrors, the audience will step into the world of the artist, with immersive and reflective installations. To ensure that visitors have an enjoyable viewing experience, only 150 people are allowed in the exhibition space at any time.
"We will erect signs displaying the estimated waiting time," Duanmu tells China Daily.
"We care more about how each person experiences Yayoi Kusama's art rather than the number of visitors."