For Maura Knutsen, a life-changing visit to China
By Dong Leshuo In Washington | China Daily Global | Updated: 2019-03-12 23:45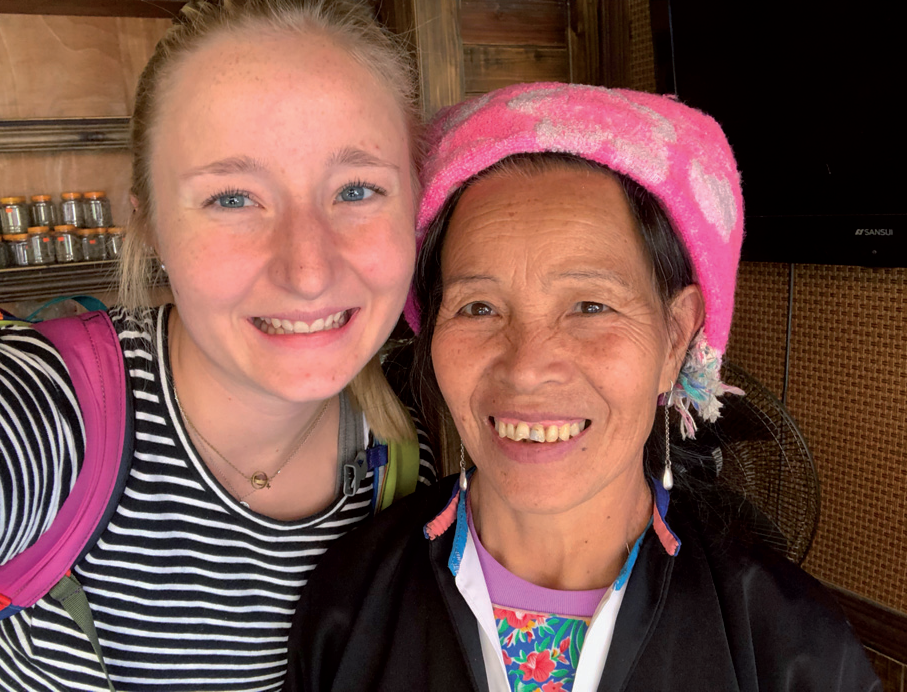 Maura Knutsen, a sophomore at Southern Utah University, has a photo taken in Guilin, China, as her screensaver.
In the photo, Knutsen is with a Chinese minority woman, both of them beaming with big smiles.
The photo was taken at Longsheng rice terraces in 2018 when Knutsen was studying in China.
"The woman was selling passionfruit, so I stopped and practiced my Chinese with her," Knutsen said.
"Before I left to continue on my way, she pulled me close and gave me a hug and wished me good fortune in my future. It was the focal experience I had in China," Knutsen told China Daily.
Knutsen submitted her photos to the "My China Album" program and shared the stories behind them.
Knutsen's three photos were taken in 2018, when she went to Hunan Normal University in Changsha.
"There was no culture shock for me. I was so excited to visit China, to live there, because it has been my dream since I was 14 years old," which was when she started learning Chinese, she added.
Knutsen made many friends during her time in China.
When she first arrived in Changsha, she met a Chinese fellow whose English name was Harry and who she knew would become a "lifelong friend".
Harry picked Knutsen up from the airport and showed her around the campus.
"He was the first one that showed kindness to me and shared not only Chinese culture but also his life with me. We were able to go on a trip together, we were able to travel through China together as well," said Knutsen.
Another photo Knutsen submitted shows her with a group of international students at Hunan Normal University.
"This picture was taken shortly after I performed Rascal Flatt's song Life is a Highway for 75 International Students at Hunan Normal University. Featured is the committee that asked me to perform and whom I consider great friends. What an experience it was performing an American song for the people of China and others from around the world," Knutsen wrote in the photo's caption.
During Knutsen's four months studying at Hunan Normal, the professor who had the most influence on her was named Li Laoshi (Teacher Li).
"Li Laoshi was the one that really challenged me to be the best student I could be, not only in the classroom but outside as well," Knutsen said.
Li Laoshi helped Knutsen and two other students memorize and perform the poem Cong Qian Man, and finished second in the school's poetry competition as international students.
"She helped me, not only with my language skills, but she also asked me during the semester about what I wanted to do with my life, what I wanted to accomplish. I told her my goals, and she would always tell me how much I had improved and how I was going to accomplish great things."
In another photo, Knutsen and Li Laoshi are hugging each other tightly, wearing big smiles.
"The picture was taken on my last day of class, and she told me how she was impressed with me and was excited with the progress I had made and for the future accomplishments I would make," said Knutsen. "It was very hard to say goodbye to her."
Knutsen described her time in China as a life-changing experience that she would like to share with Americans. "The people in China are very focused on creating a great life for not only themselves but their family they care about, so I would encourage American people to learn from the Chinese people and to know more about their stories and try to understand where they come from," she said.
"And learn as much Mandarin as you can, because it is one of the most difficult languages, but it's beautiful because there is meaning behind every character, not only those you write but also those you speak," said Knutsen.
"We come from different backgrounds, but I believe together we can find success to make the world a better place," she added.
Jiayi Wu in Washington contributed to this story.