Sino-German exchanges have long fused best ideas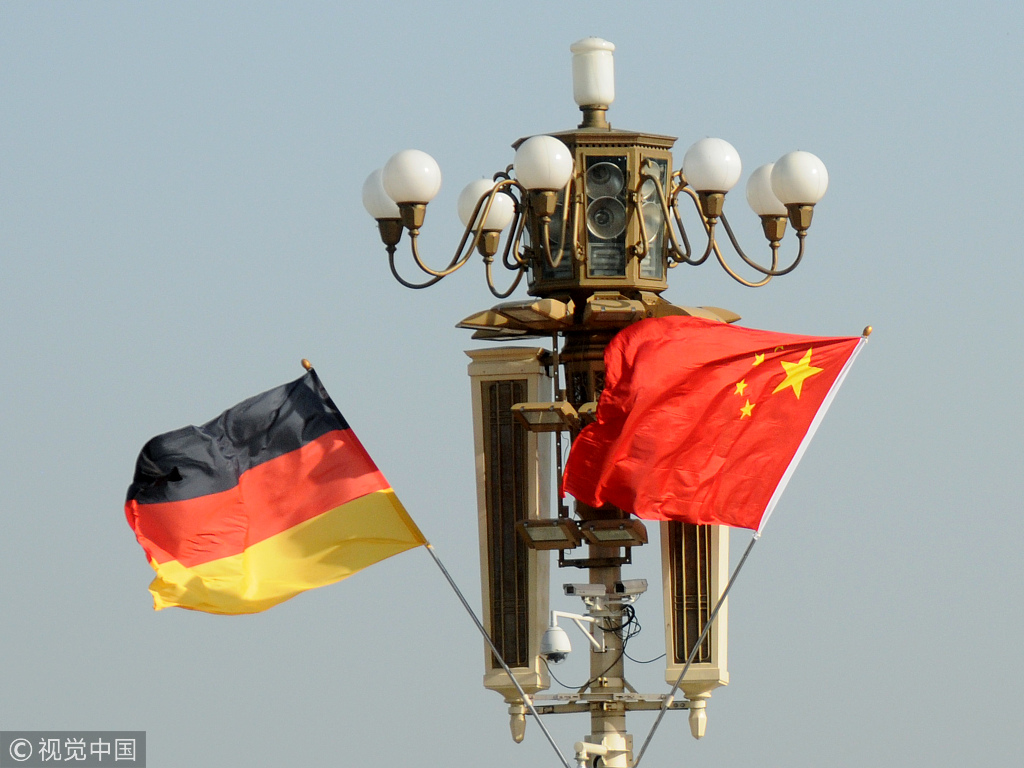 Chinese-German exchanges and cooperation started more than 300 years ago, when China had been a leading economic power for about 2,000 years.
German philosophers were influenced by Confucian principles and exerted an influence on the Age of Enlightenment. The learned philosopher Gottfried Wilhelm Leibniz (1646-1716) demanded strong Chinese-European cooperation in science and technology. Both sides should "ignite one light against the other", he said.
Leibniz is the inventor of the binary code for computers. What would he say if he saw China, a leading nation in modern science and artificial intelligence, today? Shortly before the First Industrial Age, European economic theory adopted the Chinese economic principle of wuwei (nonaction). Francois Quesnay (1694-1774) had transformed it into laissez faire. Karl Marx (1818-1883) then studied Quesnay, and his new views became the cornerstone of development in modern China.
The first theorist of globalization, Marx's contemporary Ernst Kapp (1808-1896), predicted this development as early as 1845. He was sure that due to colonialism, ancient Chinese civilization would be forced to absorb Western technologies and science to transform itself.
More than 170 years ago, he stated that China finally would become, as he put it, the "newest world" and a most advanced hub of planetary civilizations. Indeed, China managed to rejuvenate itself by also being inspired by elements of German philosophy, legislation, professional education, music, natural sciences and so on. Vice versa, Richard Wilhelm (1873-1930) introduced the world to the timeless importance of ancient Chinese classics like the I Ching (Book of Changes), the Tao Te Ching and the Analects of Confucius. China-based geographer Ferdinand von Richthofen (1833-1905) also helped coin the term "Silk Road" for the famous trading route.
A new future-laden view on Afro-Eurasian history was also born. In the 1920s, Nobel laureate and philosopher Rudolf Eucken (1846-1926) emphasized the "exceptional importance" of an equal partnership of Germany and China for the future of both nations. Sharing the same basic problems, both should strive to solve them on the basis of a deep and lasting friendship, he said. Since the 1970s, this attempt could finally be brought to fruition.
The People's Republic of China and the Federal Republic of Germany became inseparable partners during the past 40 years of China's opening-up. Germany's "economic miracle" and the influence of the expertise of its companies became one of China's points of orientation while lifting more than 740 million people out of poverty.
Germany has also been benefiting from German-Chinese codevelopment since. Today, both countries expand their cooperation: the Fourth Industrial Revolution, new technologies, everything related to nurturing and cultivating our body's energies and well-being (such as food, medicine, recreation and nursing). Furthermore, arts, music, design and architecture, science and academia and many more fields involve present-day cooperation as well as prospects for future cooperation. Together, both nations share many responsibilities for the global economic system.
In this context, Reg Little (1936-2019), who was an Australian ambassador for many years, greatly emphasized the importance of a larger appreciation of Chinese Confucian-Taoist traditions in the fields of community, learning, spirituality, consciousness, dealing with change, science, service, knowledge economies, health and energy. In view of future German-Chinese development, these aspects should be revived in combination with a fresh look at the classical discourses in German philosophy, the sciences and technological creativity, and inventiveness of the last 300 years of our shared past-since the times of Leibniz.
Future cooperation should not be restricted to the technological sphere. We should try to sort out new ways to fuse the best ideas of both worlds in many more fields.
We should not miss the opportunities to bring forth the shared planetary consciousness of humanity in this way. While we should respect our different world views, we should not cease to make our differences complementary at the same time-for the benefit of both sides. It is again and indeed high time "to ignite one light against the other".
The author is a professor at Beijing Foreign Studies University. The views do not necessarily reflect those of China Daily.