CFA looking into Luneng ref storm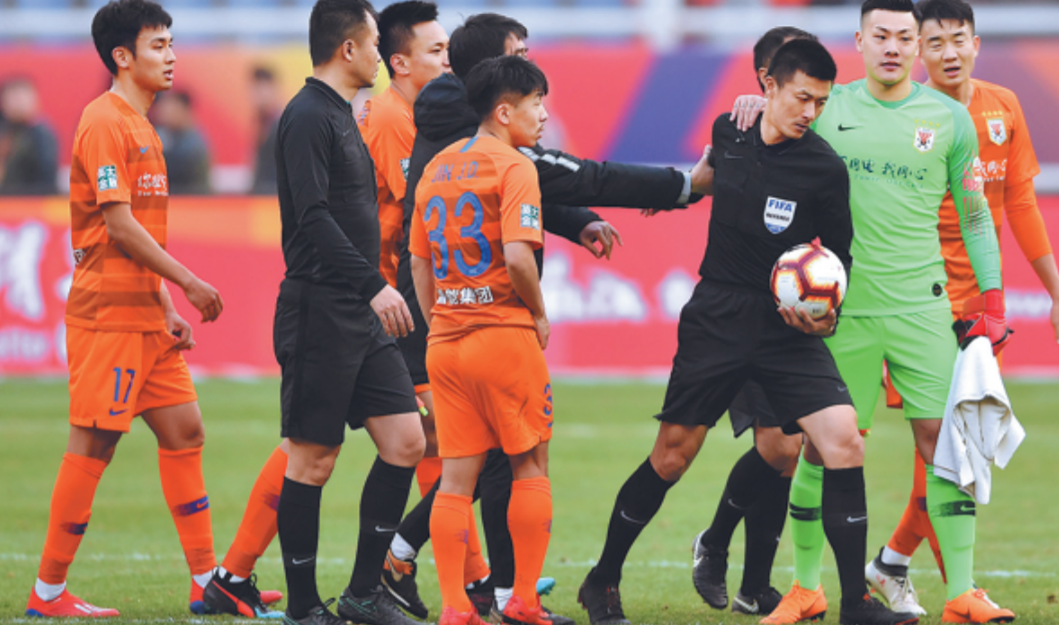 Referee Fu Ming's contentious performance at Shandong Luneng last weekend will be reviewed by the Chinese Football Association.
A series of controversial calls by the FIFA official in Shandong's 2-2 Chinese Super League draw with Henan Jianye incensed Luneng and its fans, with the storm gaining fresh fury on social media as allegations fly of plagiarism in Fu's academic past.
According to Xinhua, the CFA on Tuesday announced it will review a total of four decisions that prompted Shandong, which conceded a debatable late penalty and was denied one of its own, to lodge an official complaint.
The review will be conducted by an independent panel formed of FIFA and AFC refereeing experts.
Their findings will be submitted to the CFA's referee department, which could mete out disciplinary action "in accordance with regulations", Xinhua said.
"The CFA paid high attention to our complaint and the governing body is starting the review process," Xinhua quoted a Luneng official.
"No matter the result, Luneng will respect the CFA decision. Our priority is to continue to have good performances this season.
"We also hope the fans will show respect to the referee, making rational comments and refraining from any personal attacks."
Luneng's plea to its supporters comes amid a barrage of vitriol aimed at Fu on social media.
However, it is not merely Fu's performance on the pitch that has been called into question during the heated online debate that by Wednesday had garnered over 200 million views on Weibo-a staggering figure that surpassed views on China's star La Liga striker Wu Lei (130 million).
Netizens have accused Fu of plagiarizing parts of a soccer-related academic paper he wrote and which can be viewed online as part of a national database.
The 36-year-old worked as a teacher at Nanhang Jincheng College in Nanjing, Jiangsu province, and in 2016 became a lecturer at the Capital University of Physical Education and Sports in Beijing.
Both institutions have released statements pledging to investigate the plagiarism accusations.
By Wednesday, Fu had not commented on the matter.
The furor comes just as the CFA renews its efforts to improve refereeing standards in the CSL.
In February, Fu was named to the CFA's first fully professional team of referees, which also includes homegrown officials Ma Ning and Zhang Lei and two imports, Englishman Mark Clattenburg and Serbian Milorad Mazic.
As well as World Cup qualifiers, Fu was involved in the Asian Cup earlier this year and came under criticism for his performance in host UAE's triumph over Kyrgyzstan.
Meanwhile, the CFA plans to continue to send officials to Europe for UEFA training courses and, conversely, hire foreign referees for domestic leagues.