Demolishing dams will help build an ecological civilization
China Daily | Updated: 2019-03-26 07:06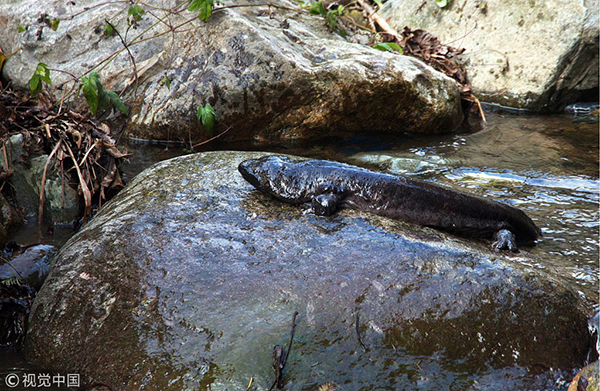 TO PROTECT THE HABITATS OF GIANT SALAMANDERS, a rare species in China, Zhangjiajie city, Hunan province, has closed down 34 hydropower stations located in a national natural reserve that was founded for the protection of giant salamanders, and 10 dams belonging to these hydropower stations have been demolished on the Lishui River, a major tributary of the Yangtze River in the province by December 2018. Beijing News comments:
The largest amphibian known today, the giant salamanders are called as "living fossils" as they date back to the era of the dinosaurs. Zhangjiajie is a major home to them.
The dams and power plants interrupted the flow of the river, and also blocked the breeding migration of aquatic creatures and the increase of human activities degraded the water quality. Despite the establishment of the natural reserve, the habitats of the giant salamander have shrunk to isolated spots on the map.
After the dams were removed and hydropower stations shut down, the flow of the river has recovered, and the water quality has greatly improved. The living environment of the giant salamanders and other aquatic live has markedly improved.
No doubt the city has set a good example for other places in making the right choice between ecological protection and hydroelectricity, which was being generated at a heavy environmental and ecological cost that was long ignored.
The construction of large-scale hydropower plants has been carried out for decades in Central and Southwest China, which are in the middle and upper-reaches of many rivers. With dams built on the upper reach of a river, the whole river valley downstream is affected, causing radical changes in the river ecology.
Many categories of fish cannot swim upstream to spawn because of the obstruction of the dams and hydropower stations. Statistics show multiple artificial reasons have almost depleted the fish population in the Yangtze River, the country's longest river, and many kinds of fish have died out quickly over half a century.
In the 1980s, some developed countries started reflecting on the negative ecological and environmental effects of hydropower, and the construction of dams in these countries slowed down. And some countries have no longer built dams since then, while the building of dams sped up in China.
Hopefully, the move of Zhangjiajie can prompt decision-makers to face squarely the series of ecological and environmental problems caused by fast development of the hydropower industry in the country's ecologically delicate regions. As China has vowed to divert its focus from economic growth to sustainable development and ecological protection, it is time to address the overdue challenge.