Heads of Guangdong, HK and Macao pin hopes on Bay Area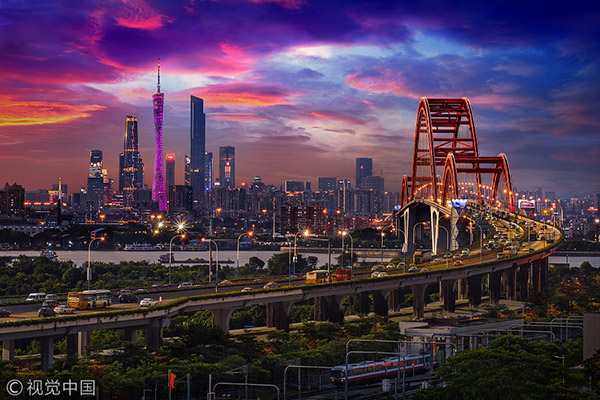 Guangdong, Hong Kong and Macao heads talked about their expectations for development of the area at the China Development Forum 2019 in Beijing on Monday.
The forum marked their first joint appearance after the release of the outline development plan for Guangdong-Hong Kong-Macao Greater Bay Area in February,
"The global economy is currently full of uncertainties and instability. The opening and interconnection of nine inland cities and Hong Kong and Macao Special Administrative Regions under the background of "one country, two systems", three tariff zones and three sets of legal systems fully demonstrate that economies with different characteristics can cooperate together to achieve win-win situations," said Hong Kong Chief Executive Carrie Lam Cheng Yuet-ngor, according to a Shanghai Securities News report.
"I think the Greater Bay Area not only has the potential to become the oriental Silicon Valley, but also has the ability to become a distinctive urban agglomeration like Silicon Valley and Wall Street," she said.
At the frontier of reform and opening-up, the cities of Guangzhou, Shenzhen and Zhuhai will embark on a broader international stage through the Greater Bay Area, said Ma Xingrui, Guangdong province governor.
He said that promoting the construction of the Greater Bay Area can highlight Guangdong's geographic advantage, adjacent to Hong Kong and Macao, and will help the city accelerate high-quality development, fully dock the international high-standard market rules system, and speed up the construction of a new open economic system.
Speaking about Hong Kong's position in the Greater Bay Area, Lam said although technological innovation and research and development accounted for only 0.7 percent and 0.8 percent of Hong Kong's GDP in 2017, Hong Kong has the potential to contribute to and benefit from developing the Greater Bay Area into an international science and technology innovation center.
As the outline development plan for the Greater Bay Area has set goals for developing distinctive financial industries and promoting the interconnection of financial markets, Lam said Hong Kong will play a leading role in these fields.
Macao Chief Executive Fernando Chui Sai-on said the Greater Bay Area has given Macao a new mission, prompting it to play an active role as an engine and become a supporter of the construction of the Guangzhou-Shenzhen-Hong Kong-Macao science and technology innovation corridor.
Ma said Guangdong will continue to promote the a legal, international and convenient business environment, and accelerate the improvement of the internal transport network in Guangzhou, Shenzhen, Hong Kong and Guangzhou, Zhuhai and Macao, and strive to promote one-hour access between major cities.
Government will implement the Foreign Investment Law, and strengthen the rules of Hong Kong and Macao in the fields of legal services, finance, medical treatment and construction, said Ma.
It will further improve institutional arrangements of property rights protection, government services and legal protection, and accelerate the creation of a stable, fair, transparent and predictable first-class business environment, said Ma.
To seize new opportunities brought about by the Greater Bay Area, Hong Kong has been making efforts to attract both talent and innovative science and technology companies, said Lam.
"We have introduced tax subsidies to ensure that talent from Hong Kong and Macao, especially technicians, joins the construction of the Greater Bay Area. "
"At the same time, we have launched a series of policies to attract mainland and overseas returnees to work in Hong Kong," she said.
Although limited space and human resources have restricted Macao's development, Chui said with central government support the region has gained development space through urban renewal, land reclamation and marine resources.
"With the opportunity of the Greater Bay Area, Macao will actively go out and deepen regional cooperation," Chui said.
Ma said that Guangdong, Hong Kong and Macao will hold a promotional event in Tokyo on April 9.