Plucky pensioner making a splash as cliff-diving daredevil
Share - WeChat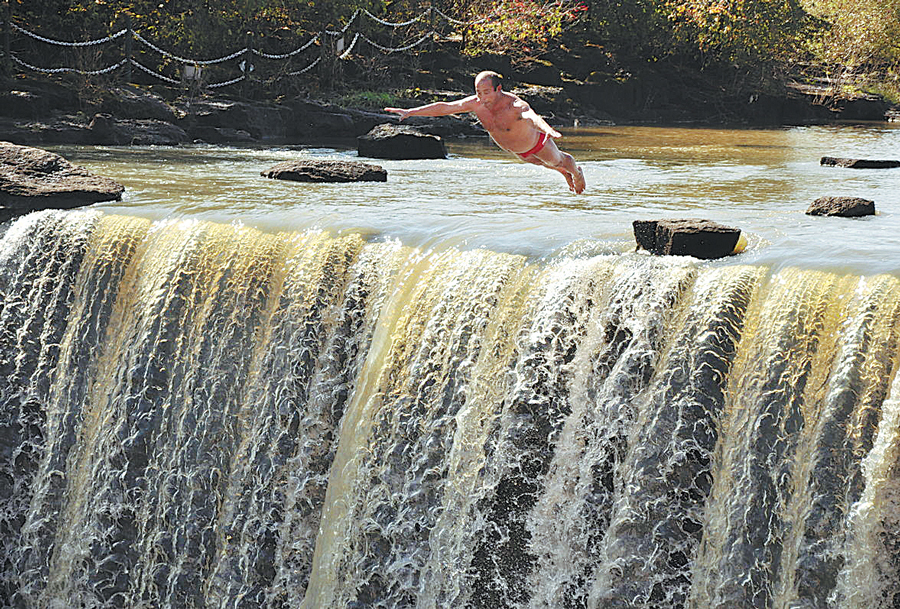 Di Huanran is something of a local celebrity in Mudanjiang, Heilongjiang province.
The 60-year-old daredevil is the resident waterfall diver at the northeast border city's Jingpo Lake resort, and he loves his job of providing hair-raising entertainment for sightseers.
"I feel I'm flying like a hawk and this feeling is such a great joy," enthused the pensioner in a recent interview with Xinhua. "When I am in the air, I wish time would stand still. Every time I try a new height or a new place, it's a breath of fresh air."
Upon reaching retirement age last winter, Di was devastated to learn his contract would not be renewed. The bombshell even affected his health and he fell ill.
Things took a turn for the better a month later, though, when he signed a contract extension allowing him to earn at least 180,000 yuan (nearly $30,000) per year in addition to his pension. More importantly, he could resume diving down the 20-meter Diaoshuilou Waterfall - the world's largest basalt cascade - every day.
As a kid, Di's aquatic adventures began with swimming in the local Mudan River, but he didn't attempt his first big dive until 1983 at Diaoshuilou after being tempted into action by an old rumor that a log would smash to pieces in the descent.
His first job was as a gas station attendant, but his daring tendencies prompted him to find work which would allow him to seek out new locations for diving. So, in 1996, he became a truck driver for the local post office.
"When I changed job to be a truck driver for six years, I got the chance to tour around China and to achieve my dream of trying more cliff dives. Whenever I crossed a bridge or found a cliff, I would locate a good spot for diving, I can't remember how many times and in how many places I tried diving during those years," Di said.
The waterfall at his workplace, though, remains one of his favorite spots to dive because of the subterranean heat from the Jingpo volcanic field that warms the water.
"At Jingpo Lake, I can dive not only in spring, summer and fall, but also in winter. The water temperature is a consistent eight degrees Celsius, even in the freezing winter.
"It's always the same in the pool even when the outdoor temperature drops to - 36 Celsius, so I don't have any trouble swimming out of the pool after diving."
China excels in Olympic diving, however, Di reckons cliff diving is a totally different experience.
"Outdoor diving is primitive and requires courage and special skills. You must be a veteran swimmer and you need to know what you are doing to challenge yourself in nature like that," he said.
"Diving indoors is a much safer activity. There is professional training and it's purposely intended for competition."
Over the years, Di has tried diving off almost every bridge in Heilongjiang province, including the Mudan River Bridge and the Songhua River Bridge in Harbin.
Some of his favorite spots include the Hukou Waterfall on the upstream of the Yellow River and the Haihe Jiefang Bridge in Tianjin.
Despite the risk involved, Di insists safety is always uppermost in his thoughts.
"You need to be a good swimmer and you need to know how to adjust your body to avoid going too deep," he explained.
"A depth of one and a half meters is fine for me, so I can return to the surface quickly and don't get lost in the turbulence.
"Diving down, you need to prevent your body from heading to the bottom, and you need to make sure you are able to swim back to the bank, that's what I keep in mind for each attempt."
In 2008, Di was awarded a Guinness World Record as the globe's highest waterfall diver. But he remains uneasy with the daredevil tag he has earned.
"I will only dive down when I'm 100 percent sure I'm not risking my life. Safety is always my top priority when I try this activity, which to many is so risky. I like to think of myself as an explorer as opposed to an adventurer."
Remarkably, Di hopes to continue his adventures for another two decades.
"Outdoor diving is a huge part of my life," he said. "As long as my body condition allows, I think I will continue diving until the age of 80."
Xinhua