Kolliker's crew firing on all cylinders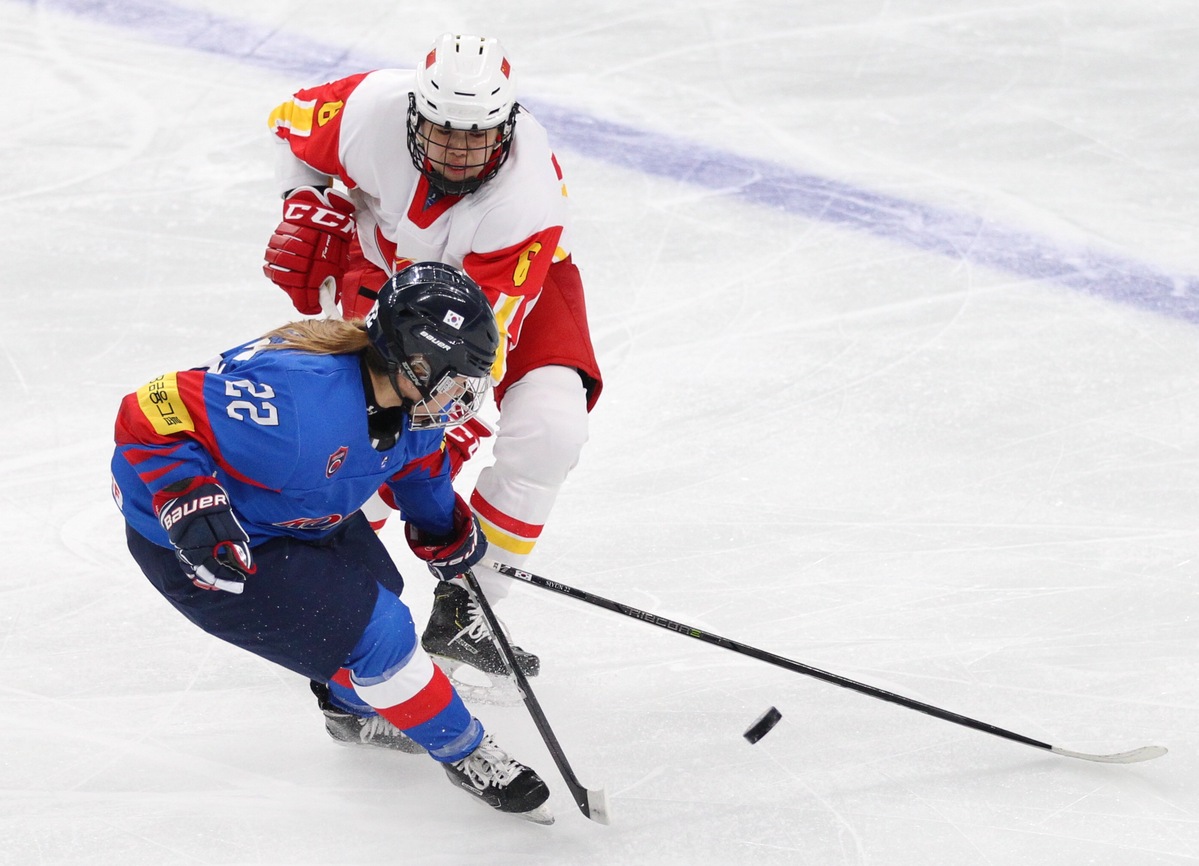 Putting some muscle behind the hustle.
That's coach Jakob Kolliker's mandate for China's women's national hockey team ahead of the 2022 Beijing Winter Olympics, and judging by the squad's first two results at the Division I Group B world championships, it's a doable deal.
On Saturday afternoon Team China unleashed a 61-shot barrage en route to a 3-0 triumph over Latvia, then followed up with a clinical 5-2 victory over South Korea on Sunday at Shougang Ice Hockey Arena in suburban Beijing.
"Today was a really good game for us," Kolliker said of Sunday's effort. "We knew we had to keep up the speed we had against Latvia, and in the end the result was good for us, so I'm really happy. Everybody worked really hard, but we have big opponents coming up and we have to stay focused."
The 65-year-old Kolliker, an IIHF Hall of Famer and former star defenseman for the Swiss national team, said before the tournament that speed and defensive awareness were going to be crucial factors for Team China.
"We have a lot of good skaters, so generating speed on the attack is definitely something we are capable of sustaining… but on the other side our defense has to be more consistent. We have to be stronger on the puck, and we can't afford to give up easy scoring chances."
That was never a concern against the hopelessly outgunned Latvians, who managed to direct just nine shots at Team China goaltender Wang Yuqing.
In the other net, acrobatic Kristiana Apsite made 58 saves en route to be named Player of the Game.
Lu Shuang tallied twice for Team China, while Fang Xin added an empty-netter.
Fang, who earned Player of the Game honors for her two-goal effort against South Korea, credits Kolliker for instilling the need for speed.
"What we achieved today is the result of our hard training, but we can't rest on our laurels. There's always room for improvement," she said.
"Before the game, Jakob told us to be patient, play our natural game and take our chances. We have confidence in our speed."
With Team China clinging to a 2-1 lead, Sunday's game was a see-saw affair until the third period, when Fang and Liu Zhixin both notched their second goals.
Kim Hee-won got one back for South Korea before Kong Minghui sealed it for the home side.
Team China faced off against the Netherlands on Tuesday and will play Poland on Wednesday before wrapping up the competition against Kazakhstan on Friday.
The tournament winner will qualify for advancement to next year's Div 1 Group A championships. That group currently includes Austria, Denmark, Hungary, Italy, Norway and Slovakia.
As host, Team China automatically qualifies for the 2022 Beijing Olympics, where it could potentially face perennial heavyweights Canada, the US, Sweden and Russia.