A life of silver linings
By Chen Jie | China Daily | Updated: 2019-04-15 07:45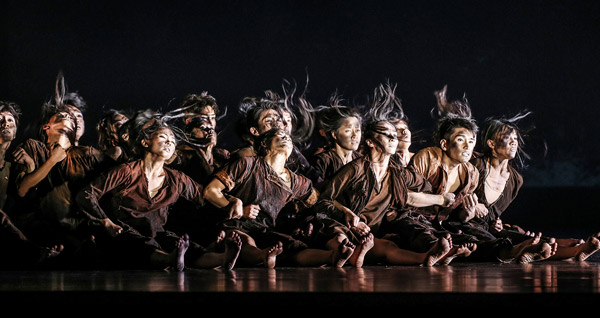 He then moved to the US and received his master's degree at the University of Iowa in 1972. During his stay, he began to learn about modern dance. He attended a modern dance course taught by Marcia Thayer and a summer program at the Martha Graham Center of Contemporary Dance.
In 1973, he established the Cloud Gate Dance Theatre, the first contemporary dance company in Taiwan. Lin said he once read in a history book that yunmen ("cloud gate") was the oldest dance form in China, with its origins dating back more than 2,000 years. Unlike most Western modern dance companies, Cloud Gate's dancers practice tai chi, kung fu, meditation and their early works feature stories about Chinese myths and legends.
The company not only takes to the stage at regular theaters, it also performs for underprivileged communities in a range of venues. His 2013 work, Rice, premiered in a paddy field to an audience of farmers in Chihshang, a town known for its rice, in Taiwan.
"I don't think elderly farmers found it difficult to understand my dances. Dance is all about movements and feelings-there's no paperwork or written test," says Lin.
But his unique approach to choreography of course earned him much academic praise.
Time magazine described Cloud Gate as "Asia's leading contemporary dance theatre" and his work Moon Water was selected by The New York Times as its best dance work of 2003.
In 2005, Lin was named as one of "Asia's heroes" by Time magazine and in 2009, he was honored with a lifetime achievement award from the International Movimentos Dance Prize in Wolfsburg, Germany.
In 2013, the choreographer received the prestigious Samuel H. Scripps/American Dance Festival award for lifetime achievement, the first dancer outside the US or Europe to receive the accolade. Previous recipients include Martha Graham and Pina Bausch.
Lin remains humble and says he never expected to achieve major success.
"I always feel grateful that people still like to come to my shows," he says.
Lin suffered a bone fracture during a car accident in late 2016. Friends tried to comfort him by asking him why it happened to such a great choreographer. Lin says his reply was: "Why not me?"
But that experience did convince him to slow down.
Lin says he had been considering retiring for a few years, as he felt that Cloud Gate needed fresh blood to lead the company into the future.
He says many contemporary dance companies fail or disappear altogether soon after the founder of the troupe leaves or dies, as in the case of Merce Cunningham and Pina Pausch.
"I don't want Cloud Gate to become a museum for Lin Hwaimin's works," he says. "Young people live in the information age of social media and handheld devices. I could not create a piece using special effects created on an iPad, but a young choreographer can."
After retiring, he will hand over his position to Cheng Tsung-lung. Cheng, 44, has performed internationally with Cloud Gate since 2001. He was the resident choreographer with Cloud Gate 2 between 2006 and 2010, and has served as its artistic director since 2014. Cloud Gate 2 was formed by Lin in 1999, with a focus on showcasing talented young choreographers and dancers from Taiwan.
Lin says he will start a new life like any ordinary person after retiring, filling his days with cooking, washing dishes, cleaning the house, reading and watching soap operas.
"I've worked flat-out for 46 years since establishing Cloud Gate and I only really know choreography. Now it's time to slow down and learn about ordinary daily life."
Contact the writer at chenjie@chinadaily.com.cn