More Chinese choosing to adopt pets instead of buying
China Daily | Updated: 2019-04-17 07:18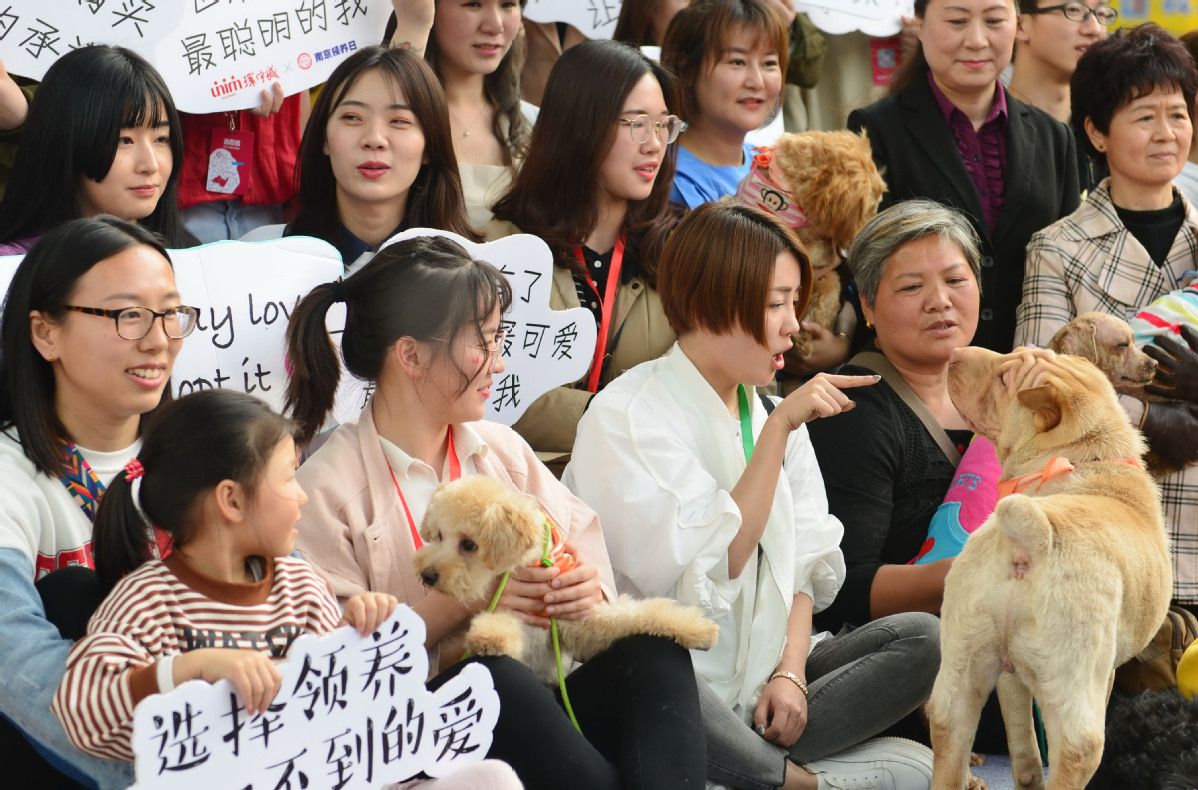 CHANGSHA-A life-changing moment has finally come for Demacia, a six-month-old stray dog in Changsha, Hunan province.
Demacia was found by animal activists in an underground parking garage about a month ago. After a number of failed attempts to find its owner, the dog was taken home by a volunteer.
Good news greeted Demacia and other strays on Saturday, which 51 cities across China had designated as Pet Adoption Day to promote "adoption instead of buying".
Initiated by Beijing Adoption Day, a public-minded platform based in the capital, the annual event has been held five times.
Demacia was among 30 dogs and 10 cats waiting to be adopted in Changsha. The event was arranged in a downtown shopping mall. Each animal had its own profile, including age, personality and health condition. To relieve their anxiety, each was assigned a volunteer to feed and introduce them.
The place was packed with people, mostly parents and children. The information desk was crowded, with many people asking about the adoption process and filling out application forms.
Before long, Demacia won the love of 29-year-old Xue Pingping and her son.
"We used to keep a dog in our family. My son fell for Demacia at first sight. After the volunteer's introduction and some discussion with my husband, we decided to adopt the cute little thing," Xue said.
As soon as they filled out the form, the family came back to Demacia's cage and confirmed the date for a "home visit" with the volunteer.
"We have to make sure the new owners are suitable for the animals. After initial screening, our volunteers will pay a visit to double confirm. The prospective owners have to sign an adoption agreement and produce a copy of their ID information before they can receive the animals into their arms," said Hu Yiming, organizer of the Changsha event and also a director of a charity for stray animals.
"The procedure is complicated but well worth it," Hu said.
He Hao was also in the crowd, with his own dog.
"I adopted the dog on June 17 last year and named it Seventeen to commemorate the date of our meeting," he said. He said the whole family loves animals. His son even applied to study veterinary medicine at his university.
Next to the animals, a charity sale booth was also popular. All sales from pet snacks, toys and supplies will be used to help stray animals. Volunteer veterinarians were also offering free consultations.
It was the third time that Wen Haitao, director of a local animal hospital, had participated in the event.
"I can see the improvement of pet protection efforts in China in recent years, as more cities have introduced guidelines for keeping pets and animal charities have mushroomed," Wen said.
Hu's animal rescue institute is now operating at full capacity, with 150 dogs and 13 cats.
"To ensure the living quality of each animal, we won't be taking in new ones, unless some are adopted to free up space," Hu said.
Volunteer Xia Bing said, "Animals cannot be saved by an institution, but by the good hearts of everyone in society." She takes pictures of animals during her leisure time and hopes that her photos will bring in more people.
As of Saturday evening, Hu had received more than 130 applications, more than in previous events.
"About 70 percent of the animals will be adopted, which is more than last year," Hu said.
XINHUA