Yennaris is building memories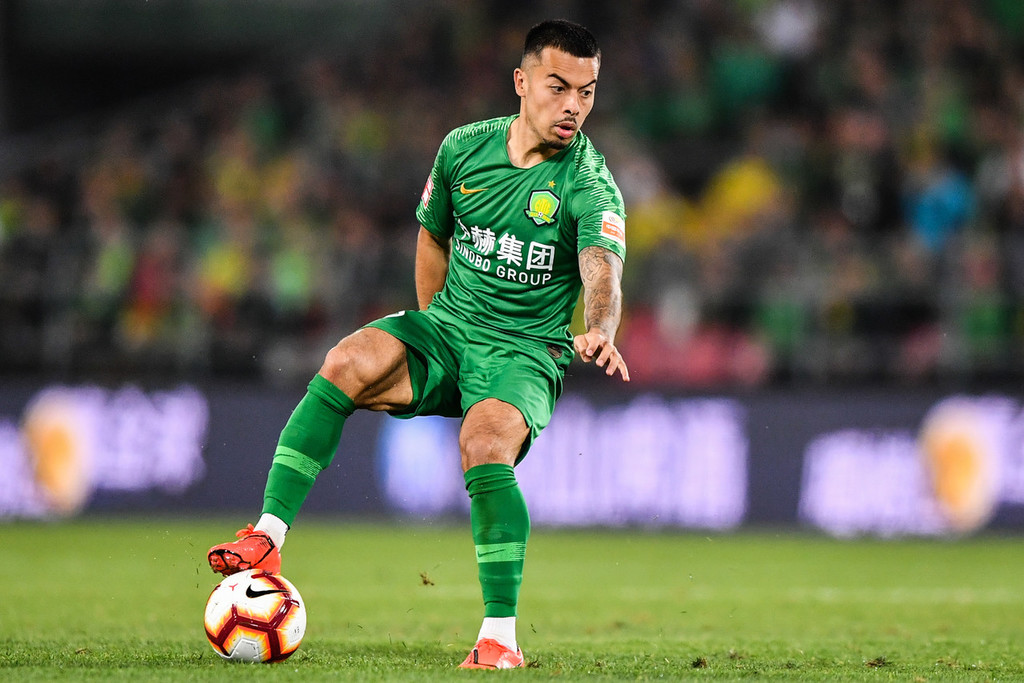 Beijing Guo'an's naturalized star hopes historic goal is just the start
Nico Yennaris' Chinese Super League career is just two games old, but already the former Arsenal player appears to have made the right choice in ditching London for Beijing.
Last Sunday, the 25-year-old became the first naturalized player to score in the CSL, and he's hoping his career in China will be filled with many more scrapbook moments.
"I hope that in 20 years I can say to my kid: 'See, Daddy made the right decision' ... and I can feel proud of that for years to come," Yennaris said on Beijing Guo'an's official WeChat account.
With his new Chinese name Li Ke emblazoned on his Guo'an shirt, Yennaris made history by firing home what proved to be the winner in a 2-1 victory over Henan Jianye at Workers' Stadium.
"It's the first in the CSL by a naturalized player so it's something that I can be proud of. For me, it's a great honor," the 25-year-old told China Central Television after his historic tally.
Yennaris signed for Guo'an from English Championship club Brentford in January for a reported $6.5 million, along with Norway-born John Hou Saeter, who also completed a naturalization process.
After making his debut in a 1-0 derby victory over Beijing Renhe on March 30, Yennaris has hit the ground running.
"I was a little nervous going into this game. I'm never normally like this," he said of his debut.
"But after I played I was happy with my performance. It's been a long time since I played. My last competitive game was in December. It's a start for me. Hopefully now I can build on this."
Kane connection
Born to a Chinese mother and Cypriot father in Leytonstone, east London, Yennaris played youth soccer with England superstar Harry Kane, with whom he remains on friendly terms.
"Me and Harry played for the same local team, Ridgeway Rovers, then we both went to Arsenal. Then he left for Tottenham (aged 8)," recalled Yennaris, who made a handful of appearances for Arsene Wenger's Gunners, including 45 minutes against Manchester United in the Premier League in 2012.
"When I see him, if we bump into each other, we say hello, we always speak. It's always nice to see him. He's had a great career so far."
But as Kane's career was taking off at Tottenham, Yennaris was slugging it out in England's second and third tiers for Brentford after being released by Arsenal in 2014.
Five years later came the lifechanging opportunity to leave for China, where Yennaris is on a steep learning curve, especially with the language.
Much was made of his singing the Chinese national anthem before kick-off, but he's still picking up the basics - such as the words for 'freekick' and 'corner'.
In terms of the action, he sees similarities between the rough and tumble of England's second tier and the CSL.
"I'm used to this, but it may be a different level of fouls," he said.
"At my old club I was more of a box-to-box midfielder - attacking and defending. I still get to attack here, but I have more of a defensive responsibility."
China does not recognize dual nationality, so Yennaris has dumped his British passport. But he's now eligible to play for his adopted country, currently ranked a lowly 74th by FIFA.
"I hope to help Chinese football," he said. "And hopefully one day I can play for the national team as well and we will try to get to a World Cup."
AFP contributed to this story