Graffiti works win a wider audience
By Li Yingxue | China Daily | Updated: 2019-04-23 08:48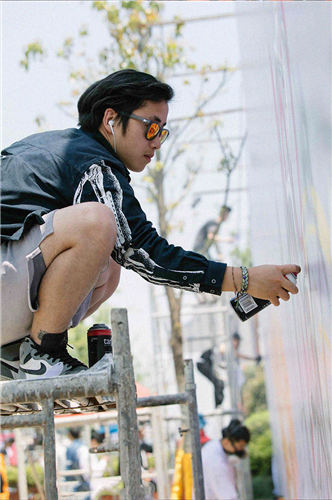 Ye, the Beijing street artist, sold a two-square-meter graffiti work for 20,000 yuan. "It's not a deal that you can strike often," he said.
In 2011, Ye's team, founded in 2007, won the Wall Lords graffiti contest in Chengdu, Sichuan. In 2012, it launched its own spray paint store in the 798 Art District in Beijing.
Spray paints are imported and sell for about 40 yuan a can. Since 2012, China has had its own brand of professional paints, which are half the price of imported products. The country's paints are now available in Europe and have become popular there, Ye said.
The name of the team's shop is"400ml", which refers to the volume of a regular spray paint can. Ye said the shop makes little profit and the team takes commercial graffiti commissions to make a living and to run the business. It has collaborated with many major sports, fashion and car brands to design graphics, clothing and sneakers.
Ye said that about two years ago he noticed that graffiti contests were being staged in many cities, but most of them were hosted by retail brands or real estate companies. "Recently, the number of events has fallen, but the quality has risen," he added.