Media urged to broaden Belt, Road stories' reach to public
Share - WeChat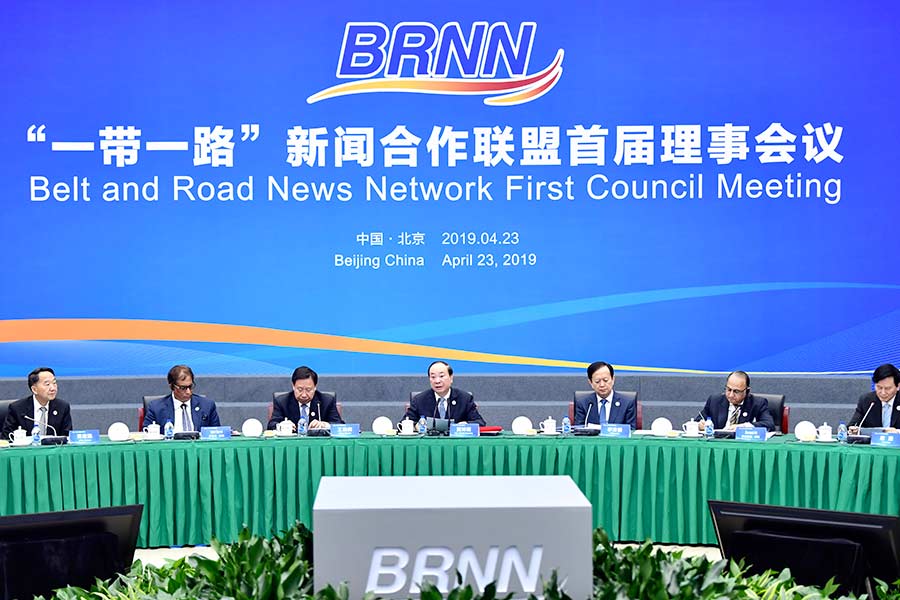 President Xi Jinping called on media outlets from the countries participating in the Belt and Road Initiative to tell the stories of the initiative in a way that shapes favorable public opinion for BRI cooperation.
Xi made the remark in a congratulatory message to the Belt and Road News Network First Council Meeting, held in Beijing on Tuesday ahead of the second Belt and Road Forum for International Cooperation. The forum will be held in the Chinese capital from Thursday to Saturday.
Xi said in the message that the BRI originated in China, but the opportunities and outcomes from it belong to the world.
BRI countries need to uphold the spirit of the Silk Road and strive to build the initiative into a road leading to peace, prosperity, openness, green development and innovation, and one that brings together different cultures, he said.
Xi commended the positive role that media outlets have played in forging the network of BRI partners and said the Belt and Road News Network facilitates exchanges and cooperation among the media organizations.
He called on the council members of the network to enhance their engagement and work harder to facilitate policy consultation, trade promotion, infrastructure connectivity, financial cooperation and people-to-people exchanges in order to enable the initiative to deliver more benefits to the people from the BRI countries.
The news network was launched at the meeting as a result of Xi's initiative at the first Belt and Road Forum in 2017 to build platforms to enhance people-to-people and cultural exchanges.
The network is a nongovernmental, nonprofit organization whose members uphold the principle of mutual respect, consultations held on an equal footing, mutual benefit and voluntary participation.
A total of 182 media outlets from 86 countries have joined the network, and 40 of them, from 25 countries, have become council members, including People's Daily, China Daily, France's La Provence, Russian news agency Tass and South Africa's Independent Media.
Media outlets should hold high the banner of peace and cooperation, openness and inclusiveness, mutual learning and win-win cooperation, Huang Kunming, a member of the Political Bureau of the Communist Party of China Central Committee and head of the Publicity Department of the CPC Central Committee, said at the meeting.
People's Daily is the council chair.
The network will unite its members to enhance mutual understanding and trust between countries, promote exchanges and mutual learning of different cultures, and contribute to regional economic prosperity as well as the peace and development of the world at large, Li Baoshan, president of People's Daily, said at the meeting.
Sarmad Ali, president of the Jang Media Group and president of the GEO Television Network in Pakistan, said the BRI helps countries pursue peace, prosperity and development. Media should conduct their reports about BRI objectively, tell the truth and help people understand how the initiative works, he added.