Presidential staffers studying Mandarin
China Daily | Updated: 2019-04-27 09:10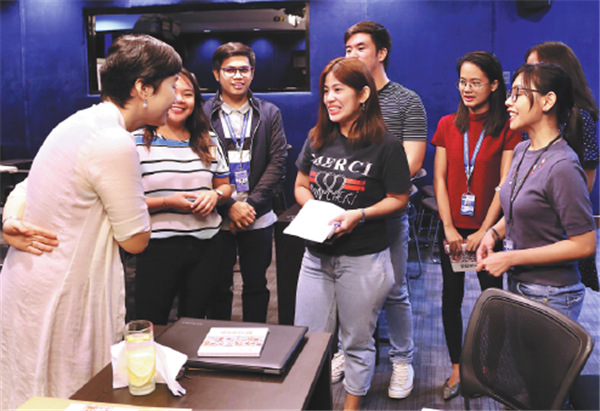 Many Filipinos express interest in learning basic Chinese, in hopes of deepening understanding, learning about new culture.
Staff members at the Presidential Communications Operations Office, or PCOO, started learning Mandarin at the Presidential Palace in Manila on April 12, a first for government employees in the Philippine capital.
The 15 students' first lesson, taught by Meng Guangjie, a teacher at the Confucius Institute at the University of the Philippines, began with the basics - how to say the name of the PCOO in Chinese.
Glenn Albert Ocampo, the head executive assistant of the PCOO Secretary Martin Andanar, told Xinhua how eager he was to learn basic Mandarin. He said he had been with PCOO for three years and was delighted to learn how to say PCOO in Mandarin.
"Language is the first part in establishing relations with people in other countries and understanding their culture. It's very important for us to learn at least the basic Mandarin to understand our counterparts in China," Ocampo said.
Around 30 PCOO employees have signed up for the formal Mandarin language course at the Malacanang Presidential Palace, Ocampo said.
Meng, in the coming weeks, will teach the employees conversational Mandarin words and phrases, including the four main tones, and more about modern Chinese culture and society.
After the 90-hour Mandarin course, "you will be able to introduce yourself, your family and your job," Meng told the Philippine employees.
Lourdes Nepomuceno, the director of the Confucius Institute at the University of the Philippines, said the institute is also providing Mandarin classes in government offices including the Department of Foreign Affairs, or DFA, and the Bureau of Immigration, or BI.
She said the institute decided to expand its lessons to PCOO to provide more opportunities for employees.
"We want to cover PCOO because we realize that it is an important avenue to learn more about China and understand China through language and culture," Nepomuceno told Chinese media.
The curriculum consists of 80 hours of Chinese language and 10 hours of Chinese culture.
"That has been our model for the past three years when we conduct classes at the Foreign Service Institute of the DFA and the BI," Nepomuceno said.
"We already graduated the first batch and we now have the second batch. Same is true with BI. We graduated the first batch and we started the second batch already."
The institute customize the program to cater to the needs of the government sector or employees, she added.
In providing classes for the immigration employees, she said the institute teaches Chinese words or phrases needed in engaging with Chinese tourists.
"What they do is they give us a list of frequently asked questions when tourists enter the airport, and they will try to memorize and study words and the greetings, and they concentrate on the tones of the words," Nepomuceno said.
"The first batch did a good job, the first batch that graduated, and they are now on the second level," she added.