Brexit split threatens Labour election build-up
By JULIAN SHEA | China Daily Global | Updated: 2019-04-29 09:22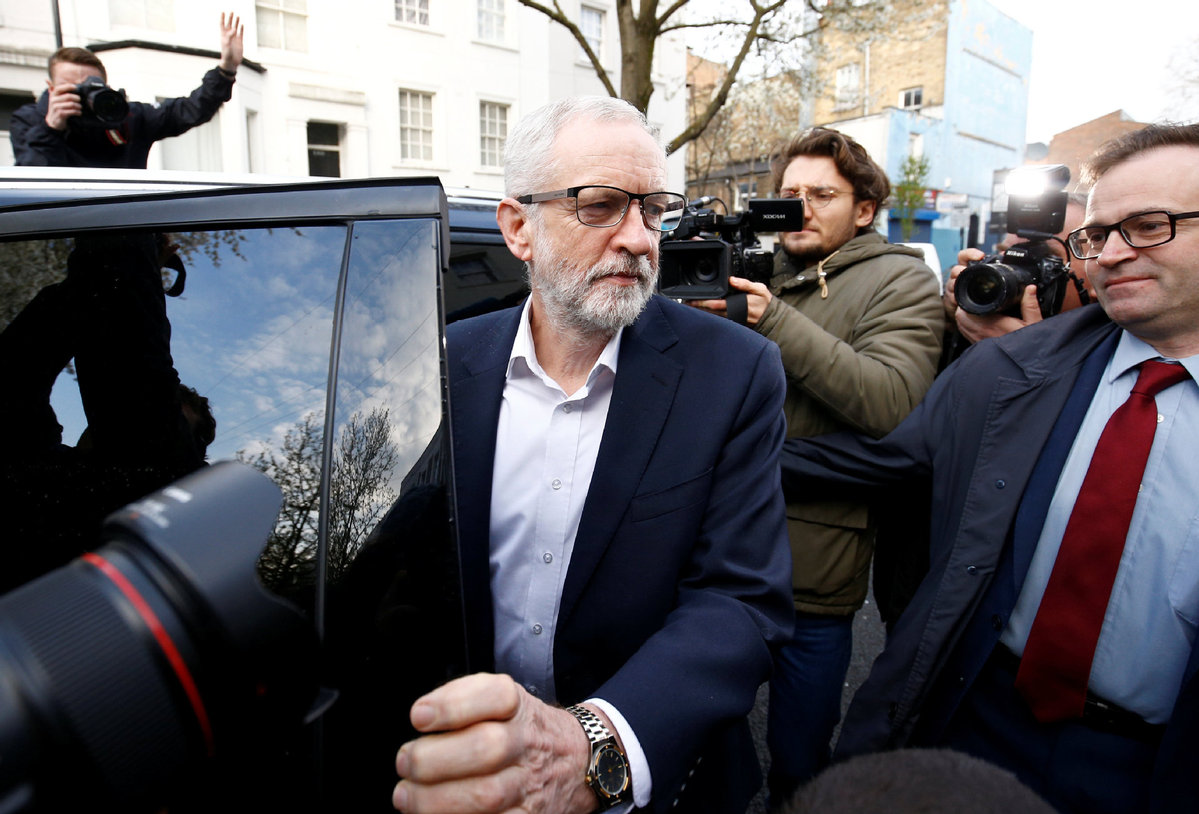 The Labour Party's preparations for May's European elections could be thrown into jeopardy after some party activists threatened to refrain from campaigning unless the party makes a solid commitment to back a new public vote on the outcome of any Brexit deal.
Labour is the main opposition to Prime Minister Theresa May's Conservative Party in Parliament. Its national executive committee, or NEC, will meet this week to finalize the wording of its European election manifesto, and the issue of Brexit is proving hugely divisive.
Leading party figures, including deputy leader Tom Watson, and shadow Brexit secretary Sir Keir Starmer, are believed to want a definite statement, but others including leader Jeremy Corbyn and chair Ian Lavery are less explicit.
An early draft of the party's European election leaflet, put together by Corbyn's office, neglected to mention any confirmatory public vote, and has reportedly been rewritten because of the hostile response this drew.
The Observer newspaper reports that local councilors, party supporters and activists from across the country have written to the NEC and Corbyn's office, demanding that the party takes a stand on the issue and that Corybn should actively promote it, while warning that failure to do so could cost them significant amounts of support.
Paul Wilkinson, chairman of Gedling constituency Labour party in Nottinghamshire, told the Observer that the draft leaflet leaving out any mention of a people's vote was "horrifying", adding that "I would find it very difficult, if not impossible, to campaign for such a position, which I would find heartbreaking."
The Conservatives are predicted to be on course for one of their worst-ever electoral showings in next month's local and European elections, largely because of their mishandling of Brexit.
Leading Conservatives have made it clear that even taking part in the European elections runs contrary to the Brexit policy they support, and now the issue is threatening to engulf Labour as well, but for very different reasons.
"There is no place for a Brexit Light party, only a Remain-and-reform alternative to the current fudge," Anashua Davies, a local Labour Party branch secretary from Kent, told the Observer. "Labour must be unequivocal about a second vote or deservedly risk the same sorry fate as the Tories."
Some Labour voters do support Brexit, however, and it is the prospect of alienating them that has put many senior party members off committing themselves to a second vote policy.
That could drive Labour Brexit supporters to consider voting for the new Brexit Party, set up by former United Kingdom Independence Party leader Nigel Farage.
Despite having only just been founded and not even published a policy manifesto yet, the Brexit Party is scoring very well in public opinion polls.