South Africa starts voting in elections
By Edith Mutethya in Nairobi, Kenya | China Daily | Updated: 2019-05-09 09:14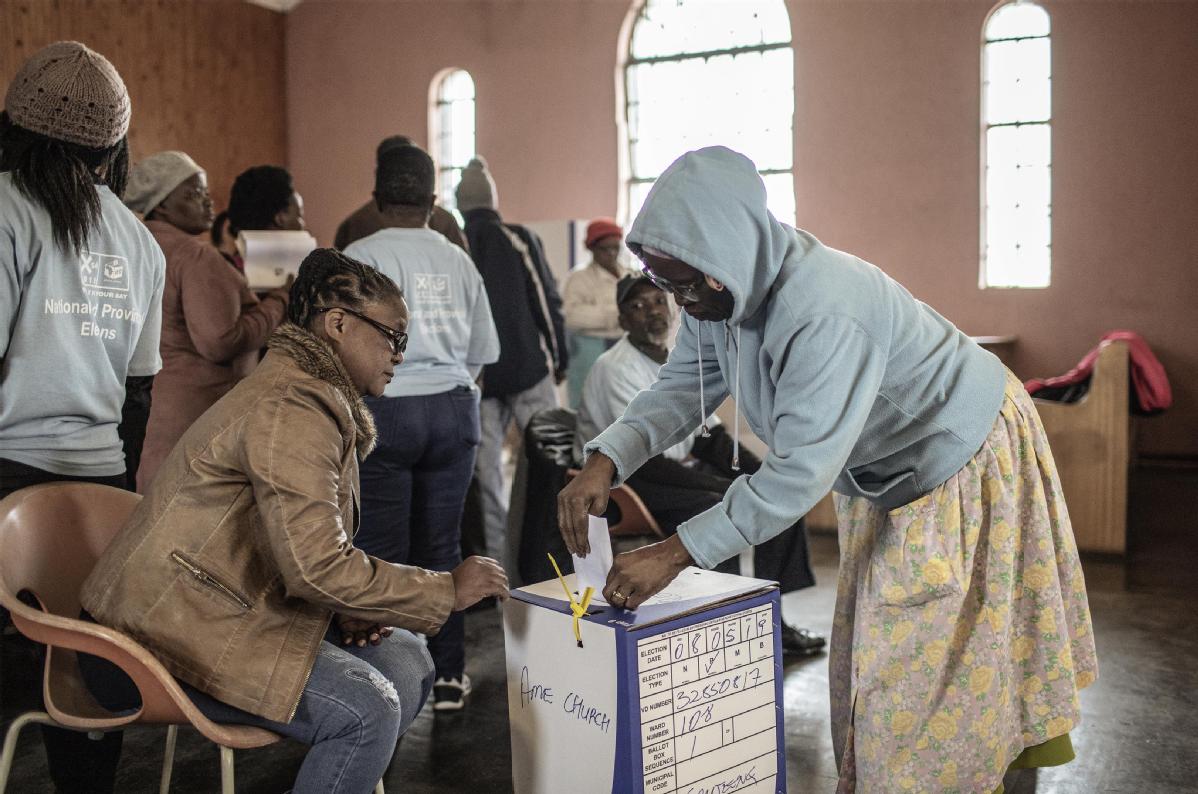 Candidates promise to create more jobs and improve people's living standards
Millions of South Africans headed to polling stations on Wednesday to elect a new National Assembly and provincial legislatures, a process that will determine the next president.
By 7 am local time, when the polling stations were opened, long lines were seen across the country as citizens of a variety of ages showed up to exercise their democratic right.
Incumbent President Cyril Ramaphosa of the African National Congress party, or ANC, is battling it out with Julius Malema and Mmusi Maimane from the two main opposition parties, the Economic Freedom Fighters and Democratic Alliance, respectively.
Ramaphosa cast his vote at Hitekani Primary School in Chiawelo, Soweto, where he spent his early life.
In his manifesto, Ramaphosa promised to focus on early childhood development. He also promised to address gender equality issues and create more jobs.
Ramaphosa replaced Jacob Zuma in February 2018. His ANC party has ruled since the end of the era of white minority rule referred to as apartheid in 1994.
Speaking after casting his vote, former president Zuma told South Africans to vote for the parties that are promising to deliver a better South Africa and that they should not be wooed by "better" sounding slogans.
"I'm hoping that our education to democracy is getting better," he said noting that parties were not sticking to their policies to tell the voters exactly what they will do in a serious sense apart from slogans.
Maimane cast his vote at the Presbyterian Church voting station in his Dobsonville home, Soweto.
He urged South Africans to come out in large numbers to cast their votes, for the future of the country and the unemployed South Africans.
"The unemployment rate is too high in this country. We must vote for the protection of freedom and the advancement of freedom for all South Africans," Maimane told SABC TV.
He expressed his confidence to win the election with a promise to create more jobs for South Africans.
Malema cast his vote at Mponegele Primary School in Polokwane, Limpopo.
In his manifesto, Malema promised to address social challenges, create more jobs for youth and improve the living standards of the black South Africans, as well as fight drugs.
Tight security was reported in all the polling stations with a minimum of two police officers per station to ensure the process runs smoothly.
Police were put on high alert at Gauteng, which had experienced several service delivery protests and election boycott threats in the run up to Wednesday's elections.
Several protests flared up in Durban on Wednesday morning. Lieutenant Colonel Thulani Zwane, the police spokesperson, said the protests started at 6 am, when a group of community members blocked the Ntuzuma access road near Nhlungwane, reported by News24.
The Electoral Commission of South Africa has also tightened security at the National Results Operation Centre in Pretoria.
The Electoral Commission is expected to announce the official election results on Saturday.
In its official Twitter account, African Union said the AU election observation mission headed by Jakaya Kikwete had met with key stakeholders, including government officials, political parties, the electoral commission and other regional and international observers.