French pastry chef takes part in Beijing 'bun fight'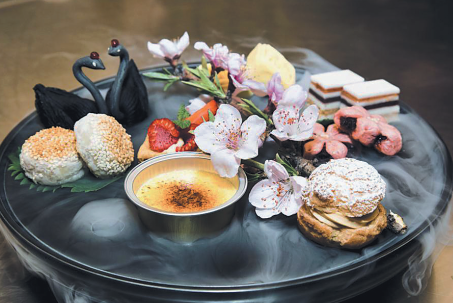 French dessert chef Kevin Maillard is pouring sugar into a basin that sits on an electronic scale. It's followed by egg yolk and milk. His eyes are fixated on the figures shown on the side of the scale.
On the other side of the worktop, Chinese pastry chef Yan Xugang is rolling a pink-colored dough flat, before rolling it up and slicing it into small cubes.
Like trying to follow a tennis ball, the audience's gaze swings between the pair, as it is tough to follow both chefs performing at the same time - the duo move fast, working deftly to make different dishes with a variety of tools and quick moving hands.
The pair are in the midst of a "dessert battle", hosted by Croissant Village Bakery Studio in Beijing earlier this month, in which top pastry chefs from France and China are invited to present their skills together and share experience with one another.
In the two-hour cooking time, Maillard delivers four classic French desserts including lemon tart and Brest puff, while Yan, together with Beijing cuisine chef, Zhao Guangyou, prepare four traditional Chinese snacks, such as rose cake and peach blossom crisp cake.
The difference in the chefs' techniques are demonstrated by their work stations. Maillard's is littered machines and appliances, and he uses an electronic thermometer to monitor the sauce he heats, while Yan and Zhao use only a knife, as most of their work relies on the dexterity of their hands.
"Traditional Chinese snacks are all handmade, and mostly rely on the chef's own skill," says Zhao.