Guizhou's poverty fight includes better schools, meals for kids
By Cai Hong, Li Hanyi and Dong Xianwu in Guizhou Province | China Daily Global | Updated: 2019-05-13 08:43




Share - WeChat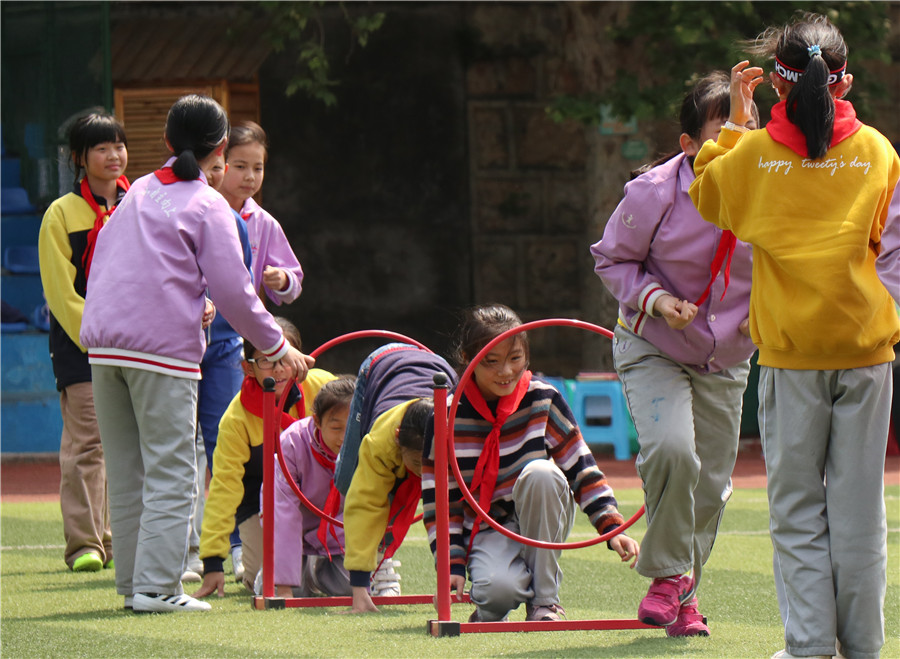 Policymakers in Southwest China's Guizhou province are trying to improve education programs to empower children with knowledge and skills to combat poverty.
The province is determined that no child should be allowed to drop out of school due to his or her family's financial difficulties.
Local educators believe that particular attention should be paid to boosting poverty-stricken students' confidence in their capability to lift their families out of poverty, and helping them view improved schooling as the way to accomplish this.
The province has given 1.69 million registered poor students stipends worth a total of 5.3 billion yuan ($777 million) since 2015, according to Guizhou's Education Department.
While working out its strategy to impart knowledge to rural children, Guizhou has also taken into consideration that many kids come to school hungry.
According to Bao Benqi of the provincial Education Department, the Guizhou government has set the goal that "each of the primary and secondary schools in the rural areas should have a canteen so that lunch can be served to every student".
The meal is believed to help students improve their performance at school. Many students in the poverty-stricken areas had been coming to class with an empty stomach, since they did not have food at home.
"More than 3.8 million primary and secondary school students and 860,000 preschool kids are covered in the nutrition project every year," Bao said.
The nutrition project connects residents of the province's low-income villages to canteens in rural nurseries as well as primary and secondary schools.
These canteens purchase farm produce from the poverty-stricken farmers, Bao added.
Guizhou has been making painstaking efforts to improve education for children in rural and mountainous regions because the government believes schooling is the best way to empower the youngsters, who are seen as the hope of their families for getting out of poverty.
The mountainous province is one of the poorest regions in China. In 2018, it still had more than 1.55 million people living below the poverty line of disposable annual income of 8,495 yuan.
One of Guizhou's approaches to lifting impoverished people out of a bare-bones existence is to build settlements in urban areas for the relocation of those who live in mountainous areas considered uninhabitable.
The province has relocated 1.32 million people since 2016, and those living in poverty who remain - 560,000 people - will be moved to new homes this year, according to Sun Zhigang, secretary of the Guizhou Provincial Committee of the Communist Party of China. Sun made the remark in Beijing in March while attending the annual plenary session of the National People's Congress, the country top legislature.
Guizhou has aimed high in its poverty fight in a bid to help reach the nation's goal of lifting all people out of poverty by 2020. This year, a total of 1.1 million residents are expected to escape poverty, Guizhou Governor Shen Yiqin said at the provincial people's congress in January.
Shen said Guizhou will provide 160,000 homes for relocated residents this year, adding that the local government is planning to appropriate 17 billion yuan to fund the process.
Shiqian county in Tongren - to which more than 700 residents moved in 2018 - has built kindergartens and primary schools near residential communities, and more service centers are expected soon.
However, not everyone in the poverty-stricken areas wants to leave their home.
"To encourage them to move, Guizhou authorities have used a better schooling for their children as bait," said Zhang Qing of Guizhou's provincial Education Department.
"More than 130,000 children will be enrolled in the 1,600 preschool facilities and primary and secondary schools near their urban settlements. Also, 333 nurseries and junior high schools will be built to enroll some 50,000 relocated children," Zhang added.
To promote educational development and cultivate more high-quality teachers in the country's central and western regions, China launched a State-level training program for rural primary and middle school teachers in 2010.
Primary school teachers in Guizhou have joined the training at Beijing Normal University.
In September 2014, President Xi Jinping met with teachers from Guizhou who were receiving training at Beijing Normal University. The group of teachers later wrote a letter to Xi.
In a letter of reply to the Guizhou teachers, Xi asked them to lead education reform in poor areas.
"Reducing poverty must begin with reducing ignorance. Therefore, giving rural children a good education is an important task in poverty relief, and also a crucial means to stop poverty from being passed on between generations," he said.
"The poor regions are the bottleneck in building a moderately prosperous society by 2020," Xi wrote.
While talking with students and teachers at a primary school in Zhongyi, a township in Chongqing's Shizhu Tujia autonomous county, in April, Xi said compulsory education is an important part of poverty eradication.
Children in impoverished mountainous regions must be guaranteed access to education, and they should have a happy childhood, Xi said during his visit to Chongqing. He encouraged teachers to settle down in such regions, dedicate themselves to education in rural areas and contribute to poverty reduction.
The Guizhou government has called in the province's best teachers and school headmasters to help schools in the rural areas, according to Hong Ying of Guizhou's Education Department.
These teachers are required to work out plans on how to help substandard schools in rural areas.
Zhang Yan, the principal of Huichuan Primary School in the city of Zunyi, is a member of this year's group of selected teachers.
"I've focused my plan on coaching teachers in the poverty-stricken areas rather than giving lectures at rural schools," Zhang said.