Facilities urged to strengthen welfare programs
By Xin Wen | China Daily | Updated: 2019-05-13 08:59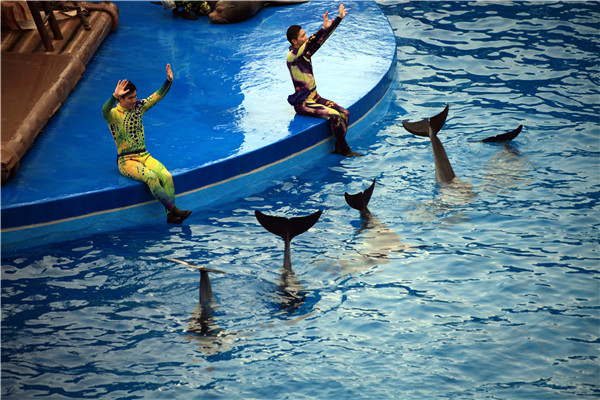 There is a long tradition of aquarium shows, where captive marine mammals are put on display for audiences across the world. However, experts are voicing concerns about the practice of capturing marine mammals and using them for entertainment, claiming that the performances impose great stress on the animals involved.
Commercial motives have seen a rising number of marine mammals being captured or raised in captivity, while some aquariums have established breeding centers to ensure that animals will give birth to the next generation of performers, according to Zheng Yu, a campaign manager with World Animal Protection, an NGO devoted to improving the conditions of captive animals.
A chain has been formed whereby marine mammals are seized, then transported and finally imprisoned in small pools in aquariums. Each step puts the animals in danger, Zheng said.
Most of the aquariums involved are privately owned, but they are overseen by the ministries of Housing and Urban-Rural Development and Agriculture and Rural Affairs, and supervision of animal shows to ensure the animals are adequately protected is fraught with difficulty, she added.
Moreover, breeding and raising the mammals, along with disease prevention and ensuring they are healthy, involves several other national agencies, while some animal entertainment venues are supervised by cultural and tourism authorities.
More than 250 whales had been hunted and sent to marine parks in China by 2015, according to a report by the China Cetacean Alliance, which also estimated that 491 whales from 11 species had been bred in marine parks.
Haichang Ocean Park Holdings Ltd, the first Chinese company in the marine entertainment sector to list on the Hong Kong Stock Exchange, owns eight marine parks in China, including the largest, located in Shanghai.
The company has established its own ethical breeding base for marine mammals, said Jia Shuying, Haichang's marketing manager.
"We always pay particular attention to animal protection, as each marine mammal in our park has been adopted through legitimate channels," she said, though she declined to disclose further details of the breeding and raising programs.
Zheng, the animal protection campaign manager, said aquariums should encourage a sense of public welfare and protection of marine mammals, rather than simply pursuing profits.
"It is important for advanced marine parks or zoos to make animal welfare their top priority, to offer more care to captive animals and improve their living conditions. That would help to alleviate behavior such as abuse and injury to animals at the same time," she said.
"Aquariums should take advantage of their unique situations to conduct comprehensive studies of marine mammals, such as captive dolphins, and fully use the results of that research in wildlife rescue and protection programs. That would result in aquariums becoming wildlife protection centers, rather than just animal circuses."