Riyadh says two oil tankers attacked
China Daily | Updated: 2019-05-14 09:33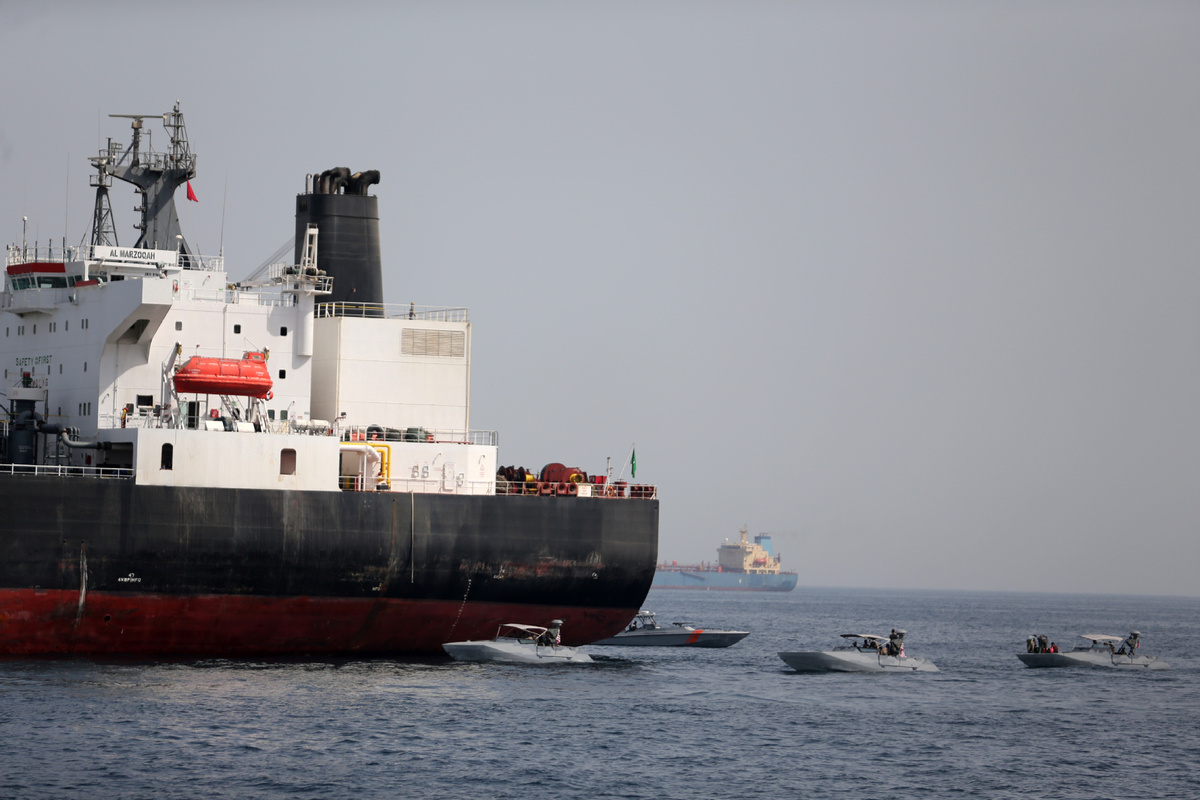 Teheran calls for probe; Pompeo to visit Brussels on Iran, shortening Russia trip
Saudi Arabia said on Monday that two of its oil tankers were sabotaged off the coast of the United Arab Emirates in attacks that caused "significant damage" to the vessels, one of them as it was en route to pick up Saudi oil to take to the United States, The Associated Press reported.
The announcement by the kingdom's Energy Minister Khalid al-Falih came as the US issued a new warning to sailors and the UAE's regional allies condemned Sunday's incident that targeted at least four ships, including two Saudi tankers, off the port city of Fujairah.
The statement came just hours after Iranian and Lebanese media outlets aired false reports of explosions at Fujairah's port, AP reported. Emirati officials have declined to elaborate on the nature of the sabotage or say who might have been responsible.
The US has warned ships that "Iran or its proxies" could be targeting maritime traffic in the region, AP said. Washington is deploying an aircraft carrier and B-52 bombers to the Persian Gulf to counter alleged threats from Teheran.
Shortly after the Saudi announcement, Iran's Foreign Ministry called for further clarification about what exactly happened with the vessels. The ministry' spokesman, Abbas Mousavi, was quoted by the official IRNA news agency as saying there should be more information about the incident.
Mousavi also warned against any "conspiracy orchestrated by ill-wishers" and "adventurism by foreigners" to undermine the maritime region's stability and security.
Publicly available satellite images of the area taken Sunday showed no smoke or fire, AP reported.
Tensions have risen since US President Donald Trump withdrew the country from the 2015 nuclear deal between Iran and world powers, restoring US sanctions that have pushed Iran's economy into crisis.
Meanwhile, US Secretary of State Mike Pompeo was scheduled to pay an unannounced visit to Brussels on Monday to discuss "pressing matters" including Iran, media reported on Sunday, citing a US State Department official, Xinhua News Agency reported.
According to media reports, Pompeo was expected to hold talks with officials from France, the United Kingdom and Germany-the three European signatories to the 2015 Iran nuclear deal.
Pompeo therefore would cancel his Monday visit to Moscow, media reported, adding Pompeo's Tuesday meeting with Russian President Vladimir Putin and his Russian counterpart Sergey Lavrov in the Russian Black Sea city of Sochi would not be impacted.
Their discussions would touch on arms control issues and "a full range of global challenges" including the issues of Ukraine, Venezuela, Iran, Syria, and the Democratic People's Republic of Korea, a senior state department official said at a news conference on Friday.
It would be the third time for Pompeo to abruptly change his scheduled visit because of the Iran issue recently.
Earlier last week, Pompeo made an unannounced trip to Iraq by canceling his visit to Germany. He then scrapped his planned trip to Greenland reportedly due to the escalation of tensions with Iran.
Over the recent weeks, Washington has ratcheted up pressure against Teheran with a series of sanctions, designations and military threats.
In response, Iranian President Hassan Rouhani on Wednesday announced Teheran's withdrawal from complying with the restrictions posed by the Iran nuclear deal on the country's enriched uranium reserves and heavy water supplies.
Rouhani also set a 60-day deadline for the remaining parties to the deal to fulfill their obligations, particularly in preserving Iran's interests in the areas of banking and oil.
Jeremy Hunt, Britain's foreign minister, on Monday urged a period of calm ahead of talks between the European Union and Pompeo, saying Iran and the US could trigger a conflict by accident in an already unstable Gulf region, Reuters reported.
"We need to make sure that we don't end up putting Iran back on the path to re-nuclearization," Hunt said, calling for "a period of calm so that everyone understands what the other side is thinking".
As Trump has sent an aircraft carrier and B-52 bombers to the Gulf, Iran said the strategy amounts to "psychological warfare" and a senior Iranian Revolutionary Guards commander on Sunday said Iran would retaliate to any aggressive US moves, Reuters said.
EU foreign policy chief Federica Mogherini and German Foreign Minister Heiko Maas said on Monday that they would continue to support the nuclear pact because Iran continued to comply with inspections.
The EU is trying to implement a new channel to allow Iran to sell its oil and circumvent newly-instated US sanctions, but setting it up is proving complex.
Xinhua