Trump plan to help US farmers met with some skepticism
By ZHANG RUINAN in New York | China Daily Global | Updated: 2019-05-15 23:27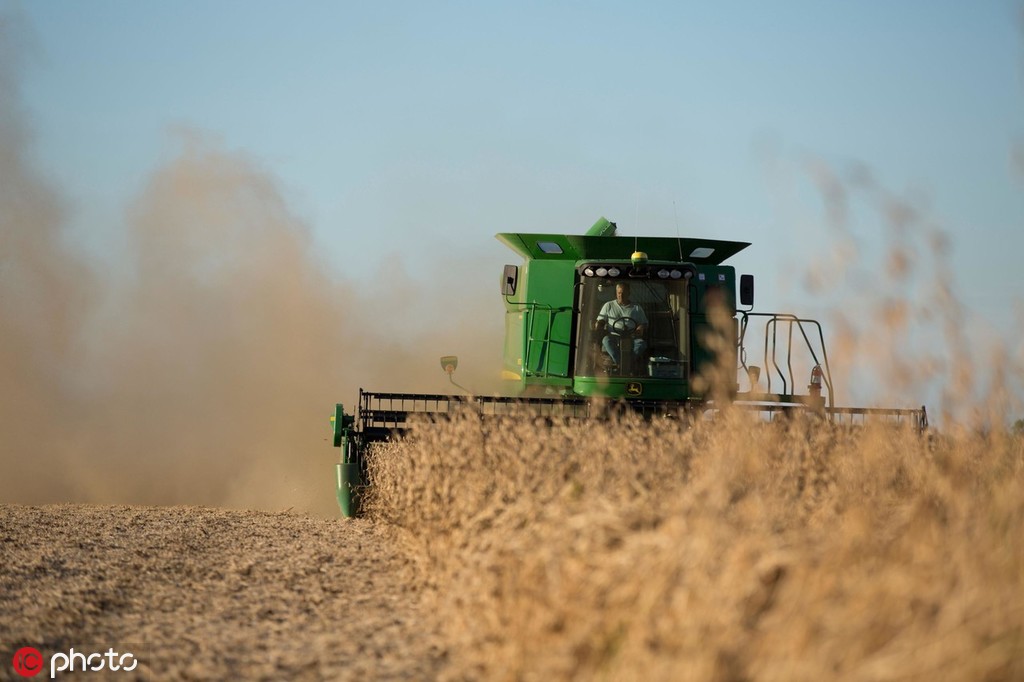 US President Donald Trump has said he wants to provide about $15 billion in aid for US farmers whose products have been hit by Chinese tariffs.
Experts say, however, that doing that faces many challenges.
"Our great Patriot Farmers will be one of the biggest beneficiaries of what is happening now," Trump wrote on Twitter on Tuesday, referring to his trade policies.
He said that the benefits for farmers would come from China buying more US agricultural products or the US government making up the difference by buying the products and shipping them to "poor and starving countries in the form of humanitarian assistance".
The $15 billion would be a second aid package for US farmers, after last year when Trump directed the US Agriculture Department (USDA) to spend $12 billion to compensate for lower prices for US farm products and lost sales affected by trade disputes.
Pork producers and soybean farmers received much of the focus last year, while a broad swath of other farmers and fishermen complained that they were also being affected, but got less attention.
Trump's proposed aid plan has left unclear what products would be purchased and how.
However, lawmakers, agriculture experts and farm groups expressed confusion and raised questions as to how the $15 billion aid program would work, and Trump said on Monday that the plan was still being "devised".
"How this would be done, whether it would apply to wheat and corn and other crops and not just soybeans, is going to be a question that's going to have to be answered," Senator John Thune, Republican of South Dakota, told The Washington Post.
Tom Vilsack, a former USDA secretary in the Obama administration, who is also the president and CEO of the US Dairy Export Council, told CNBC that the proposed aid program may require congressional approval, although last year's aid for American farmers affected by China's retaliatory tariffs didn't require it.
"I think what the president was talking about was buying a bunch of soybeans," said Vilsack. "And even if the secretary can identify the resources to purchase crops and products, getting them to countries requires a second step by USAID [Agency for International Development] and the State Department."
Experts and government officials also raised potential problems about Trump saying the purchased crops would go to poor countries. They include how to move crops on a large scale efficiently and the possibility that dumping large amounts of crops could disrupt local farming infrastructures.
In addition, they noted that some poor countries don't need certain crops that are in abundance in the US, such as soybeans.
Senator Chuck Grassley, Republican of Iowa, told the Post that there are strict limits on how US officials could simply donate food to poor countries. He said the way Trump has discussed it could violate World Trade Organization rules.
"It's fair to say that I want to point out that there's problem with what he's planning to do, and he ought to take those into consideration," Grassley said.
The priority for US farmers is for China and the US to find a resolution to the current trade dispute and to come up with a deal and resume normalized trade, Grant Kimberley, director of market development for the Iowa Soybean Association, who also grows corn and soybeans, told China Daily on Tuesday.
He said that the $15 billion in aid would very much be appreciated by farmers to "help them bridge the gap here in the short term".
"The soybean market in China took us more than 40 years to build, and as this confrontation continues, it will become increasingly difficult to recover," Davie Stephens, a Kentucky-based farmer, and president of the American Soybean Association, said in a statement.
"What that means for soybean growers is that we're losing. Losing a valuable market, losing stable pricing, losing an opportunity to support our families and our communities."