UK's inter-party Brexit talks end without agreement
By Earle Gale in London | China Daily Global | Updated: 2019-05-17 17:59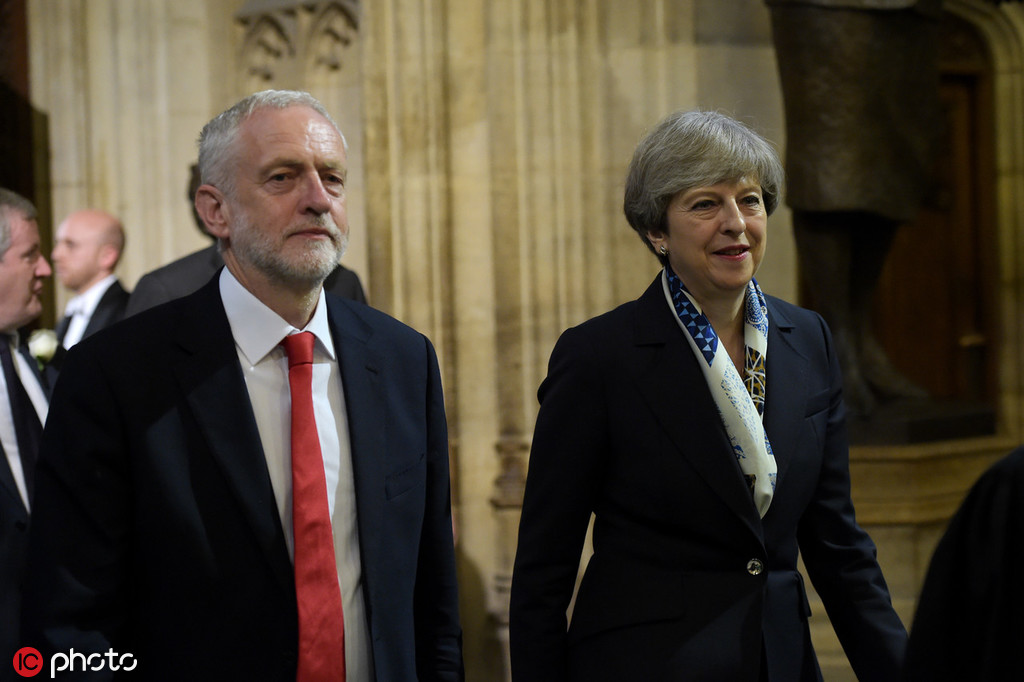 The British government and the country's main opposition party have drawn a line under talks aimed at finding a compromise Brexit withdrawal deal.
Senior negotiators from the ruling Conservative Party and the opposition Labour Party had spent six tense weeks around the negotiating table in search of an elusive compromise deal that both parties could live with that would have outlined the United Kingdom's future relationship with the European Union, after the nation leaves the bloc.
But Jeremy Corbyn, leader of the Labour Party, said in an open letter to Prime Minister Theresa May on Friday that the talks, while "detailed" and "constructive", had ultimately failed, in part because of speculation about May's future as prime minister.
"While there are some areas where compromise has been possible, we have been unable to bridge important policy gaps between us," he added.
Hilary Benn, the Labour Party member of Parliament who chairs the House of Commons' Brexit select committee, said on BBC's Today program that the talks' demise had "not come as a great surprise", given that no significant progress had been made.
He said the Labour Party should now push for a referendum to be held on any proposed Brexit withdrawal deal, so the public can chose what happens next.
"There are only two ways out of the Brexit crisis that we've got, either Parliament agrees a deal or we go back to the British people and ask them to make the choice," he said.
Conservative Party MP Nicky Morgan said on the same program that she was disappointed the talks had come to an end.
"This is a difficult situation," she said. "It is going to be a shame if we are not able to demonstrate we can compromise and find a way through this."
The UK had been scheduled to leave the EU on March 29, following a referendum in 2016 in which British voters narrowly decided the nation should leave the bloc. May and her EU counterparts then negotiated a divorce deal that both sides signed off on back in November.
But, since then, the British Parliament has refused to rubber-stamp the deal, with some politicians complaining it leaves the UK too close to the EU, post-Brexit, and others fearing it leaves them too far apart.
The talks in search of a compromise had been launched after MPs rejected the deal May had negotiated with the EU for the third time.
The March 29 exit deadline has since been pushed back to Oct 31 and May's popularity among her own MPs has plummeted, with many openly calling for her to step down as leader of the party and the nation.
May promised on Thursday that she will set out a timetable for departing office, just as soon as the latest vote on the Brexit withdrawal deal has concluded. That vote is set for the first week of June.