NYC mayor running for president as 23rd entry
By BELINDA ROBINSON in New York | China Daily Global | Updated: 2019-05-18 00:18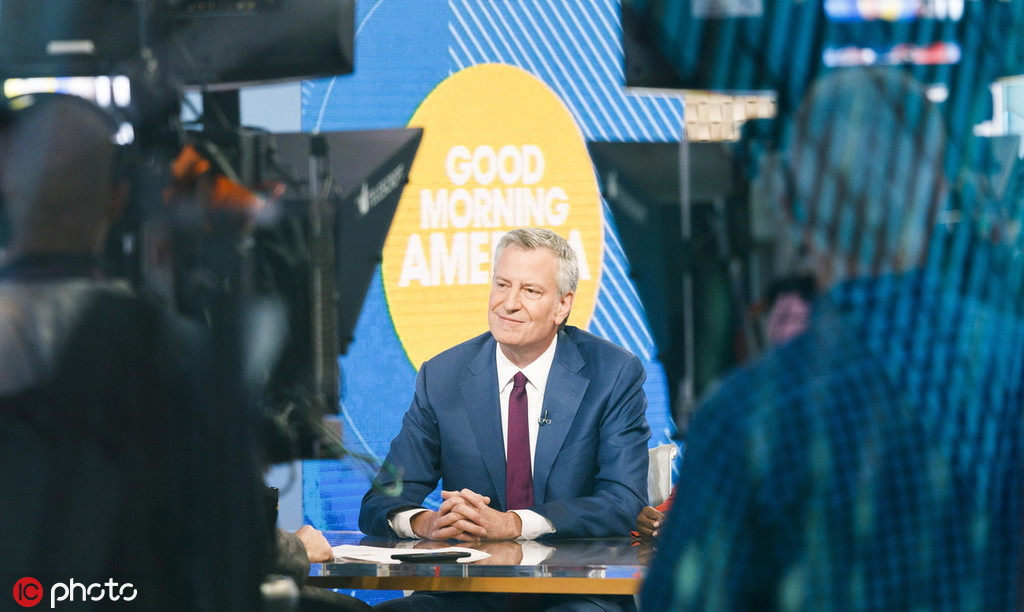 New York City Mayor Bill de Blasio is headed to Iowa to kick off his campaign as the 23rd candidate for the 2020 Democratic nomination for US president.
De Blasio, 58, formally announced he is running in a three-minute video on YouTube on Thursday morning titled Working People First.
Later he appeared on the nationally televised Good Morning America show with his wife Chirlane McCray, where he called fellow New Yorker, President Donald Trump, "Con Don" and a "bully''.
"Every New Yorker knows he's a con artist," de Blasio said. "We know his tricks. We know his playbook."
Trump wasted no time in hitting back at de Blasio on Twitter: "The Dems are getting another beauty to join their group. Bill de Blasio of NYC, considered the worst mayor in the U.S., will supposedly be making an announcement for president today. He is a JOKE, but if you like high taxes & crime, he's your man. NYC HATES HIM!"
Outside the ABC television studio, off-duty New York Police Department officers staged a protest against the mayor. Both the city's police and fire departments have had a strained relationship with de Blasio throughout his two terms, particularly over salaries.
"It is laughable that a mayor who has shown no interest in running New York City for six years now wants to mismanage the entire country," said New York Police Benevolent Association President Patrick Lynch.
De Blasio touted his liberal, progressive beliefs and his experience running the nation's largest city since 2014 as reasons for running, citing his main achievements as establishing a universal pre-K (all-day prekindergarten citywide) and raising the minimum wage to $15 per hour.
When asked what will make him stand out in a crowded Democratic field, de Blasio said: "Working Americans deserve better, and I know we can do it because I've done it here in the largest, toughest city in this country."
No sitting New York City mayor has ever been elected president. De Blasio faces an uphill fight to secure a place in the June Democratic debate by raising enough cash from 65,000 individual donors or registering at least 1 percent in three major polls.
According to a poll by Quinnipac University in Connecticut, 76 percent of New Yorkers said they did not think de Blasio should run for president.
De Blasio brushed off those results on Thursday, saying: "The poll that actually matters is the election. New Yorkers have twice said they want me to lead."
His time as mayor has not been without scandal. He faced state and federal investigations over money for favors connected to his 2013 campaign, but no criminal charges were filed against him or his team.
De Blasio also has been criticized for how he has handled public housing, which is in need of $32 billion worth of repairs. The scuttled deal to bring Amazon's headquarters and a promise of 25,000 jobs to the city also has rankled some potential voters.
After appearing in Iowa, de Blasio will go to South Carolina to speak to voters on the weekend. He had laid the groundwork for his presidential bid by visiting those states, which will hold early primaries.