May makes one last bid to win over Brexit doubters
By Julian Shea in London | China Daily Global | Updated: 2019-05-20 23:21
Revised proposal comes ahead of crucial week for PM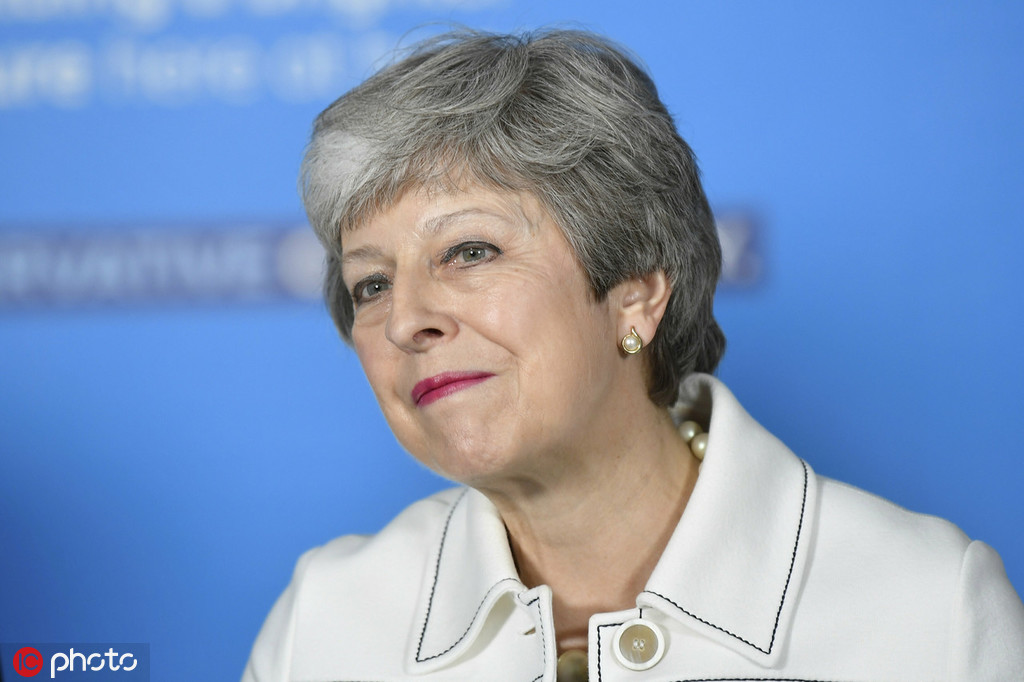 British Prime Minister Theresa May will hold talks with senior ministers this week in an attempt to finalize what she calls a "bold offer" to get members of Parliament to support her Brexit proposals at an upcoming parliamentary vote, after they rejected them three times previously.
The details have not yet been published, but even if ministers do back her proposals, they are widely expected to fail once again because although they are thought to include some new elements regarding future trade relations with Europe and workers' rights, they do not contain any revisions of the terms she agreed with EU leaders last year, which have already been thrown out three times.
After three parliamentary rejections, May had talks with the opposition Labour Party in a bid to try and win cross-party support but they broke down with the two sides as wide apart as ever, meaning the chances of them getting through at the start of next month are minimal.
Brexit Minister Stephen Barclay has warned MPs of the increased likelihood of a so-called no-deal Brexit if the revised plans are rejected, but this is unlikely to have a significant impact.
"Members of Parliament do need to face facts, and if the deal were not to go through then there are only two alternatives - you either leave with a no-deal or you revoke," he told Sky News.
Health Secretary Matt Hancock has also said MPs have a "duty" to pass May's proposals, to go through with the choice made by 52 percent of those who voted in the referendum on Britain's membership of the EU in summer 2016.
"It ultimately will come down to this when MPs are voting: do you want to deliver on the referendum result? Not, is this your perfect resolution to Brexit, and exactly what you want, but this is the piece of legislation that would deliver on the referendum," he told the BBC. "And I think, therefore, as I believe in democracy, we have a duty to deliver it."
This latest move by May comes at the start of a week where her Conservative Party is expected to record one of its worst ever electoral results at the upcoming European Parliament elections.
The anticipated cocktail of European election collapse followed by another parliamentary rejection means May faces an undignified end to her three-year premiership, having already been persuaded by MPs to draw up a timetable for her departure from Downing Street after the latest Brexit vote.
That would pave the way for a Conservative Party leadership contest and see a new person in charge of handling Britain's scheduled departure from the European Union, which has already been postponed twice and is now set for Oct 31. Former foreign secretary Boris Johnson, one of Brexit's most vocal supporters, has already said he will stand.
May has already agreed that whatever the outcome of the vote, which is likely to happen very close to the time of US President Donald Trump's state visit to the UK, she will then begin preparations for her exit from office. When Trump visited last year, he embarrassed May by giving a front-page newspaper interview talking up Johnson's credentials as a future leader.