Xiaomi posts strong Q1 revenue
By Ouyang Shijia | China Daily | Updated: 2019-05-22 08:09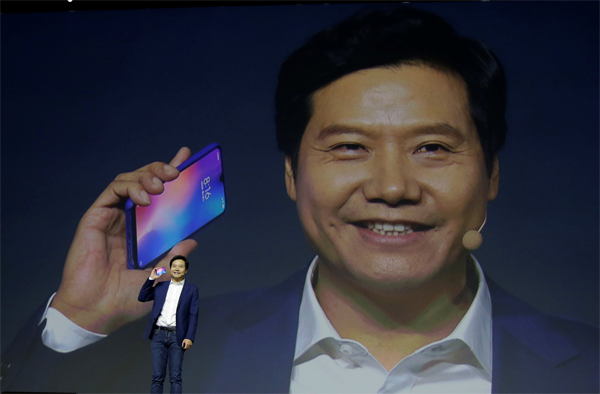 Smartphone giant plans to invest 10 billion yuan in 'All in AIoT' for robust growth
Chinese technology giant Xiaomi Corp said its first quarter revenue jumped 27.2 percent year-on-year to 43.8 billion yuan ($6.3 billion), fueled by the company's push for its dual-core strategy that focuses on smartphones and the internet of things powered by artificial intelligence (AIoT).
The Hong Kong-listed company posted an adjusted net profit for the first quarter of 2.1 billion yuan, having surged 22.4 percent year-on-year.
"Over the past year, we made significant improvements and adjustments in our core strategies, management structure, technology research and development system, product and brand development system," Xiaomi Chairman and CEO Lei Jun said.
"Looking ahead, we will be investing 10 billion yuan in the development of 'All in AIoT' in the next five years to capture the development opportunities in the age of AI and IoT, thus laying a solid foundation for Xiaomi's development in the next five to 10 years."
Xiaomi said the sharp jump in revenues came mainly from its rapid expansion in international markets and the strong performance of its internet of things business.
The Beijing-based company reported its revenue gained from the international market reached 16.8 billion yuan, up 34.7 percent year-on-year. Revenue in the IoT and lifestyle products segment increased by a whopping 56.5 percent.
Xiaomi claimed it has taken the top spot in terms of smart TV shipment in the Chinese mainland for two consecutive quarters, with global shipments rising 99.8 percent to 2.6 million units during the first quarter.
By the end of March, the number of connected devices, excluding smartphone and laptops, on Xiaomi's IoT platform hit around 171 million units, higher by 70 percent year-on-year. Its AI assistant had more than 45.5 million monthly active users in March, a stunning rise of 247.2 percent year-on-year.
Guan Yiting, an analyst at Canalys, said despite the success of Xiaomi's consumer IoT devices, smartphones are still the core of the company's business.
"Maintaining smartphone market share growth will translate to a swelling user base, which is vital for Xiaomi's overall strategy," Guan added.
Xiaomi reported a strong growth in smartphones in the first quarter compared to its weak fourth quarter performance last year. The smartphone segment recorded around 27 billion yuan in revenue, and smartphone volume sales reached 27.9 million units.
Statistics from market research firm Canalys showed Xiaomi ranked fourth globally in terms of smartphone shipments, with a market share of 8.9 percent in the first quarter.
Canalys noted Xiaomi is gearing up for global expansion as China's smartphone market contracted 3 percent to 88 million units in the first quarter, the market's worst performance in six years. Canalys said Xiaomi is now the dominant player in India with a share of 31 percent of the local smartphone market in the first quarter of 2019.
Shares of Xiaomi in Hong Kong were nearly flat, closing on Tuesday at HK$9.87 ($1.26), off by 0.2 percent for the session.