Malawi awaits result of tight presidential election
By EDITH MUTETHYA | China Daily | Updated: 2019-05-23 09:15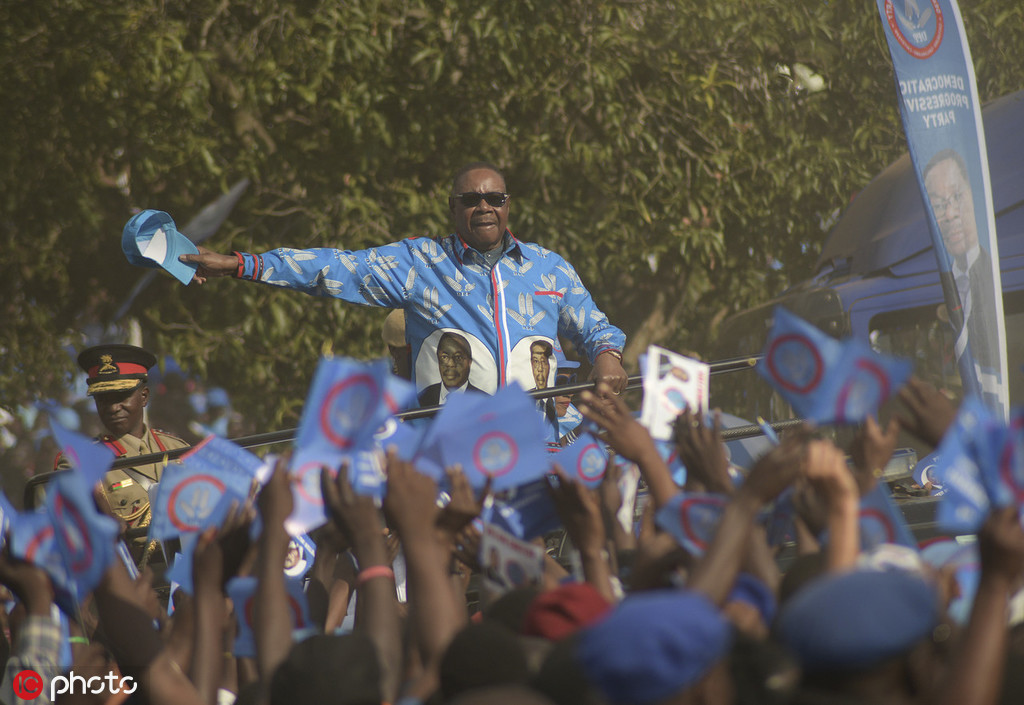 Millions of voters in Malawi cast ballots on Tuesday in a closely-fought election, as the incumbent president battled to hold off two rivals in a race focused on economic development.
President Peter Mutharika, who is seeking a second term under Democratic Progressive Party, faces a stiff challenge from his deputy, Saulos Chilima of United Transformation Movement Party, and Lazarus Chakwera, the main opposition leader who ran under Malawi Congress Party.
The official results should be announced in eight days.
The voting process took place peacefully with polls closing at 6 pm on Tuesday.
Cavince Otieno, a political analyst in Nairobi, Kenya, said Malawians demonstrated a high level of organization and respect of the electoral integrity. "Being the first elections under the new Political Parties Act where bribery was outlawed, the candidates were judged by the quality of their ideas instead of the depth of their pockets," he said.
Mutharika, 78, campaigned on a pledge to continue improving the country's infrastructure and agricultural subsidies. Malawi has struggled with infrastructure development due to economic and natural disasters.
Mutharika's government has also been praised for a subsidy program aimed at enhancing food self-sufficiency by increasing smallholder farmers' access to agricultural inputs. However, opposition parties claim the program has been fraught with corruption.
Chakwera, 64, a former preacher, campaigned on a pledge to crack down on corruption and nepotism. He hopes that his party will reclaim power, especially because former president Joyce Banda joined it.
Chakwera's Congress Party is the country's oldest. It ruled for 30 years starting from independence in 1964.
Chilima, 46, mounted a strong social media campaign that enabled him to capture the youth vote. He promised to create 1 million jobs in his first year in the office.
A total of 6.9 million Malawians registered as voters, 54 percent of them aged between 18 and 34. Additionally, 56 percent of the registered voters were female. Seven candidates vied for the top job.
According to International Labour Organization, youth unemployment in Malawi stood at 7.8 percent in 2017. Additionally, more than 70 percent of young Malawians aged between 15 and 29 are employed in informal sectors.
The organization states that Malawi has one of the highest rates of working poverty, which stands at around 60 percent living on $2 per day.