The 4th China-EU International Literary Festival kicks off in Beijing
By Mei Jia | chinadaily.com.cn | Updated: 2019-05-29 09:41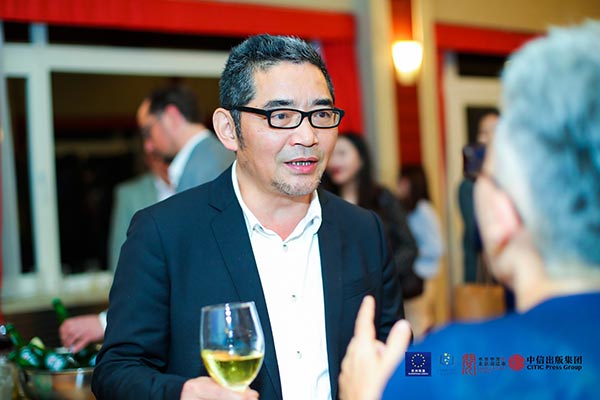 Joining them are Chinese veteran writers, Su Tong, Li Er, Xi Chuan, and younger literary talent, including Xu Zechen, Di An and A Yi.
Li Er has just released a novel about the lives and careers of intellectuals in contemporary China. Li said European literature has had deep influences in modern Chinese and contemporary writing.
"Chinese literature has a special emphasis on reality, but facing rapid transformations, writers are striving to reflect and record the reality from different angles and with different methods," Li said, "as a result, their new work will be interesting to European readers."
The previous editions of the festival were held in November 2017, May 2018 and November 2018, involving 160 writers and taking place across several Chinese cities.
This edition is co-organized by Experience Europe, Beijing Reading Festival and China Citic Press.
Upcoming events, which can also be watched live online, include:
May 25
17:00 - 18:30
Embracing the Creative Process
Xu Zechen, Michal Hvorecky
Qihao/Genesis Citic Bookstore at Xin Yuan Nan Lu
May 26
15:00 - 16:30
Why We Write
Feng Tang, Sofronis Sofroniou
Qihao/Genesis Citic Bookstore at Xin Yuan Nan Lu
June 1
11:00 - 12:00
A Story of a Spanish-born Chinese Woman
Quanzhou Wu
Citic Bookstore at the Place, Beijing
June 1
17:00 - 18:30
The Art of World Building – How Sci-fi Writers Create and Inhabit their Realms
Li Hongwei and Rafat Kosig
The Bookworm Beijing
June 1
17:00 - 18:30
Art Makes the World Go Round
Hei Mi, Max Ducos, Piret Raud
Qihao/Genesis Citic Bookstore at Xin Yuan Nan Lu