Artful bliss in the garden of blankness
By Zhao Xu in New York | China Daily | Updated: 2019-06-01 10:30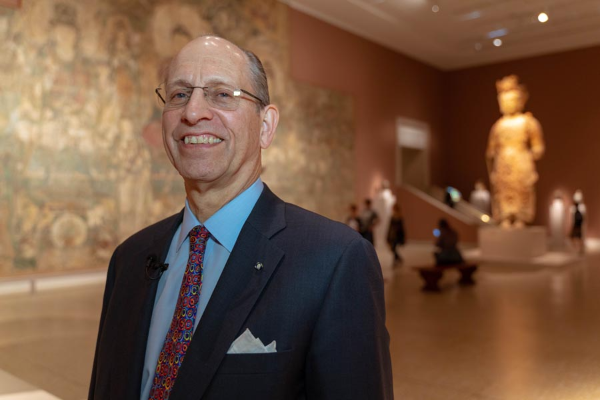 In 1971 Maxwell Hearn entered a museum by the back door. What he found inside so fascinated him that he has never quite left the world
The word metaphor constantly surfaces during a conversation with Maxwell Hearn, chairman of Asian art at the Metropolitan Museum of Art in New York.
"Imagine yourself walking down the pathway of our scholar's garden, with the ever-changing view evocative of the intimate experience of unrolling a long hand scroll," he says. "The scenery-mountains, rivers, thickets-is revealed not all at once, but bit by bit."
Hearn is sitting in the museum's second-floor Astor Garden, named after the late Brooke Astor, the American socialite and philanthropist whose childhood days in Beijing led her to bankroll the construction of the space. Modeled on a typical scholar's garden from ancient China, it is complete with a moon gate and wooden latticed windows, rocks and bamboos, and what Hearn calls "a half pavilion" that rises horizontally from a wall as blank as a piece of paper. The other half, and the world beyond it, is left out of the composition, consigned to the realm of imagination.
Sunlight suffuses the space from the skylight roof above.
"The idea of a garden courtyard seemed possible when, one day in 1974, I climbed up into the rafters and discovered that there was this hidden light well," says Hearn, who was then the curatorial assistant to Wen C. Fong, the Chinese American art historian who for many years was The Met's consultative chairman for Asian art.