Making a mark: Shanghai showcase boosting China's Australian links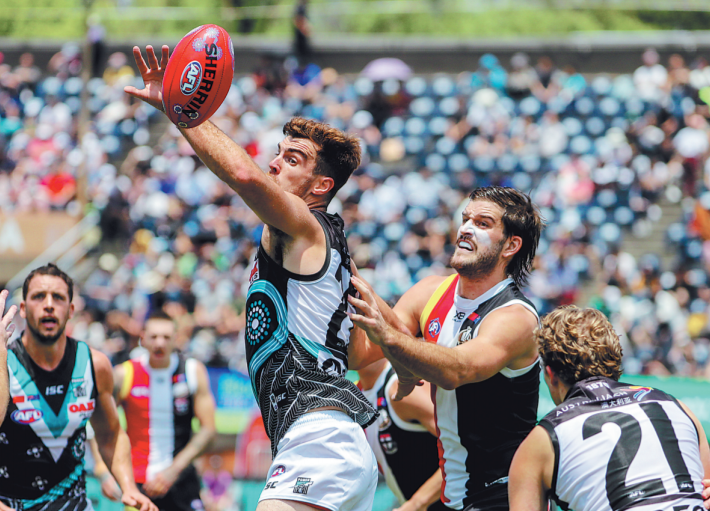 Aussie Rules football is still something of a novelty in China, but the significance of the game extends beyond the sphere of sport, serving as a bridge between the two countries.
For a third consecutive year, the Australian Football League (AFL) staged a regular-season match at Jiangwan Stadium in Shanghai on Sunday, with Port Adelaide maintaining its unbeaten record in China with an emphatic 139-69 victory over St. Kilda.
Along with high-octane oval-ball action, spectators were treated to performances of traditional Aboriginal and Chinese dance.
Additional delights from Down Under were on display at the inaugural Festival of Australia across 10 Chinese cities since May 20.
"This year we have about 5,000 fans following their teams to Shanghai, and many of them came to Shanghai and China for the first time," said David Stevenson, AFL's general manager for China,
"In order to let the fans enjoy a great trip, the local government and the tourism departments of the two countries have made many efforts.
"Apart from the AFL game in Shanghai, the foreign fans were organized to travel to Beijing, Xi'an, Chengdu and other Chinese cities."
With a view to growing Aussie Rules in China, the AFL has also facilitated the playing of the sport at 21 primary and middle schools in Shanghai.
"The focus is on driving commercial opportunities and building long-term partnerships with either Australian companies trying to expand in China or Chinese companies trying to grow in Australia," Stevenson said ahead of Sunday's showcase.
"There are strong trade opportunities between the two countries and if we can drive some of that commercial revenue, it'll allow us to invest some of it into domestic markets and community football. That seems like a win-win prospect."
The local promoter of Sunday's match reckons Aussie Rules has a bright future in China.
Patrick Yang, deputy general manager of Shanghai Juss Sports Development (Group) Co Ltd, said about 70 percent of the crowd was foreign at the inaugural edition of the AFL game in Shanghai two years ago.
This year's crowd featured a more balanced mix of locals and foreigners, he added.
Yang also confirmed the AFL will return to Shanghai with matches over the next several years.
Port Adelaide has featured in each of the three Shanghai games so far, and the club's CEO, Keith Thomas, said of the annual visit: "It is a great vehicle for us to talk about Australia in China.
"We represent a sport that is Australia's favorite game ... it sits at the heart of our culture.
"We had 6,000 Australians travel to the game in Shanghai last year.
"The overwhelming feedback we received was that the experience really impressed them. Shanghai was so advanced, so exciting and so dynamic.
"The fans who made the trip said they wouldn't necessarily have chosen China as a tourist destination had it not been for the game.
"But having made the trip, they would go again. That was very positive."
Most Popular
Highlights
What's Hot