Advisory body pushes green development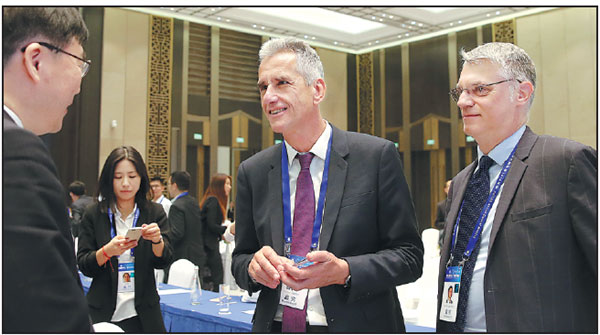 Sustainability called crucial to 'realizing high-quality modernization' of China
China's top advisory body for development and the environment said it is seeking a new consensus on green development to promote the nation's quality growth for the next five-year plan, which begins in 2021.
"The idea (of green development) should be given priority before addressing the issue of high-quality development," said Liu Shijin, chief adviser of the China Council for International Cooperation on Environment and Development, at the advisory body's annual general meeting.
The meeting opened on Sunday in Hangzhou, Zhejiang province, and closes on Wednesday, which is World Environment Day.
Liu noted that the concept of green development has been extended from the traditionally acknowledged environmental protection or pollution management to a green economic system that comprises green consumption, manufacturing, circulation, innovation and finance.
Liu said the advisory body has delivered its annual policy advice draft to the State Council, China's Cabinet, including recommendations for sustainable development of the country.
Green consumption, for example, should be included in the nation's 14th Five-Year Plan (2021-25) as an important task, Liu said.
The CCICED suggested that the Chinese government deploy a new development mode for urbanization and regional development to adapt to changes in the digital era, which it said also needs to be highlighted in the next five-year plan.
Liu said nearly 60 percent of China's population will live in urban areas by the end of 2020, with the proportion rising to about 80 percent by 2050.
"Green development is key to realizing high-quality modernization and solving ecology-related problems," said Li Ganjie, China's minister of ecology and environment and the advisory body's executive vice-chairman.
Li said at least $16.6 billion was invested in treating polluted water in key urban areas in 2018, when investment in ecological protection and environmental rehabilitation in China rose by 43 percent year-on-year - much higher than growth in many other sectors.
"President Xi Jinping came up with the philosophy that lucid waters and lush mountains are invaluable assets in his visit to Anji county in 2005, when he was Party secretary of Zhejiang province," Li said.
Scott Vaughan, chief international adviser of the CCICED, said China's wisdom in ecological civilization, including the use of red lines for eco-compensation, the application of large-scale spatial planning, advancing the country's rule of law and regulations, and a plan to build the world's largest carbon market, has been seen by the world.
While China is shifting from high-speed economic growth toward high-quality development, "the emphasis on quality and how we look at quality green consumption, production embedded in the economic systems, I think is profoundly important", Vaughan said.
Zhu Baoliang, an economist at the State Information Center, suggested combining technological innovation with urbanization, promoting supply-side reform in the financial industry based on green consumption, and enhancing international cooperation in green development and climate change.
Vidar Helgesen, former Norwegian minister of climate and environment and vice-chairman of the CCICED, said China has a compelling ecological vision and an important goal of high-quality development.
Helgesen said it was encouraging to hear Xi endorse green financing concepts at the Second Belt and Road Forum for International Cooperation in April.
Wang Tianyi, the CEO of China Everbright International, presented the possibilities for achieving zero-waste cities in China. The Chinese government has designated 100 pilot waste-free cities, Wang said.
Wang highlighted three main objectives for waste-free cities: maximizing the reuse of waste, reducing landfill and minimizing the impact of waste on the environment.
Despite the progress China has made in reducing carbon dioxide emissions, the country still faces great challenges in meeting its climate change targets, said Xie Zhenhua, China's special representative on climate change.
In 2018, China's carbon intensity was more than 48 percent below that of 2005, meeting its goal to cut carbon emissions by 40 to 45 percent by 2020. The ratio of energy from nonfossil fuel in the national primary energy structure increased to 14.3 percent, Xie said.
China plans to further increase the ratio of nonfossil fuel to 20 percent by 2030.
"President Xi Jinping has emphasized that China is tackling climate change willingly and not because others demand it. Coping with it is an inherent requirement in the country's sustainable development, and also part of China's duty as a responsible major power," Xie added.
Contact the writers at chenhong@chinadaily.com.cn
(China Daily Global 06/05/2019 page1)