Zigui striving to boost tourism potential to fuel development
By Yang Feiyue in Beijing, Zhou Lihua and Liu Kun in Zigui, Hubei Province | China Daily | Updated: 2019-06-07 09:00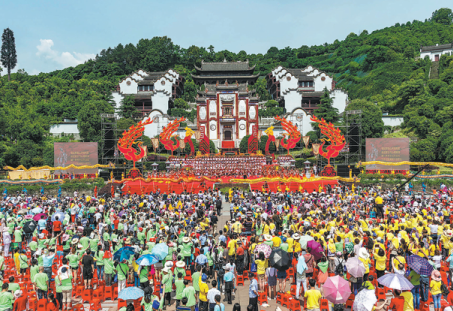 Zigui could be one of the best places to explore the charm of the Dragon Boat Festival. The county in central Hubei province used to be the hometown of ancient Chinese poet Qu Yuan from the Warring States Period (475-221 BC).
Since people have long celebrated the Dragon Boat Festival to commemorate Qu, Zigui has many folk customs and history related to Qu and the festival.
In the eyes of many locals, the festival has more significance than Chinese New Year.
Zigui's folk customs are one of the four parts of the Chinese Dragon Boat Festival, which was listed as intangible culture heritage by the UNESCO in 2009.
The other three elements are from Hubei's Huangshi; Miluo in Hunan province and Suzhou in Jiangsu province.
For those who have booked trips to Zigui for this year's festival, the local government has arranged 15 major programs featuring intangible culture heritage and gourmet food.
A sacrificial ceremony and zongzi making competition will be staged on June 6 to kick off the celebrations.
About 10,000 people will join the contest to make zongzi - from glutinous rice and reed leaves, according to the Zigui government.
At the same time, a dragon boat race and poetry event will be held.
The goal is to allow more visitors to experience the celebrations, a local government official said.
Zigui's celebrations have been held for hundreds of years and mostly take place along the Yangtze River in local villages, temples and households.
And they are characterized by diverse rituals and distinctive cultural elements.
Typically, people set up altars and worship Qu Yuan. And this involves lighting incense, chanting and paper-burning. The music, costumes and props at the worship ceremony feature elements from the ancient Chu State (1115-223 BC).
Also, as part of the celebrations, red fabric is draped on dragon boats. And boat rowers dress up as Qu's sister and beat drums, while calling his name to ask him to return. People also sing traditional songs after the boats start to move.
Visitors should also not miss the dragon boat race, which is a relatively new addition. It's fun, with rowers competing to reach the finish line.