Taking the plunge
By CHENG SI and LIU KUN | China Daily | Updated: 2019-06-08 10:25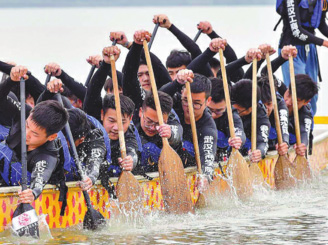 Cultural tourism and regional events are helping to raise the profile of traditional festivals
Dragon boat racing, a traditional activity celebrating Duan Wu, also known as the Dragon Boat Festival, is enjoying a revival thanks to the popularity of rowing events and cultural tourism.
The sport originated in Zigui county of Yichang city in Hubei province. This was home to Qu Yuan, a poet in the Warring States Period (475-221 BC). The festival, allegedly, commemorates his death.
Over 2,000 years the race has developed into a sports event. It has now attracted younger generations-college students, for example-to join, breathing new life into the historic custom.
Ma Dikai, a 20-year-old student from Wuhan Technology and Business University in Hubei, said that he has been training to compete in the race since April 2018.
"The game is welcomed by my peers. For us young people, the team game is good for both our physical and mental health. We are not only trained to be strong but united with other people," he said. "Also, it's a good way to experience the traditional Chinese culture."
However, it's not an easy task to build a solid dragon-shaped boat or join the sport as a rower.
Fan Jun, sports director with Zigui's culture and tourism bureau, said that he has been engaged in organizing dragon boat races since the early 1990s.
"We build the hull using traditional techniques, which is called mortise and tenon," he said. "Then the carpenters shape the boat into a dragon with a high-raised head and wagging tail. Exquisite scales are also important for a lifelike dragon."