Boat races boost international exchanges
By ZHANG LI | China Daily | Updated: 2019-06-08 10:36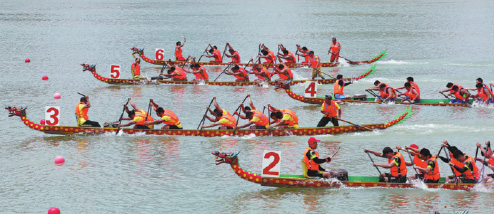 Dragon boat racing, a traditional Chinese sport originally held to celebrate the Dragon Boat Festival, has gained global popularity and helps promote exchanges among countries.
For example, the annual dragon boat race held in Nanning, capital city of Guangxi Zhuang autonomous region in South China, has attracted more international participants, especially from Asian countries in recent years.
With Yongjiang River running through the city, Nanning boasts a long history of holding dragon boat races.
"It is from 2004, when the city became the permanent venue of China-ASEAN (Association of Southeast Asian Nations) expo, that the government initiated the first China-Asian International dragon boat race in Nanning to deepen the exchanges of people with ASEAN countries," said Tang Hong, director of the Nanning Sports Management and Training Center, which now organizes the annual event.
Last year, the 14th China-Asian International dragon boat race attracted 56 teams from home and abroad. This included five ASEAN members such as Singapore, Indonesia and Thailand.
The races became more appealing last year when participants competed on Yongjiang River rather than Nanhu Lake.
The Yongjiang River had been polluted for a long time because of public activities and industrial development.
The local government started to tackle rubbish and illegal plantations in the area during 2012-14. Also, a 74-kilometer sightseeing belt along the riverbank was completed last year.
"After the Yongjiang River got a major facelift, we chose the Confucian Temple as our headquarters as an opening ceremony could be held there before the race to offer sacrifices to the river and pay tribute to the tradition," said Tang Hong.
Besides a wonderful view, the route also passes by Qingxiu Mountain, a state "5A" grade scenic spot, which boasts a magnificent view.
"It's no doubt the racing is a factor to draw Asian participants, but another important part is that we share cultural proximity with them," said Tang.
Professor DR Nurdin Purnomo, president of the Indonesian Dragon Boat Racing and Canoeing Association, has brought Indonesian dragon boat sprinters to Nanning since 2015.
He said people hold dragon boat races in his country, especially among Indonesian Chinese communities.
According to Purnomo, whose ancestral home is Meizhou, Guangdong province, most of the people in his team are Indonesian Chinese. "I would like to give them a chance to see how China has developed and changed," he said.
This year the event fell on June 7 and 60 teams from home and abroad participated.
zhangli@chinadaily.com.cn