Violence after HK rally clearly premeditated and planned: China Daily editorial
chinadaily.com.cn | Updated: 2019-06-10 20:12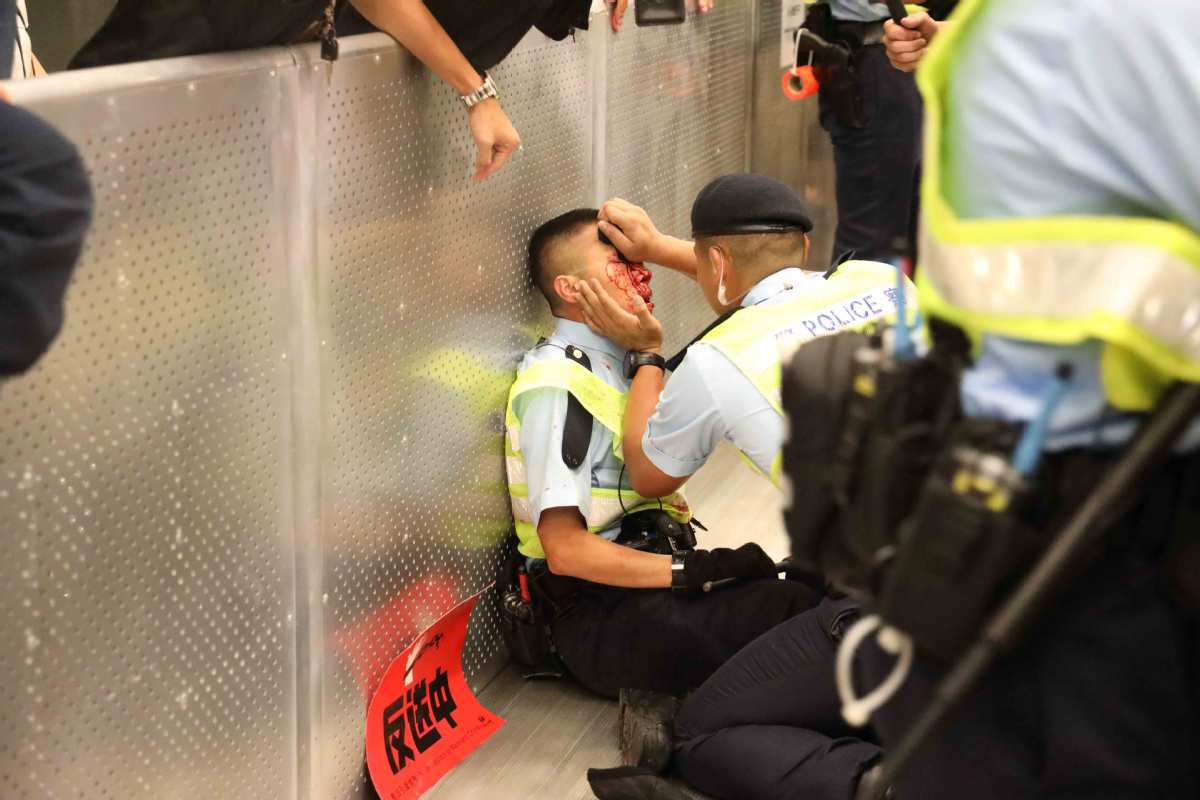 Both the government of the Hong Kong Special Administrative Region and law-abiding residents condemned the violence outside the Legislative Council building after Sunday's rally protesting the proposed amendments to the SAR's extradition laws.
Thanks to the efficiency of the police, Sunday's march was peaceful and orderly on the whole: a perfect demonstration of the city's tradition of pluralism and inclusiveness and its freedom of expression.
The violence happened after midnight, when masked individuals tried to storm the Legislative Council complex in Admiralty, which is situated next to the government headquarters — the march's destination. Although those who tried to force their way through police lines were repelled, eight police officers, a reporter and some of the rioters were injured in the process, some quite seriously.
So far, 19 people have been arrested in relation to the violence. And Commissioner of Police Lo Wai-hung, after visiting the injured police officers in hospital on Monday, promised the public his department will do whatever it takes to pursue those who instigated and led the violence, which was clearly premeditated and planned.
While there is no justification for the violence, the large turnout for Sunday's rally was a reminder to the SAR government that there are still concerns over the amendment bill and more has to be done to explain to residents why it is necessary, as well as convince them of the government's resolve to safeguard the rights of suspects.
On Monday, Chief Executive Carrie Lam Cheng Yuet-ngor, expressing her resolve to press ahead with the bill, responded to the concerns that have been raised by stressing the importance of the legislation, which she said will help Hong Kong uphold justice and fulfill its international obligations.
She said that her administration is introducing the amendments with a clear conscience, "out of our commitment to Hong Kong".
Lam also detailed how her administration will implement the bill, such as keeping LegCo posted on the progress of such extradition cases and planning long-term arrangements with legal jurisdictions which do not have such arrangements with the SAR at present, and said that the safeguards added in May will ensure that the legislation protects human rights.
The violence on Monday morning brought back memories of some of the ugly incidents that accompanied the illegal "Occupy Central" campaign in 2014, which inflicted serious damage on Hong Kong's social fabric and rule of law. The city cannot afford any more such trauma.
It is to be hoped that Lam's assurances will help convince people of the bill's necessity, and prevent the issue being hijacked by those with agendas of their own.