UN report calls for digital for all the world
By HONG XIAO at the United Nations | China Daily Global | Updated: 2019-06-11 23:04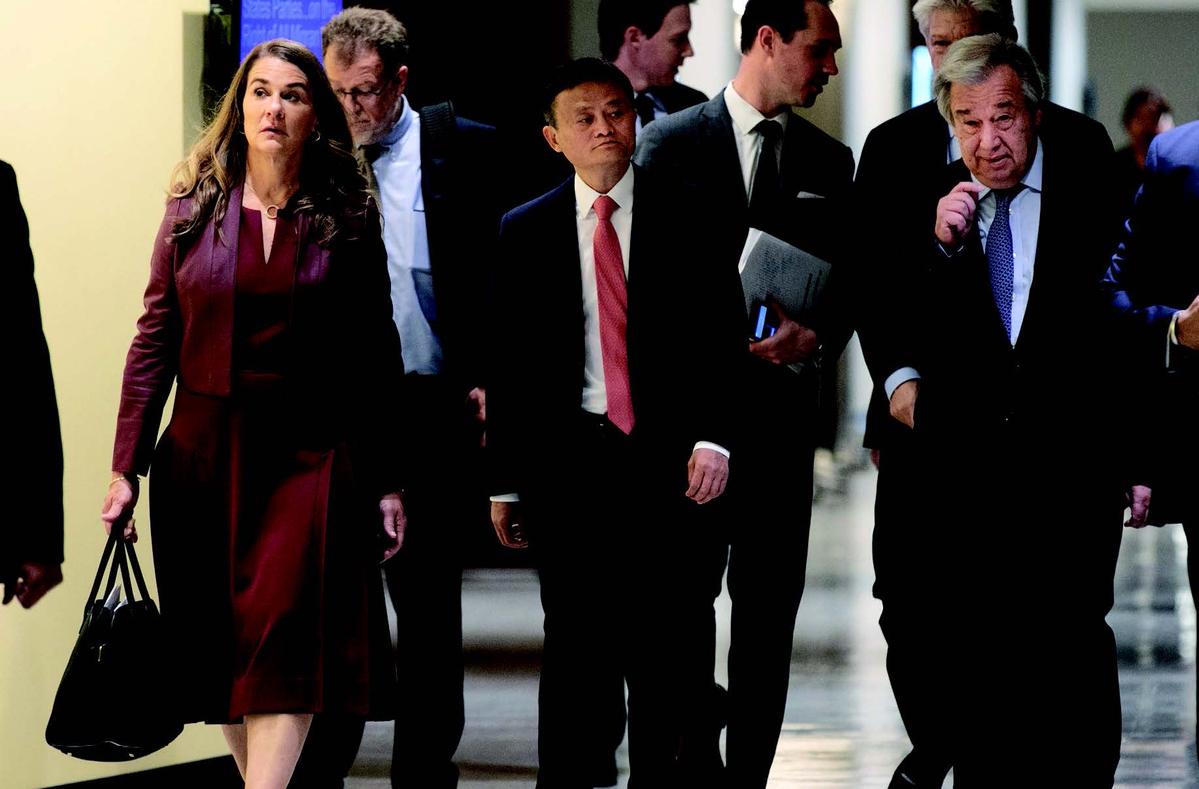 A new United Nations report recommends that every adult should have affordable access to digital networks by 2030.
Currently, more than half the world's population still lacks either affordable access to the internet or is using only a fraction of the web's potential despite being connected, says a new tech report.
The report, The Age of Digital Interdependence, was released on Monday by the UN High Level Panel on Digital Cooperation, nine months after the panel was launched by UN Secretary-General Antonio Guterres.
The report also calls for every adult to have digitally enabled financial and health services by 2030, in keeping with the UN's Sustainable Development Goals.
The report explores how digital technology could help achieve the UN's 2030 Agenda for Sustainable Development, how digital tech relates to human rights and security, and models for digital cooperation between different parts of society.
"After reading the report, I'm enthusiastic and feel the enormous potential of the digital era," Guterres said at a live broadcast conversation on Monday at the report's launch.
"And I'm also enthusiastic about the capacity for us to bring people together, governments, the academia, businesses, the civil society in order to address the risks and threats that currently exist," he added.
Guterres was joined by Jack Ma, executive chairman of Alibaba Group Holding Co Ltd, and Melinda Gates, co-chair of the Bill & Melinda Gates Foundation. They were appointed co-chairs of the panel.
The conversation focused on how the public and private sectors and civil society can work together to realize the potential of digital technologies for advancing human well-being, while mitigating the risks.
"This is a very important task. It's a great honor to get involved, because no matter whether we like it or not, in the next 30 to 50 years, human beings will be in the digital area," Ma said.
"How do we look at the digital technology, what it can do for us, and also make it inclusive and safe, that was the premise why we got together and headed up this panel," Ma said.
In the report, recommendations for the digital future were put forward, based on three main areas: inclusivity, trust and cooperation.
The report says far-more diverse voices need to be at the table, particularly from developing countries and traditionally marginalized groups, such as women, youth, indigenous people, rural populations and older people.
Specific policies should be adopted to ensure their full "digital inclusion", and internationally recognized ways to measure inclusiveness must be established, the report said.
The panel believes trust issues should be addressed with a "Global Commitment on Digital Trust and Security", and new forms of global cooperation should be developed by the UN.
Ma said digital technology is helping to make globalization more inclusive.
The report says an estimated 10 million small- and medium-sized enterprises sell on Alibaba's Taobao platform; nearly half of the entrepreneurs on the platform are women, and more than 160,000 are people with disabilities.­
E-commerce can support rural economic inclusion as clusters of villages can develop market niches in certain types of products: in China, an estimated 3,000 "Taobao villages" have annual online sales of more than $1 million annually.
"A growing e-commerce sector also creates demand and employment in related businesses, including logistics, software, customized manufacturing and content production," the report said.
It says e-commerce shows how digital technologies with supportive policies can contribute to inclusive economic development ‑ it has done best in countries where it is relatively easy to set up a business, and where traditionally neglected populations are able to get online.
"In the IT period, people with money, technology and resources, you can do things," Ma said. "It helps women, helps small business, helps developing countries.
"Today, small businesses can use the internet, they can compete anywhere with anybody, so we believe in the digital period. Small is beautiful, and small is powerful," he said.
Ma claimed that most of the fears surrounding the internet come from the more developed economies, which want to "hold on to yesterday", while in China, and African countries, young people are less afraid of the future.
He called for people not to worry about the future but to embrace it.
"Nobody is an expert of the future … we should change our mentality to embrace this revolution, and have confidence in ourselves," he said.
Gates insisted that women must have a "seat at the table, as the creators of society", pointing out that women entrepreneurs currently receive just 6 percent of venture capital funding for digital startups.
On concerns about internet governance, Gates acknowledged that it is legitimate, but noted that the technology sector is coming together to self-govern and collaborate. Smart regulation, however, is also necessary to solve problems.
"Digital cooperation" is used in this report to describe ways of working together to address the societal, ethical, legal and economic impacts of digital technologies in order to maximize benefits and minimize harms.
The report underscored that effective digital cooperation requires multilateralism, despite current strains, to be strengthened.