China's past points the way to the future of travel
By CHEN WEIHUA in Vienna, Austria | China Daily Global | Updated: 2019-06-12 00:27
Satellite system is updated version of ancient compass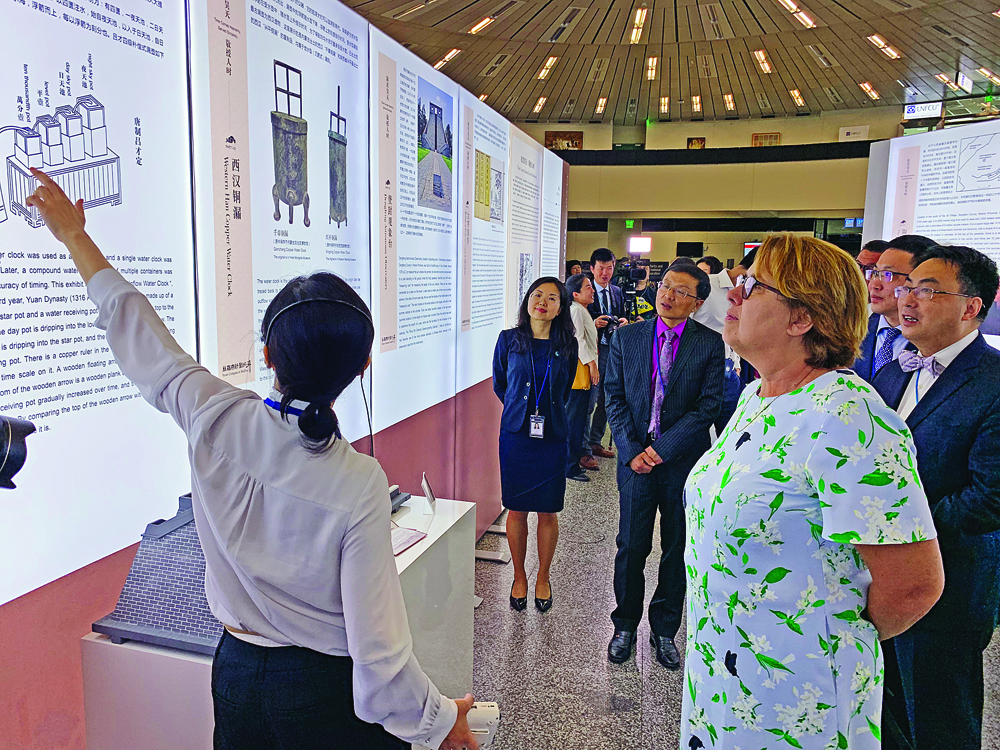 Michele Pallmer is just one of many people today who uses a compass app on their smartphone, but it was not until she visited the Vienna International Center on the campus of the city's United Nations office that she discovered the device's Chinese origins.
They are explored in an exhibition entitled From Compass to Beidou, telling the story of how the ancient Chinese developed ways to measure time, navigate, map, survey and interact with the outside world.
It ends with a section on the development and international cooperation of China's modern day Beidou Navigation Satellite System, or BDS, equivalent to United States'GPS, Russia's Glonass and European Union's Galileo.
Pallmer, a Luxembourg's government official, was also intrigued by a water clock on show. "I have never seen that before," she said, referring to a timing instrument that dates back to the Shang Dynasty (c.16th century- 11th century BC) around 3,000 years ago, although she was aware of the more modern Beidou system.
China's permanent representative to the UN Office in Vienna, Wang Qun, said the compass helped China integrate into the world while contributing to greater connectivity across the globe.
"Today, China's Beidou Navigation Satellite System is becoming the space-based modern compass, making the world even more interconnected,"he said at the show's opening ceremony on Tuesday.
Wang said the indigenously developed and independently operated BDS is pursuing solutions to achieve compatibility and interoperability with other satellite navigation systems in the world. "In this sense, Beidou does not only belong to China, but also to the world," he said.
The BDS service is already available to many countries in the world and its service is expected to expand greatly in the coming years.
Italian astrophysicist Simonetta Di Pippo, director of the United Nations Office for Outer Space, also known as UNOOSA, said her office is committed to using modern space science applications and technology to help countries achieve sustainable development goals. "But we may not forget the important historical background of such modern applications," she said, adding that the exhibition showcases China's 5,000 years of historical development in the field.
"The exhibition is a great opportunity for the UN staff and participants from all states (to the 62nd session of The Committee on the Peaceful Uses of Outer Space, COPUOS) to learn more about this interesting and far-reaching topic," added Di Pippo.
The show, which runs from June 11-21, is being held during the COPUOS session from June 12 to 21 in the same building.
On Tuesday, the Chinese organizers donated two ancient Chinese models - an odometer cart and a south-pointing carriage - to the UN Office in Vienna.