Latest cohort of graduates emerge from NYU Shanghai
By CAO CHEN | China Daily | Updated: 2019-06-12 08:48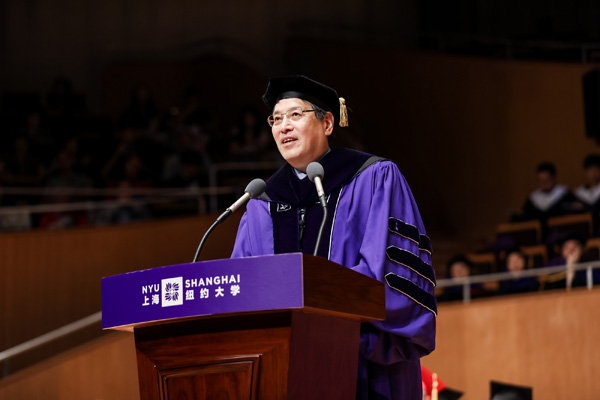 A total of 270 graduating students from 27 countries received bachelor's degrees from New York University and NYU Shanghai at their graduation ceremony in Shanghai on May 30. The cohort included 140 Chinese students from 26 provinces, autonomous regions and municipalities in China.
At the ceremony, Yu Lizhong, chancellor of the university, praised the graduating class for "being the pioneers of their generation to deepen understanding of the world, break down cultural barriers, seek common ground while reserving differences, build trust and cooperation, and become the bond connecting China with the rest of the world".
"I expect that students can connect their dreams with the world. By doing so, they will make their own dream more meaningful and influential," he says.
Yu Yu, an alumna of the school, and one of the co-founders of Chinese e-commerce company Dangdang, attended the ceremony and made a commencement speech. She encouraged graduates to value their youth and explore the world while they are still young.
"Spend time trying new things, reading, observing and obtaining knowledge and skills. Allow yourself to be confused and to make mistakes," she told them.
According to NYU Shanghai, several graduates of the Class of 2019 have won scholarships and joined international programs offered by world-class universities, such as the Yenching Scholarship by Peking University and the EU-funded Erasmus Mundus Scholarship. Some graduates even have their own startups.
"We offer students a cross-cultural environment to know themselves better, discover their distinct values and to realize their dreams," says Yu Lizhong, during an interview with China Daily.
He points out that modern education should meet requirements of a rapidly developing digital era.
"Education has to be international. Students should gain a well-rounded understanding of the world through diverse activities, cooperation and communication opportunities," he says.
"Higher education today must nurture students and provide them with the skills to utilize high-tech tools. In addition, higher education should encourage students to develop themselves based on their own career choices and personalities."