Carmakers to make driving into digital adventure
By Li Fusheng | China Daily | Updated: 2019-06-17 11:00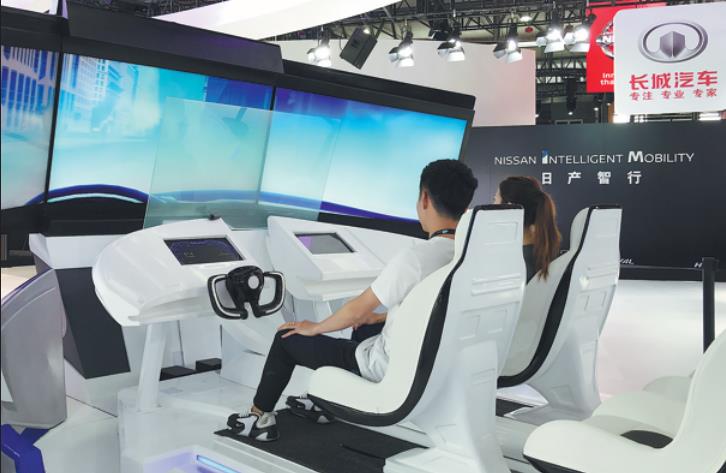 Owsianski said as cars become more autonomous, people will have extra time and Audi will make more effort to turn a ride into a digital adventure.
Japanese carmaker Nissan is working on creating a virtual world for passengers in fully autonomous vehicles.
At the CES Asia, it showcased a program called Invisible-to-Visible. Via virtual reality goggles, it can introduce cartoon figures or movie stars to sit and chat with passengers.
The program is designed to offer drivers virtual companions, which the carmaker believes will be crucial in the future because people will get bored when they do not have to drive.
But Nissan does not plan to persuade people to relinquish control of the vehicle to the computer.
The carmaker demonstrated its Brain-to-Vehicle technology, enabling vehicles to interpret signals from the driver's brain to make the drive more exciting and enjoyable.
This breakthrough from Nissan is the result of research into using brain-decoding technology to predict a driver's actions and detect discomfort.
Chinese carmaker Great Wall Motors showcased a series of forward-looking technologies including its smart cabin.
The cabin for autonomous vehicles features different functions ranging from facial recognition to heart rate monitoring and gesture control.
The company showcased a concept vehicle called Vision 2025 as well, an example of the Chinese carmaker's vision of future mobility.
Chinese startup Enovate showed a smart cloud system at the show, which would integrate intelligent driving, digital cabin as well as cloud-based services to offer comprehensive solutions for customers in the digitalized era.
Based on its intelligent architecture, the system can make the most of big data applications, cloud computing and over-the-air updates to meet customers' growing demands.
Niu Shengfu, chief technology officer at Enovate, said the system can help build a smart transport network composed of vehicles, people and infrastructure.
German technology company Continental displayed its driverless vehicle platform called the CUbE at the show.
It needs no driver and has no steering wheel or brake pedal.
Depending on the vehicle-to-everything technology, CUbE can communicate and exchange data with other road users and infrastructure.
Continental said it firmly believes driverless vehicles will play an important role in urban transportation, which will effectively relieving urban traffic pressure and make urban mobility more convenient.
Chinese mapping data service provider NavInfo inked a deal with supplier Desay SV during the show to offer Level 3 and Level 4 autonomous driving solutions.
NavInfo is one of the best mapping service companies in China. It was chosen by BMW earlier this year to offer mapping and relevant services for its models in China from 2021 to 2024.
Connectivity has been rated as a priority when people purchase new cars in China, according to a recent Deloitte report.
Nearly 80 percent of respondents said they value vehicle connectivity, dwarfing Japan's 36 percent and Australia's 44 percent.