China has to reshape global value chain
By Zhang Monan | China Daily | Updated: 2019-06-19 08:04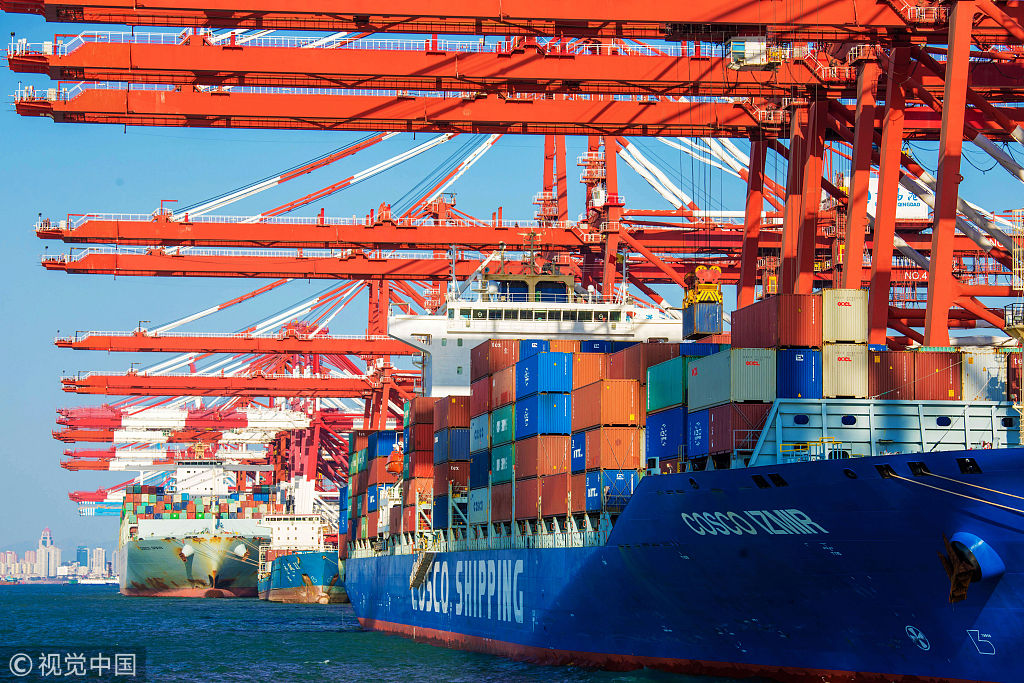 As the world undergoes unprecedented changes, China faces risks it has not encountered in its four decades of reform and opening-up. The trade war the United States has launched against China is set to disrupt and reshape the global industrial chain, value chain and supply chain. As a result, China has to make a new plan to further integrate with the world market-currently dominated by multinationals-in a bid to achieve industrial upgrading.
The trade war will disrupt the industrial, value and supply chains in three ways. First, the spillover effects of the trade war will fester and alter the course of development of the industrial, value and supply chains. Second, as the trade war intensifies, it could even sever these chains. And third, the US could take even more radical measures to contain the rise of China's high-tech sector.
To rise to the challenge, China must bolster its science and technology sectors, increase its national strength by focusing on innovation, and prioritize the development of pilot free trade zones.
Expedite reform to realize better future
As the trade war could reshape the global economic order, China must transform external pressures into internal incentives to expedite reforms and adjust its economic development mode. It could, for example, make efforts to deepen the supply-side structural reform, hasten the development of an innovation-driven economy, further roll out the negative list system under the new Foreign Investment Law, implement market rules to better promote fair competition, and streamline and expand domestic consumption.
Technological innovation is key to China's growth-along with efforts to pursue a new model of "opening-up based on rules and institutions", and fostering global synergy by promoting bilateral, multilateral and regional free trade networks-and to create a favorable environment for development both at home and abroad.
And to meet the new economic challenges, China has to make several adjustments to its approach to economic development. First, for many years, China's industrial sector has been part of the global value chain, reflecting the global division of labor, while largely ignoring the domestic market's demand. But with the comparative advantage from low-cost manufacturing diminishing, compounded by the on-going China-US trade war, China needs to make adjustments accordingly by, for example, shifting from the global value chain to a combination of the global and national value chains, as that would help China to cushion the impact of the trade war and climb higher up the global value chain of manufacturing.
Second, the country should expedite the search for alternative sources of supply to ensure its supply chains are not severed. But this does not mean giving up on imports or turning inward. Instead, it means harnessing trade in a way that plays to China's comparative advantages.
This shift will help create an enabling environment for innovation-based industries and boost China's technological prowess, which would be conducive to optimizing the domestic economic structure and enhancing endogenous economic growth. It will also raise China's position in the global division of labor.
Vital for China to move up the global value chain
In fact, China has to find alternative sources of imports, step up investment in high-tech manufacturing, and boost research and development in high value-added sectors if it wants to move up the global value chain and transform the US-triggered trade war into an opportunity for development.
Third, China must use the Belt and Road Initiative to facilitate regional and global cooperation in restructuring the global value chain. China is now the biggest trading partner, and the biggest destination for exports and foreign direct investment for 25 Belt and Road countries. So it is in a position to leverage its own industrial capacity and quality resources to create synergy with cutting-edge technologies from Europe.
Such cooperation based on comparative advantages will help China tap potential demand by further opening up its market, which in turn will lead to a more connected market in terms of production factors, services, capital and technologies.
The rationale is to bring more countries into the global supply chain's network under the Belt and Road framework through means such trade cooperation, cross-border industrial clusters and free trade zones, which will also serve China well as it expands its capacity for transfers and cooperation overseas. In this sense, the US-China trade war could prompt China to make greater efforts to adjust the global industrial chain-along with the global value and supply chains.
More bilateral, multilateral deals good for economy
And fourth, China should ink more bilateral and multilateral trade deals. Global demand is no longer primarily generated in developed economies-it is generating faster in emerging market economies, which would help restructure the global value chain.
According to a McKinsey study, by 2025 emerging market economies will be consuming about two-thirds of global manufactured goods, including intermediate goods and capital goods-meaning automobiles, construction materials and machinery. Statistics show that in the past decade, China's share of exports to non-OECD countries increased to 48 percent compared with the 45 percent found in an earlier survey.
Therefore, China should upgrade its free trade agreements with other countries, help accelerate the process of establishing the Regional Comprehensive Economic Partnership, and the China-European Union investment treaty, as well as explore the feasibility of a full China-EU free trade agreement in a holistic endeavor to improve connectivity with neighboring economies, advance cooperation with Belt and Road countries, and expand the global network of free trade zones.
The author is a senior fellow at China International Economic Exchanges Center. Source: chinausfocus.com The views don't necessarily represent those of China Daily.