Alibaba joins hands with Yiwu to build a trading platform for SMEs
By He Wei in Shanghai | China Daily | Updated: 2019-06-21 07:19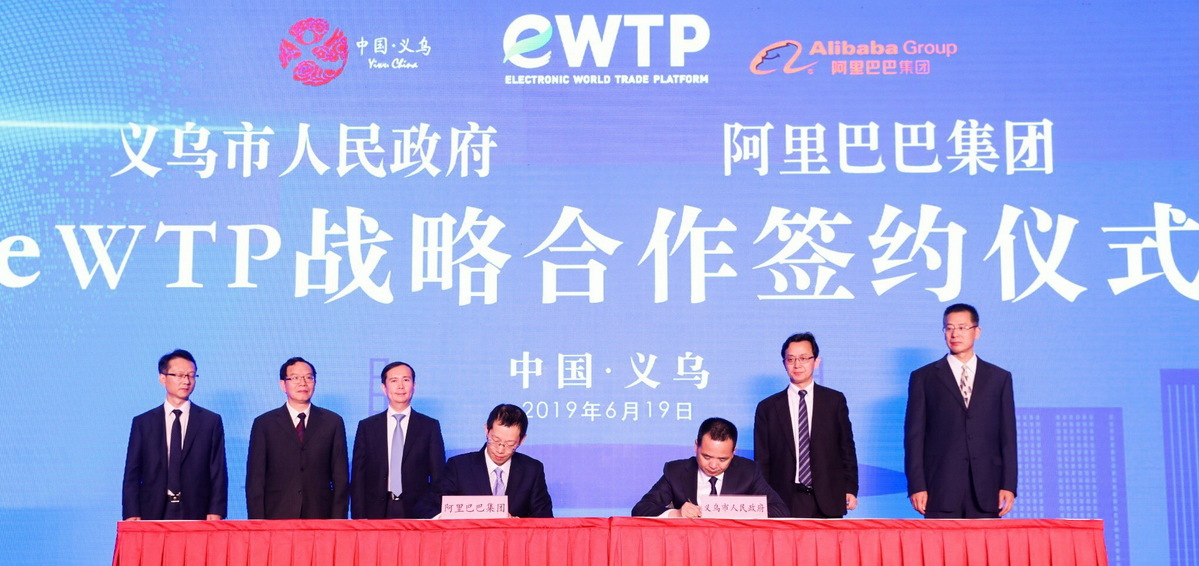 Alibaba Group Holding Ltd is taking its electronic World Trade Platform to fresh heights by cooperating with another Chinese city in an initiative to lower barriers to global trade for small- and medium-sized enterprises via e-commerce.
The internet behemoth signed a strategic agreement with the municipal government of Yiwu, a city in East China's Zhejiang province, known for manufacturing and exporting small commodities, to help Chinese wares gain more exposure to the rest of the world.
The tie-up will focus on digitizing trade infrastructure and developing additional trade flows for the city. The venture also plans to work on innovations in trade finance and establish a smart logistics hub there, a joint news release said.
"While Yiwu brings together buyers from around the world, Alibaba's platforms also bring together millions of merchants and hundreds of millions of consumers," Alibaba Chief Executive Officer Daniel Zhang said at a launch ceremony on Wednesday. "The synergy of the two ecosystems will create value for our communities of users."
"The signing of the agreement shows that the two biggest markets, online and offline, are joining hands to create new trade rules, together with SMEs and micro businesses around the world," Lin Yi, secretary of the Yiwu Municipal Committee of the Communist Party of China, was quoted by Xinhua News Agency as saying on the same occasion.
Around 15,000 foreign traders from more than 100 countries are stationed in Yiwu and more than 400,000 foreigners come to the city to do business every year, official data showed.
The eWTP platform was conceived by Alibaba founder and chairman Jack Ma in 2016 as a digital gateway to connect every country and give businesses the ability to sell anywhere in the world. The benefits of using eWTP hubs include speedy customs clearance, logistics support and minimal tariffs.
Yiwu joins Hangzhou as the second Chinese city to be part of the initiative that also has global counterpart hubs in Malaysia, Belgium and Rwanda. The mechanism was included in the communique of the G20 Summit in Hangzhou. Rwanda joined eWTP on Oct 31.
Rwanda President Paul Kagame touted the platform in opening new frontiers in e-commerce, tourism and boosting the capacity and competitiveness of the country's entrepreneurs and business people.
Selling directly to a much larger set of customers while bypassing costly intermediaries will "improve productivity and profitability", Kagame said. "There are really no downsides to doing business on a global scale."