Fashion graduate shows talent on world stage
By Cheng Si in Beijing and Feng Zhiwei in Changsha | China Daily | Updated: 2019-06-21 09:04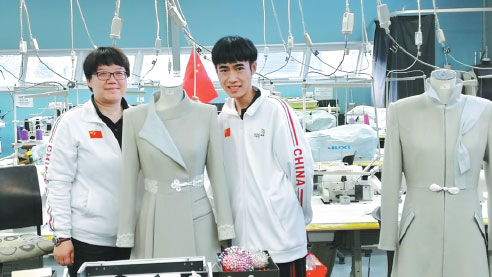 Tan Huiwen, China's second winner of international skills competition, has designs on a career in Shanghai or Shenzhen
China's second winner of an international skills challenge in fashion technology, 22-year-old Tan Huiwen wants to become a fashion designer now that he has graduated from vocational college.
Tan won the 2019 Global Skills Challenge, organized by WorldSkills Australia, in Melbourne, Australia, in early April.
Born in Zhuzhou, Hunan province, Tan has been an art lover since he started learning how to paint at the age of 3. He graduated from the Hunan Arts and Crafts Vocational College in Yiyang in late May.
"My schoolteacher told me I was gifted in painting, which inspired me to learn arts related disciplines," he said. "Actually, I didn't do a good job of studying, so I chose vocational courses for both my senior high school and college."
Tan said his parents were not willing to send him to vocational school at first.
"Living in the countryside, their recognition of skills and vocational schools is limited," he said. "They hoped I would be admitted to a college and become a civil servant, living an average but stable life.
"Thankfully, my older sister persuaded them. Now, they are my supporters."
Tan has won several competitions at home and abroad, but he knew nothing about fashion design when he began his first year at vocational college in 2013.
"I had no idea what fashion design was at the time. What I knew was that I loved the arts and the subject that I got to learn was the arts, and that's it," he said. "Fortunately, the courses were not as difficult as I'd imagined. The teacher introduced the subject of fashion design with some simple lessons, like sewing, for example, which were rather helpful."
Praise from his teachers encouraged Tan to strive for excellence in class and afterward. "Once I received a compliment, I wanted more," he said. "I think it's the recognition of my work that motivates me to do a better job next time."
With a sharp eye for design, Tan was selected in June last year as one of 10 candidates for the national team preparing for the 2019 Global Skills Challenge.
"The selection process was painstaking, as well as the preparation for the competition in Australia," he recalled. "It was a real challenge but an unforgettable memory."