'Shameful' scenes enrage England boss Neville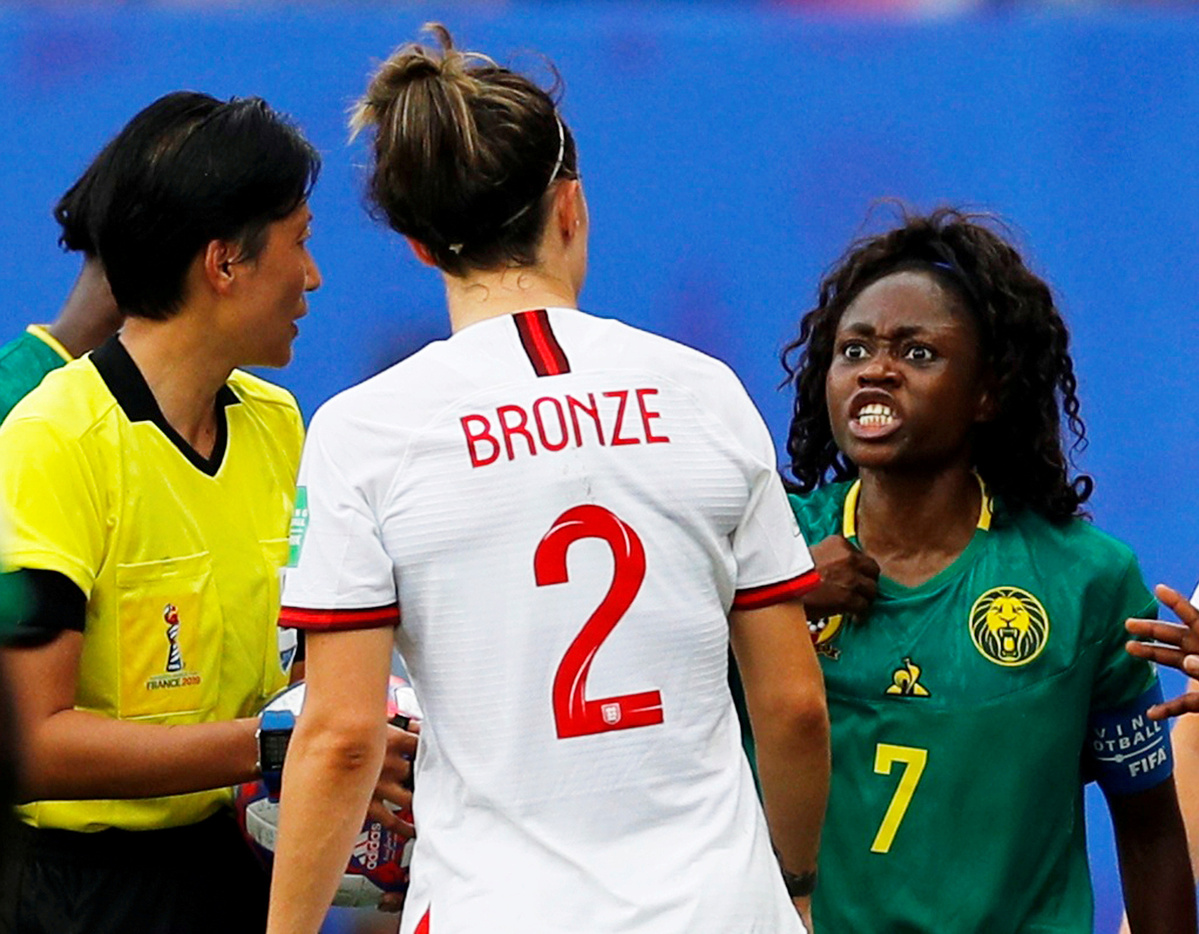 Cameroon antics leave bitter taste for coach after stormy World Cup clash
VALENCIENNES, France - England coach Phil Neville said he was "utterly ashamed" of the behavior of Cameroon's players after his Lionesses defeated the African side 3-0 to march into the quarterfinals of the Women's World Cup on Sunday night.
England forward Toni Duggan appeared to be spat at by an opposition player, while Cameroon twice threatened to walk off the pitch in protest at VAR decisions upheld by Chinese referee Qin Liang. English players were also elbowed in the face and stomped on in separate incidents.
"I sat through the 90 minutes of football there and felt ashamed - proud of my own players' behavior under circumstances that I've never seen on a soccer field before, and completely and utterly ashamed of the behavior of the opposition," raged Neville.
Cameroon players looked ready to stage a walk-off after Qin overturned her own decision to disallow England's second goal - scored by Ellen White - after consultation with the video assistant referee.
Replays on the big screen inside Stade du Hainaut showed that her decision was correct.
The situation was repeated early in the second half when Ajara Nchout scored for Cameroon, but this time the goal was disallowed after Qin consulted the video ref.
Cameroon coach Alain Djeumfa felt his players had been wronged by both those decisions, as well as 14th-minute incident when goalkeeper Annette Ndom was penalized for picking up Augustine Ejangue's back-pass and Steph Houghton scored from the resulting indirect freekick.
"I felt the match got away from us when the freekick was awarded against us in the 14th minute. I think that was a disgrace," said Djeumfa.
"We didn't want to concede a goal in the first 20 minutes but the officials wanted something different.
"After that goal the players' rhythm dropped, but I would like to take my hat off to them for their performance despite the refereeing errors."
Djeumfa denied his team had threatened to abandon the game.
"The players never refused to play. They were very professional, "he added.
"We came back to 2-1 and again the goal was disallowed by VAR. I think if that goal had stood we would've had a different outcome."
Neville refuted Djeumfa's claims of bias, telling his opposite number to "get your ship in order first before you start throwing stones".
He also commended striker Duggan for keeping a cool head when Ejangue appeared to spit on her arm in the 14th minute.
"I think it's pretty clear, so that's unacceptable, and I will praise Toni Duggan because that is the worst form of anything that you can do on a football field really, "said Neville, whose team secured victory with a 58th-minute Alex Greenwood strike.
There was more controversy in stoppage time when Alexandra Takounda escaped with a yellow card for a nasty stomp on Houghton's ankle - again following a VAR review.
Former Manchester United defender Neville was also unhappy that fights had supposedly broken out among VIP guests at Stade de Hainaut and at the hotel shared by both teams.
"I can't sit here now and just gloss over it, fudge it. I have got to tell the truth," the 42-year-old said.
"It takes you back to the times when you were a kid, and you lost and you went home crying with your ball.
"When I started out in management, Arsene Wenger told me the team mirrors the manger. Their team mirrored their manager. If that was my players they would never play for England again."
Next up for England is a lasteight meeting with Norway in Le Havre on Thursday.
China Daily - AFP