Making all the right moves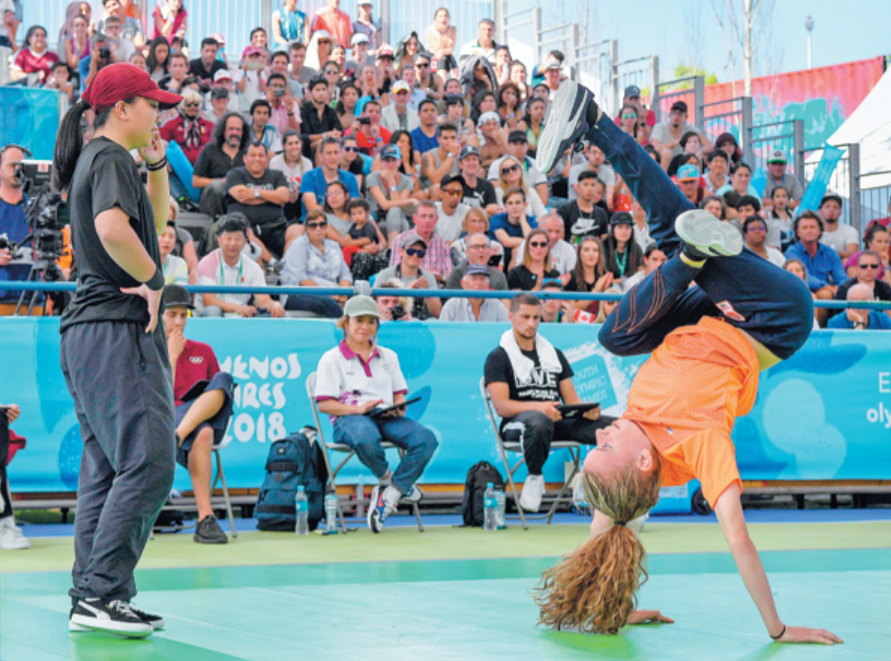 Breaking's possible Olympic inclusion have given enthusiasts of the street dance hope that it will finally shake its slacker image.
On Tuesday, the International Olympic Committee provisionally added breaking, sport climbing, skateboarding and surfing to the program for the 2024 Summer Games in Paris, with a final decision to be made in December 2020.
"The four sports contribute to making the Olympic program more gender-balanced and more urban, and offer the opportunity to connect with the younger generation," said IOC president Thomas Bach.
China's dance community believes the IOC nod will propel breaking into the sports mainstream.
"I think it's a major coup that will help change the public perception of breaking toward it being thought of as a creative and healthy exercise," said Han Yu, owner of a dance studio in Beijing.
After falling in love with street dance at 13, Han said his parents worried he would become a "bad boy" as he practiced his moves to booming hip-hop beats, clad in baggy clothing.
Street dance originated in the United States in the late 1970s and covers a variety of styles, such as breaking, locking and popping-all of which demand high levels of physical strength, coordination, creativity and musical sensibility.
"It can be counted as an athletic exercise from the physical standpoint, just like gymnastics," said Han, a 2018 winner on the popular online reality show Street Dance of China.
Reality shows have undoubtedly boosted the appeal of street dance, but in a country where sports governing bodies are obsessed with Olympic success, having the IOC's seal of approval could really be a game-changer.
Since its establishment in May 2014, the China Street Dance Association, an affiliate to the General Administration of Sport of China, has been organizing annual multi-style national championships, conducting training programs at 15 provincial locations and issuing national-level instructors' certificates.
At breaking's successful trial run at last year's Youth Olympic Games in Buenos Aires, Chinese b-boy Shang Xiaoyu reached the final eight in the men's group, where athletes battled head-to-head over two preliminary rounds before the four-round knockout stage.
Judges determined winners using six criteria: creativity, personality, technique, variety, "performativity" and musicality.
"As a dancer, it's a unique experience to represent your country at the world's biggest sporting event, "said the 19-year-old Shang, who was China's sole representative at the Youth Olympics.
"If it could be added to the Olympics, street dancing would be seen as a serious career choice, and open up more business opportunities in the bodybuilding sector."
In 2013, the China Hip-Hop Union Committee was founded by the Chinese Dancers Association as a dedicated body promoting street dance. Last year, the committee brought free street dance classes to over 600 schools in 164 cities, especially poverty-stricken areas, attracting about 150,000 students.
There are more than 8,000 registered street dance studios in operation in China, according to the committee.
However, the Olympic recognition has also raised some concerns over free expression in breaking, said Wang Han, deputy director of the committee.
"To be able to score the performance like any other sports, you have to set certain rules to make it measurable, whereas breaking as an art form has no unified criteria," said Wang.
"It's a hard balance to strike between standardization and freedom in artistic expression.
"It will go against street dancing's nature if the athletic appearance of breaking has to be drawn out of its artistic core to make it an Olympic sport."