Modern marriages make parents optional
By Zhao Xinying | China Daily | Updated: 2019-06-28 09:36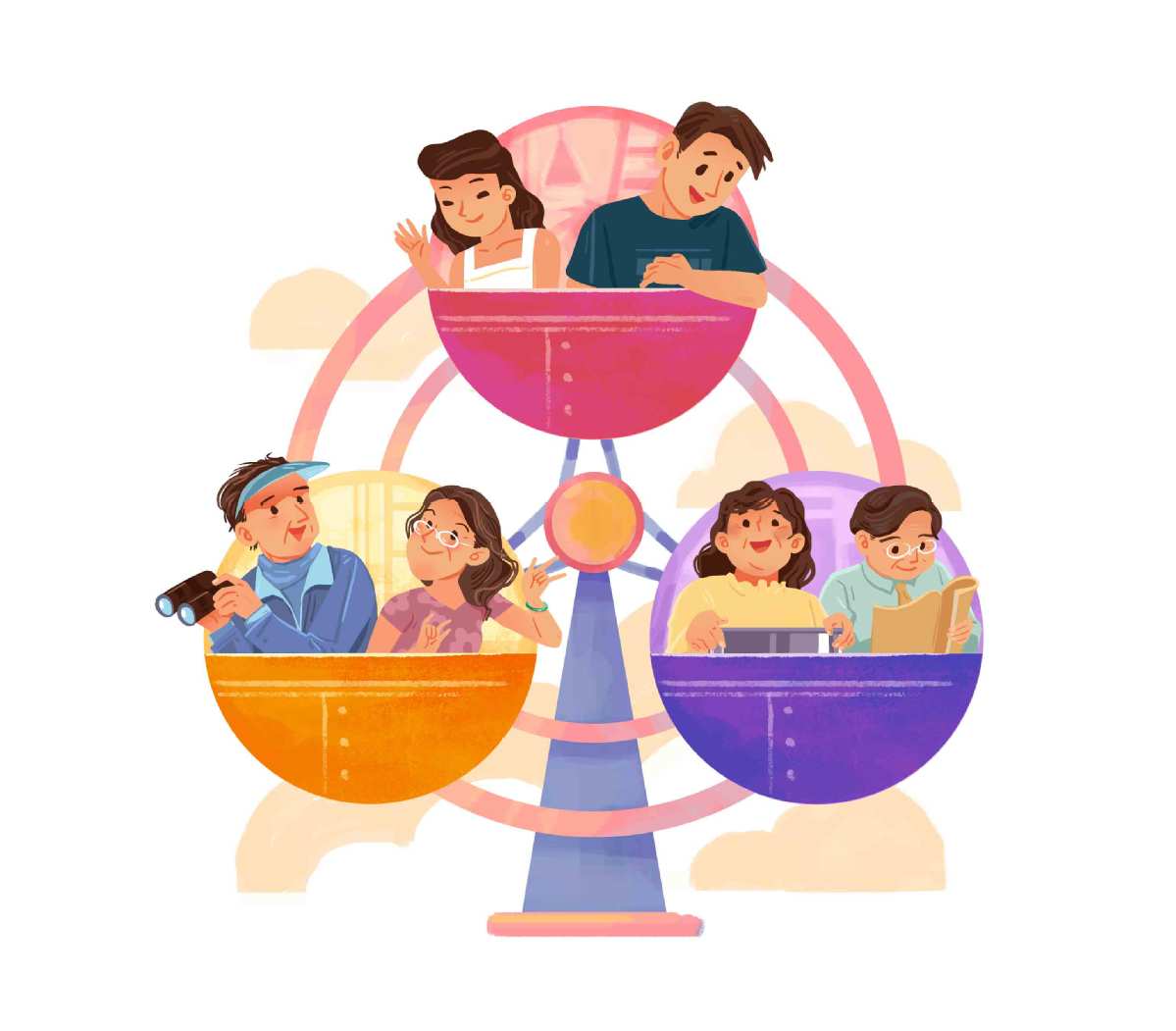 Spring Festival visits to husband's family home no longer mandatory for younger couples
Web celebrity "Ms Papi" (real name Jiang Yilei) has been among the most-searched hashtags on Weibo social media platform recently, after remarks she made during an online program about marriage triggered heated discussion among netizens - both single and married.
As a guest on an online talk show late last month, she said that when she and her husband married five years ago they did not have a wedding banquet. That's unusual because most Chinese view wedding banquets as very important occasions - sometimes even more important than the marriage registration ceremony itself - to inform relatives and friends that a couple have become husband and wife.
"Ms Papi" became an online celebrity after Jiang posted videos on WeChat in which the character imitated various types of people to illustrate aspects of society, especially ones to do with interpersonal relationships. But it was her revelations about her own marriage that sent her celebrity soaring.
On the talk show, she said her parents have never met her husband's parents, even though the couple have been in a relationship for 10 years. Even more surprisingly, she said she had never celebrated a single Spring Festival with her parents-in-law since getting married.
She and her husband return to their own homes separately and spend the festival with their own parents.
"I believe that I am important to my parents and he is important to his," the 33-year-old said. "The parents of both sides are happy enough to see their own child on such an important festival and don't care whether the son-in-law or daughter-in-law comes or not."
In Chinese tradition, a wife should spend Spring Festival - the most important celebration of the year - with her husband's family. Although people have started to accept in recent years that a couple can celebrate the festival with the wife's family, a husband and wife going their separate ways is still peculiar in many people's eyes.
Jiang's remarks went viral on the internet immediately after the talk show. Many netizens expressed admiration of her approach to dealing with marital issues and getting along with parents-in-law.
In a comment posted on Weibo, one netizen, identified as "Conditional boyfriend", said, "This is the perfect form of marriage I have been dreaming of, and she has already made it!"
Another netizen, identified as "Ushuaia", said Jiang had "provided a new possibility" for family relationships.
"Every family has its own track and has the freedom not to merge with another," the netizen said. "I think it's cool for the parents from both sides to keep their distance and stay on their own track, even after the young couple gets married."
Understandable option
Liu Yuanju, a researcher with the Shanghai Institute of Finance and Law, said it's normal and understandable that a couple's parents do not meet, as urbanization has pulled young people from all over China to its big cities, while their parents are still at home.
"Young couples who meet and get married against such a background might come from different parts of China and their homes might be very distant from each other," he said. "Some couples' parents might choose not to meet because it's troublesome and costly to do so."
Yang Yuan, who lives in Dezhou, Shandong province, married her husband in 1998. But Yang's parents have never met her husband's, and she has never celebrated Spring Festival with her parents-in-law.
"My husband's parents live in Shaanxi province and it took almost a whole day on the train to get there 20 years ago, when there was no high-speed train," the 43-year-old said. "It was a hard trip (either way) for our four aging, weak parents, so we reached a consensus that they didn't need to meet."
Every Spring Festival, Yang's husband returns to his hometown to get together with his parents and two brothers, while Yang stays with her parents.
"I'm the only child of my parents and need to take care of them. My parents-in-law fully understand this," she said, adding that she often buys gifts and mails them to her parents-in-law, partly to show respect and partly as "compensation" for not meeting them often.
Lu Min, a resident of Guangzhou, Guangdong province, has spent three of the past four Spring Festivals traveling overseas with her husband.
Lu, from the northeastern province of Heilongjiang, was 29 when she married her husband, whose hometown is in northwestern China's Qinghai province, four years ago. They met while studying at a university in Guangzhou, and settled in the city after graduation.
"We didn't have a wedding banquet or wedding photos," she said. "We just called our parents to tell them we had registered for marriage, and then we held a small party with friends to celebrate and went to Bali for the honeymoon. That was all."
Her parents have not met her husband's, and she spent the other Spring Festival since their marriage at her parents' home, without her husband.
"Neither my parents nor my parents-in-law opposed our way of dealing with these issues," she said. "They are all very happy for us."
Meaning of marriage
However, some people strongly disapprove of such modern marriages, with online critics branding them "unbelievable" and "selfish".
One netizen wrote: "If the parents of both sides don't meet each other and the couple spends Spring Festival separately, then why did the couple get married? Chinese people get married in order to form a family. Can we call such a family a 'family'?"
Zhou Xiaopeng, founder of Loveus Culture and Technology, an emotional counseling company based in Beijing that aims to help people build happy families, said she did not recognize Jiang's lifestyle.
She said a husband and wife spending Spring Festival separately in their own family homes was an indication the couple could not face or solve problems together.
While agreeing it is important for adults to be independent, Zhou said the meaning of marriage was "being together", whether it was about where to spend festivals, taking care of ailing parents or raising children.
"It's important for couples to do these things as 'a family', not as 'an individual'," she said, adding that research has shown the marriages of couples who faced and solved problems together were more stable.
Fang Mo, chief consultant on marital issues at Jiayuan.com, a well-known dating website in China, strongly recommended young couples go to the home of one side's parents together to celebrate important festivals, rather than returning to their own homes separately.
"A couple appearing at one side's parents' home together on Spring Festival is a way to jinxiao, (show filial piety)," she said. "It is a virtue deeply rooted in traditional Chinese culture and should not be changed, except under special circumstances.". Zhou offered at least three solutions to the question of whose parents' home a couple should spend Spring Festival in, citing her own experience. One is to take turns, the second is to invite both sets of parents to the couple's home, and the third is for the couple and their parents to travel overseas together, something she said was becoming more common among wealthier young couples.
Open attitude
Still, most people hold an open and tolerant attitude toward lifestyles like Jiang's.
An online survey conducted by China Daily from May 30 to June 6, which attracted the participation of almost 120,000 people, found that 46 percent favored such a way of life, saying that whether the parents of the two sides should meet, or where the couple should spend Spring Festival, was up to the couple.
Another 6.6 percent said they did not understand Jiang's lifestyle but respected her choice, and only 7.4 percent said such behavior was improper because a marriage was also the concern of the two families.
Ling Zi, a consultant on marital issues in Hangzhou, Zhejiang province, said such behavior was likely to be accepted by more people in the future, as members of younger generations, such as those born in the 1990s, got married.
"A majority of those in younger generations are the only child of their parents," she said. "They emphasize personal space and initiative in making their own life decisions. So, on one hand, we can see that many of them have their own thinking about whether parents of the two sides should meet or not."
On the other hand, Ling said, some might worry their parents would be lonely if they left them to spend important festivals with their spouse's parents.
She said many young people's parents also had no siblings, "which means it might be easier for them to understand their children's thinking and choices".