Upwardly mobile
By Yang Feiyue | China Daily | Updated: 2019-07-02 07:35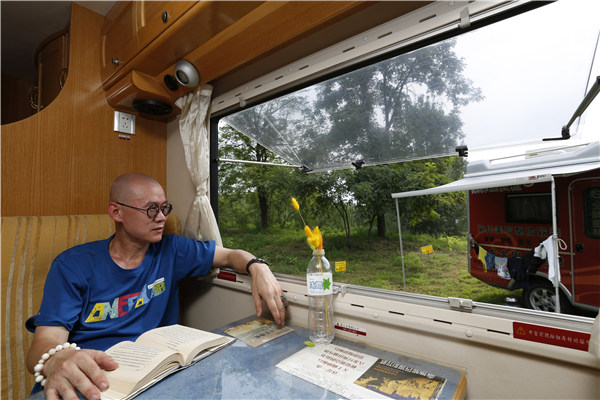 The popularity of recreational vehicles is on the rise, as more Chinese are taking to the nation's highways and byways to find adventure.
A desire to explore the world at their own pace has driven an increasing number of Chinese travelers to buy recreational vehicles.
Dong Jisheng dug into his pocket and spent about 400,000 yuan ($58,200) on an RV at an international exhibition showcasing the vehicles in Beijing recently.
"I bought it for my parents," the 38-year-old Beijing resident says.
Dong says he had been planning to buy an RV for a while, since his parents are both retired and love to travel.
"It's more comfortable for them to travel this way than by train or airplane," Dong says, adding that the mobile home-away-from-home that he bought has plenty of space to meet their daily needs, such as bathing, sleeping and cooking.
"My parents are pretty excited about it, and they've already planned a trip to Qinghai province, "he says.
Dong was one of the 24,000 visitors, who flocked to the three-day All in Caravaning exhibition.
The number represents an 8.2 percent increase compared with last year's attendance, according to the expo's organizer.
"I've seen Chinese visitors to the expo ask increasingly professional questions over the years," says Liu Hanqi, secretary-general of the driving tourism, camping and RV division of the China Tourism Automobile and Cruise Association.
The number of registered RVs in China exceeds 100,000, according to Liu.
This might be due, in part, to the country's favorable RV development policies, under which more than 800 campsites are up and running, with more than 300 under construction. By 2020, the number of RV-friendly campsites is expected to exceed 4,000, Liu says.
"This rapid development offers wider space for RV-industry development," Liu says.
The exhibition was a joint effort by Messe Dusseldorf Shanghai, the China National Travel Service Group and China's RV authorities.