Separation of trash now mandatory in Shanghai
By ZHOU WENTING in Shanghai | China Daily | Updated: 2019-07-03 07:35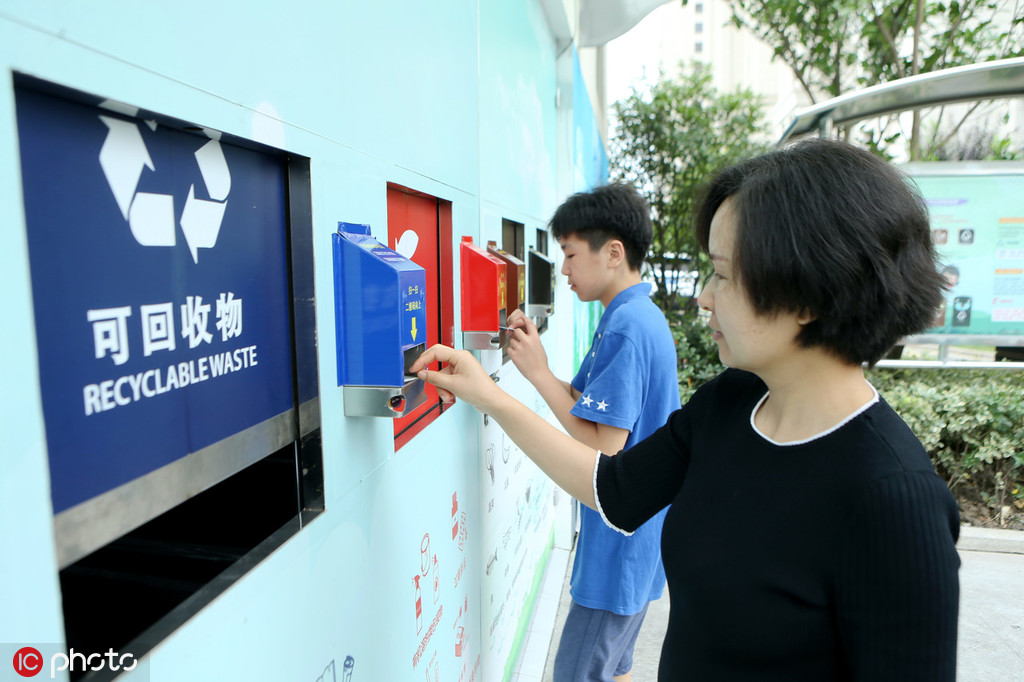 Lin Shuwen said jokingly that the person she contacts most often on instant-messaging app WeChat these days is not her husband or her best friend, but Shanghaifabu, the account of the Shanghai municipal government's information office, where residents learn about trash sorting.
Whenever Lin is unsure about which of the four trash categories-recyclable, hazardous waste, kitchen waste and residual waste-something she needs to discard belongs to, she opens the account, types in the object and receives a definitive answer.
To make trash disposal operations more efficient, China's first city regulation addressing domestic trash sorting and recycling took effect in Shanghai on Monday. Individuals, businesses and organizations in the megacity of 24 million permanent residents now must separate trash into four categories, and residents have had between one to three months to practice.
"I'm accumulating new knowledge about trash sorting every day. Big bones in soup leftovers should go to 'residual' rather than 'kitchen', and nail polish remover should go to 'hazardous'," said Lin, a 32-year-old bank employee.
Two months before the official implementation of the regulation, trash sorting had begun in Lin's residential community in Xuhui district with the completion of a newly built household waste station providing four kinds of trash cans.
"The municipal government has been doing a great job of educating the public about the importance of trash sorting and encouraging people to join in. Also, residents have such easy access to help (in the campaign)," Lin said.
"Residents lining up at the trash station consider trash disposal an important daily ritual in the community," she said, adding that she noticed that most people have grown accustomed to trash sorting through weeks of practice with the help of volunteers.
Mao Meiyuan, a retired teacher living in Pudong district, said it is considerate of management to have placed a wash basin at the trash station as sometimes people's hands get soiled when dumping kitchen waste and residual waste.
Residential neighborhoods performed the best in trash sorting compliance and efficiency. The Shanghai Urban Management and Law Enforcement Bureau also made unannounced inspections at more than 4,200 public and private venues such as shopping malls, hotels and office buildings on Monday.
Nearly 15 percent of venues received warnings and second violations will result in fines of between 5,000 yuan ($727) and 50,000 yuan. Meanwhile, the ratio of residential neighborhoods receiving warnings was around 7 percent. Warnings often resulted from improper trash classification or trash cans being substandard.
"The ultimate purpose of trash sorting is to reduce waste and increase the reuse of resources. Shanghai's good performance may be studied by other regions in the near future," said Wang Yuzhen, a trash sorting volunteer at a residential community in Changning district.